First-Year Writing Showcased at Ward Prize Ceremony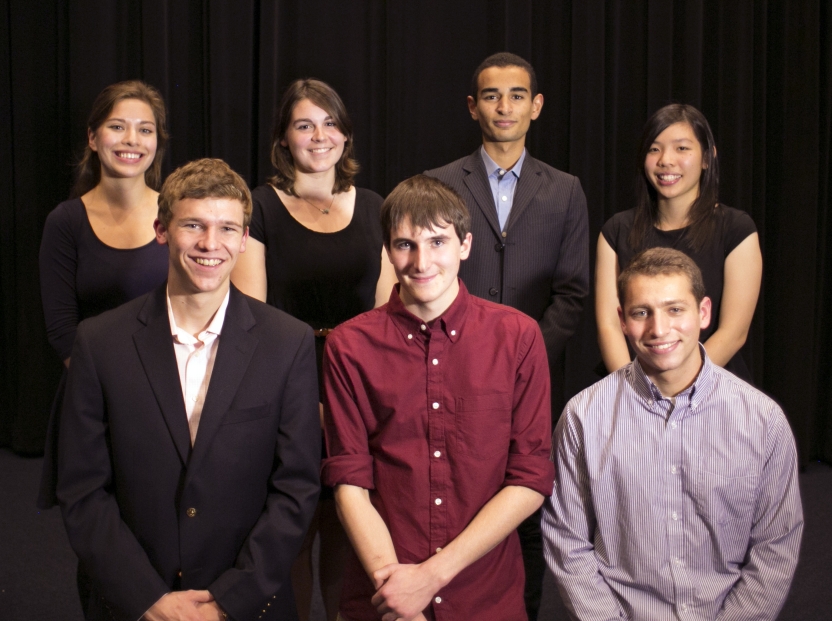 The Middlebury Center for Teaching, Learning, and Research and the Writing Program honored up-and-coming first-year writers with the presentation of the 37th annual Paul W. Ward '25 Prize in Writing at a ceremony in Twilight Hall Friday, October 24. The $500 cash prize recognizes outstanding essay writing by first-year students. This year's winners and honorees, all members of the Class of 2017, were nominated from many academic disciplines and were judged by a faculty committee for writing completed during the 2013–14 academic year.
"We are impressed this year that among the nominees are students for whom English is just one of many languages they speak," Mary Ellen Bertolini, director of the College's writing center, told the crowd at Twilight Auditorium. "And, we are impressed at the range of interests and styles that all your writing represents: personal narratives, short stories, poetry, drama, critical arguments, and many fine research papers."
The winning submission out of 75 nominations was a research paper from Mohamed Hussein, "Linguistic Varieties in the Egyptian Short Story." Hussein's faculty adviser, Associate Professor of Arabic Usama Soltan, introduced Hussein and noted that his paper was remarkable in conveying meanings from Arabic literature texts to a non-English audience.
"I feel lucky to have had Mohamed as a student," said Sultan. "I'm quite happy that he wrote this paper for my class, and I learned a lot from it."
Two students were named runners up, which comes with a $250 prize. Josiah Espy read from his paper, "Think of the Children," and Joshua Nislick read excerpts from "The Mafia Myth." Both students were nominated by their adviser, Assistant Professor of American Studies Holly Allen.
Four other students received honorable mentions for their work: Thomas Canaday for "Arrival," Eirene En Yi Chow for "The Non-national National Language," Julia Kendrick for "Deliverance on the Chattanooga River," and Emma Stallworthy for "Women's Literature in the Middle East: An Examination of Modern Female Novelists."
"We hope you talented writers of the Class of 2016 will share your gifts with incoming classes by working with them in their first-year seminars and college writing classes," Bertolini told the students, who are invited by the Writing Program to train as peer writing tutors and writing and academic mentors.
The prize is offered in memory of Paul W. Ward '25, whose lifelong career as a journalist and diplomatic reporter brought him both the Pulitzer Prize and the French Legion of Honor. During his long career he emphasized the use of basic English as a writer's most necessary tool. Precise and exact usage of words, exact meanings, and phrases expressed lucidly and gracefully seemed to him the most direct and understandable means of communicating with his readers.
Faculty advisors and Ward prize nominees gather for a group photo after the award presentations during Fall Family Weekend.