Lecture Will Explore the Life and Work of Frederick Douglass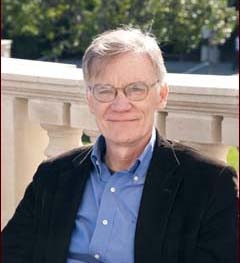 MIDDLEBURY, Vt. — David W. Blight, Class of 1954 Professor of American History at Yale University, will deliver this year's Charles S. Grant Memorial Lecture over Fall Family Weekend. His talk, titled "My Pen, My Voice, My Vote: The Life and Work of Frederick Douglass," will draw on his research for his latest project, a biography of Frederick Douglass, the famed nineteenth-century abolitionist and civil rights activist. The lecture will take place on Friday, Oct. 25, at 8 p.m. in Mead Chapel and is free and open to the public.
Blight is director of the Gilder Lehrman Center for the Study of Slavery, Resistance, and Abolition at Yale. His most recent book, American Oracle: The Civil War in the Civil Rights Era (Harvard University Press, published August 2011), received the 2012 Anisfield-Wolf Award for best book in non-fiction on racism and human diversity; the work is an intellectual history of Civil War memory, rooted in the work of Robert Penn Warren, Bruce Catton, Edmund Wilson, and James Baldwin. Blight is also the author of A Slave No More: Two Men Who Escaped to Freedom, Including their Narratives of Emancipation, (Harcourt, 2007), paperback in 2009.
The Charles S. Grant Memorial Lecture commemorates the gifted and much loved teacher who was an esteemed scholar at Middlebury College in the 1950s until his death in 1961. Shortly thereafter, several colleagues and friends in the Middlebury community created a fund that eventually became large enough to establish an annual lectureship in American history as a tribute to him. Many prominent American historians of the past 35 years have delivered Grant lectures, including David McCullough, author of the best-selling biography "John Adams," James McPherson, John Lewis Gaddis and Laurel Thatcher Ulrich.