Nobel Chemist Martin Chalfie to Speak at Middlebury
MIDDLEBURY, Vt. — Dr. Martin Chalfie, whose discoveries about green fluorescent protein (GFP) earned him a Nobel Prize in chemistry, will give a public talk at Middlebury's Dana Auditorium on Thursday, Oct. 16 at 7:30 p.m. Chalfie is University Professor in the Department of Biological Sciences at Columbia University. His talk, titled "GFP: Lighting Up Life," is free and open to the public.
In cell and molecular biology, the GFP gene is frequently used as a reporter of expression. GFP and other fluorescent proteins have revolutionized biology because they allow scientists to look at the inner workings of living cells.
In presenting the 2008 Nobel Prize to Chalfie, Måns Ehrenberg, a member of the Nobel committee for chemistry, said, "Professor Chalfie's results not only show the power of experiment over scientific prejudice, but also make it clear to many that GFP was destined to become a universal genetic marker."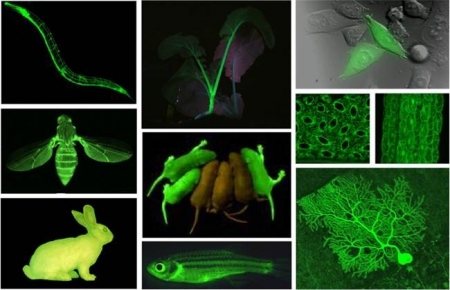 Chalfie shared the 2008 Nobel with Roger Tsien of the University of California San Diego and Osamu Shimomura of the Woods Hole Oceanographic Institution, for their individual work on the green fluorescent protein and its use in biological science research. 
During his Middlebury visit, Chalfie will also give a lecture titled "Mechanosensory Transduction and its Modification in C. elegans" for students and faculty on Friday, Oct. 17 at 12:30 p.m. in McCardell Bicentennial Hall Room 216.
Chalfie's visit is sponsored by the Departments of Biology and Chemistry, the Neuroscience Program, and the Molecular Biology & Biochemistry Program.