Laurie L. Patton to Become Middlebury's 17th President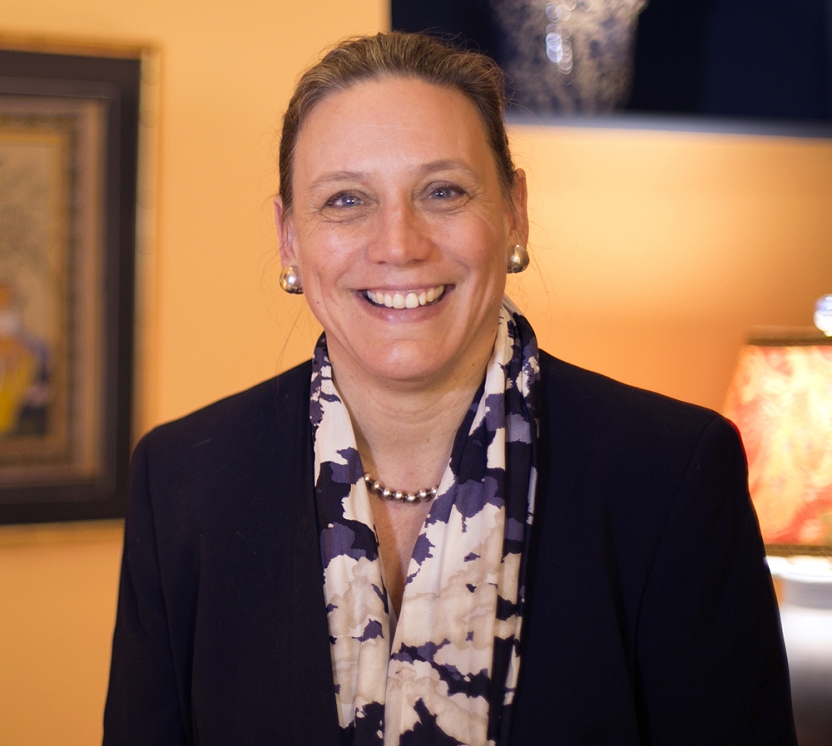 The Middlebury Board of Trustees today named Laurie L. Patton, dean of Duke University's Trinity College of Arts and Sciences and the Robert F. Durden Professor of Religion, as Middlebury's next president. Patton will take office on July 1, 2015, succeeding Ronald D. Liebowitz, who has served as president since July 2004.
Patton, a distinguished religion scholar and translator of classic Indian Sanskrit texts, joined Duke in her current position in 2011. Trinity College is the largest of Duke's undergraduate schools, with 5,200 students, 36 academic departments and programs, and 640 faculty members. It awards nearly 80 percent of the university's bachelor degrees. As dean, she is responsible for overseeing the educational mission of Duke's core undergraduate liberal arts programs, including curriculum, faculty hiring and development, student research, assessment, and the College's $370 million annual budget. Under her leadership, Trinity College raised more than $300 million for professorships, financial aid, educational initiatives, and other priorities.
Patton's selection followed an extensive, six-month search conducted by a 20-member search committee chaired by Middlebury trustee Allan Dragone Jr. '78. The committee engaged in a process of broad outreach to students, faculty, staff, and alumni. From an initial list of more than 250 individuals nominated or put under consideration, the committee gradually narrowed the pool to a dozen and then to a small list of finalists, before unanimously recommending Patton to the full board on Tuesday. Patton will be the first woman to lead Middlebury in its 214-year history.
"She lives the values of Middlebury, and I am confident she will provide the leadership and innovative thinking required to maintain the positive momentum and success Middlebury has experienced during Ron Liebowitz's tenure as president."
— Marna C. Whittington, Chair, Middlebury Board of Trustees
"I can't imagine a place that more fully exemplifies my interests and commitments to higher education than Middlebury," said Patton. "These last five months have been a wonderful experience for me as I have had the opportunity to learn more about this great institution and the values it holds dear. I have so many people to thank, starting with the search committee and Al Dragone, and I am truly honored with the confidence the Board of Trustees has shown in me today. I look forward with anticipation to joining this community of faculty, staff, students, alumni, parents, and friends."
Marna C. Whittington, chair of the Middlebury Board of Trustees, called Patton an "outstanding choice" to be the next president. "Laurie is an accomplished scholar with a deep commitment to the liberal arts and a global perspective on the value and role of education," said Whittington. "She lives the values of Middlebury, and I am confident she will provide the leadership and innovative thinking required to maintain the positive momentum and success Middlebury has experienced during Ron Liebowitz's tenure as president." 
Patton, 53, is married to Shalom Goldman, professor of religious studies and Middle Eastern studies at Duke. The two met at Emory University. Goldman will become a tenured professor in the Department of Religion at Middlebury College. 
Dragone, who led the search process and spent many hours with Patton in recent months, said the search committee was deeply impressed. "Laurie combines qualities of scholarship and leadership to an extraordinary degree," said Dragone. "She is enthusiastic and passionate about students and the totality of their experiences, from the classroom to the lab, from the performance space to the playing field, from the time they spend abroad to the way they can participate in the life of the Middlebury community in Vermont. We have found an exceptional leader in Laurie Patton and I know she is committed to building upon the institution's strong foundation."
Patton earned her undergraduate degree in comparative religion and Celtic languages and literatures from Harvard University in 1983. She received an MA from the University of Chicago Divinity School in 1986 and her PhD in history of religions from the University of Chicago in 1991. Patton's first teaching position was at Bard College from 1991 to 1996.
Before she joined Duke, Patton taught from 1996 to 2011 at Emory University in Atlanta, where she was the Charles Howard Candler Professor of Religions. While at Emory, Patton served as chair of the religion department from 2000 to 2007; founded and co-convened the Religions and the Human Spirit Strategic Plan; was the inaugural director of the Center for Faculty Development and Excellence; and from 2000 to 2010 was founder and co-convener of Emory's Religion, Conflict, and Peacebuilding Initiative. In 2005 she received the Emory Williams Award, the university's most prestigious teaching honor.
Patton is the editor or author of nine scholarly books on South Asian history, culture, and religion, including Myth as Argument: The Brhaddevata as Canonical Commentary; Bringing the Gods to Mind: Mantra and Ritual in Early Indian Sacrifice; and Jewels of Authority: Women and Text in the Hindu Tradition. From 2008 to 2011, she served as president of the American Society for the Study of Religion.
In addition to writing two volumes of original poetry, Patton has translated the classical Sanskrit text, The Bhagavad Gita, for the Penguin Classics Series.
"Laurie Patton's commitment to the success of students and faculty has made her an extraordinary leader at Duke," said Duke Provost Sally Kornbluth, the James B. Duke Professor of Pharmacology and Cancer Biology. "She is energetic, creative, and passionate about scholarship and learning. We could not be more proud of her appointment at Middlebury."
Liebowitz announced in December 2013 that he wished to step down following the 2014–15 academic year. By that time he will have served as president for 11 years and as a member of the Middlebury faculty for 31 years.
"Ron Liebowitz has been a transformative leader and his impact upon this institution will be felt for generations," said Whittington. "Middlebury students have a richer experience than ever before because of the innovations he championed, and the institution is stronger than it has ever been."
Liebowitz called Patton a "remarkable scholar whose deep commitment to her field would be an example and inspiration" to students and faculty alike. "I look forward to working with Laurie in the months ahead to create a smooth transition to what I am sure will be an outstanding presidency," he said. "Jessica and I look forward to welcoming both Laurie and Shalom to Middlebury."