Green Dot's Bystander Training Session Enhances Middlebury's Efforts to Prevent Sexual Violence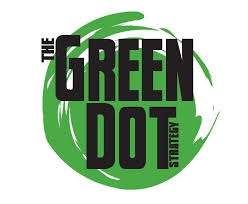 If Lea Hegge has her way, a major cultural shift will take place on college campuses in the coming years to increase the role of bystander intervention in preventing sexual assault. Hegge, a senior trainer at Green Dot, etc., a Washington, D.C.-based nonprofit that provides violence prevention education, recently mapped out her vision to an audience of higher education professionals at Middlebury College.
Hegge said that although it will take time before intervention becomes the norm, the change ultimately will result in a significant decrease in the number of sexual assaults. She said that other major cultural shifts that at one time seemed impossible, such as eliminating smoking from public places, gave her hope that bystander intervention can take hold.
Hegge's remarks kicked off a four-day training session at the College's Kirk Alumni Center for 45 staff and faculty members from Middlebury, Hampshire, and Union Colleges. The participants from Middlebury represented a variety of offices, including Parton Health Center, Athletics, the Dean of Students Office, and Residential Life. Hegge's goal is to mobilize her audience as a force of engaged and proactive bystanders, an approach that shifts the traditional focus away from the victim and the perpetrator of sexual violence to the surrounding community, which includes faculty, staff, and students.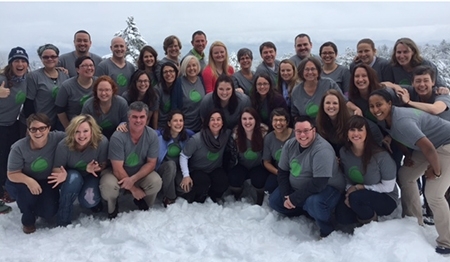 A group of faculty and staff members from Middlebury, Hampshire, and Union Colleges takes a break from their four-day Green Dot training session on the Middlebury campus.
According to Health and Wellness Education Director Barbara McCall, who organized the session, the participants from Middlebury will then work to spread the messages and strategies they have learned throughout the campus.
Hegge refers to each positive action by an educated bystander­ as "a green dot on the campus map" in contrast to a red dot that refers to a place where stalking, or sexual or partner violence has occurred. She asked her audience to imagine a day when the green dots outnumber the red ones, and bystander education and intervention is commonplace.
Hegge also stressed that intervention can take many forms and does not require confrontation.
"Green Dot's message is very empowering," said McCall. "It makes you realize that we do not have to accept the status quo. As members of a community, we can contribute to an important change in people's attitudes and actions related to sexual violence."
The Green Dot training is part of Middlebury's expanding bystander education efforts across campus to include new and returning faculty and staff. Although Middlebury has existing bystander intervention education for new and current students, this spring students will have their first opportunity to participate in training from Green Dot. The training sessions are part of a broader campus plan to prevent and respond to sexual violence and are supported by a three-year grant from the DOJ that Middlebury received in 2013.
For more information about Green Dot, etc., visit the organization's website.