Middlebury to Inaugurate New Athletics Hall of Fame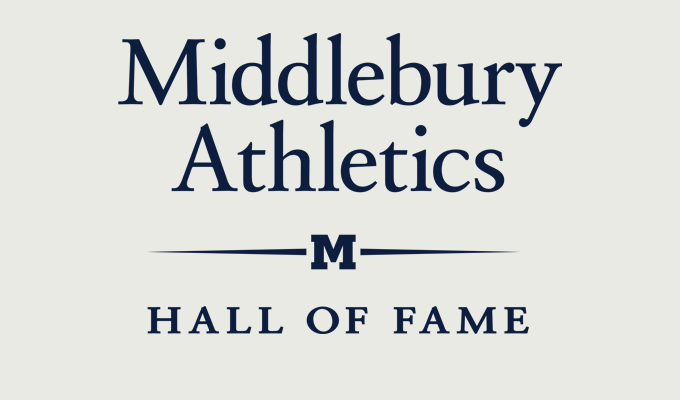 To honor the top student-athletes from its storied past, Middlebury College will inaugurate the Middlebury Athletics Hall of Fame in January as part of the opening of the College's new field house. The inaugural class of Hall of Fame inductees will include some of Middlebury's most celebrated and accomplished athletes.
The inaugural class of five inductees will be honored at a ceremony on Saturday, January 24, 2015. The class includes two women and three men who excelled in sports as diverse as baseball, ice hockey, Nordic skiing, lacrosse, field hockey and cross-country. They come from classes as early as 1910 and as recent as 1999.
Heidi Howard Allen
Heidi Howard Allen '99 was a prolific two-sport athlete, one of a select few to earn All-American honors every year as a Middlebury student-athlete. Allen helped lead the field hockey and lacrosse teams to inaugural national championships, including dual titles in the respective sports during her star-studded senior season. That year, she concluded her field hockey play as the program's leader in both career goals and points, individual records that preceded a lacrosse season that saw her set a single-season mark for goals scored.
John Bower
John Bower, a member of the Class of 1963, became the first Panther skier to win a national title in Nordic, a feat he achieved at the 1961 NCAA Championships. He skied in two Olympics (1964 and 1968), won four national Nordic combined titles, and became the first non-Scandinavian to win the King's Cup at Holmenkollen, the most heralded Nordic competition in the world, before embarking on a coaching career that included a six-year tenure at Middlebury and seven years directing the U.S. Ski Team. 
Ray Fisher
Ray Fisher, a Middlebury, Vermont, native and member of the Class of 1910, played multiple sports at Middlebury but made his mark on the baseball diamond. He was a stand-out pitcher for the Panthers for two years before signing a professional contract that would lead to a 10-year career in the major leagues, a tenure marked by 100 wins and a World Series championship with the Cincinnati Reds.
Phil Latreille
Phil Latreille, a member of the Class of 1961, scored more goals than any other player in the history of U.S. intercollegiate ice hockey. The three-time All-American tallied 250 goals—a total that includes further collegiate bests for goals in a game (10) and a season (80). Following his Middlebury career, Latreille enjoyed a brief stint with the New York Rangers, becoming the first Vermont collegiate player to play in the National Hockey League at a time when there were just six NHL teams.
Dorcas DenHartog Wonsavage
Dorcas DenHartog Wonsavage, a member of the Class of 1987, graduated from Middlebury as one of the most decorated Nordic skiers and cross-country runners in the College's history. She won the school's first national title in cross-country and earned All-American status in both sports. Following her graduation from Middlebury, Wonsavage competed in three Winter Olympics—in 1988, 1992, and 1994—pacing the U.S. Nordic team with the highest individual American finish and an eighth-place finish in the 4x5-kilometer relay in 1988.
"Given Middlebury's rich history of athletic achievement, it is only natural we would want to honor those individuals who have made extraordinary contributions to that history," said Director of Athletics Erin Quinn. "The Athletics Hall of Fame will allow us to do that in an enduring way. This year and in future years we look forward to honoring many of the Middlebury athletes, coaches and others who have distinguished themselves through excellence in athletic performance and service."
The Middlebury Athletics Hall of Fame will induct up to 10 individuals a year who will be recognized on a large Hall of Fame installation in the Peterson Family Athletic Complex. The inaugural class, which was selected this year, will be known as the Class of 2014. The Class of 2015 will be chosen next year and inducted in November 2015. To be eligible, former student-athletes who are nominated for consideration must be at least 10 years removed from their final year of competition. Coaches, administrators and staff must have served with distinction and be a minimum of five years removed from their employment with the College in order to receive consideration. Pre- and post-Middlebury accomplishments can factor into a nominee's candidacy as long as the accomplishments fall within the sphere of athletic achievement, and bear some connection to the nominee's athletic career at Middlebury.
Nominations are now being accepted for the Class of 2015, which will be inducted in November of 2015. For information about the Middlebury Athletics Hall of Fame, including complete biographies of the inaugural class and a link to the nomination form, please visit www.athletics.middlebury.edu/traditions/halloffame.
Complete bios can be found here.
For More Information