Studying Privilege and Poverty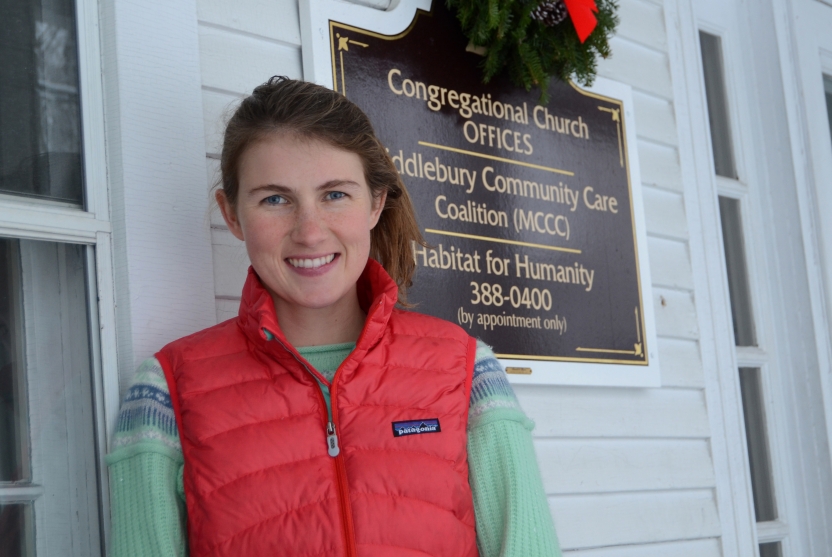 MIDDLEBURY, Vt. – Middlebury senior Cate Costley had an awakening in her sophomore year. It came during the third week of her Winter Term course in MiddCORE, while the class was conducting an in-depth examination of affordable housing in Addison County.
"We were working with the John Graham Emergency Shelter, United Way, and HOPE [Helping Overcome Poverty's Effects] when all of these ideas just came together and engaged me. I was driven to learn more about how social-service organizations operate and what they do to help people less fortunate than I am."
The next summer Costley stayed in Middlebury to enroll in MiddCOREplus – the 10-week internship program in which MiddCORE graduates delve into a single strategic challenge with a partner organization in the community. The history major worked with the Charter House Coalition, the non-profit organization that provides basic food and emergency housing in the Middlebury area.
"I saw the power food has to nourish, bring joy, and foster friendships. Over the course of that summer I built trust with the participants at community lunch and supper, and I asked many of the guests to share their stories with me."
On a larger scale, Costley realized she could "identify a specific need and serve it in a particular way. My roots were sunk into Middlebury, and it was important to me to have an awareness of what rural poverty looked like." After that summer of 2013, Costley was awarded a 2014 Shepherd Poverty Internship, which took her to a Navajo Reservation in northeast Arizona between her junior and senior years. Witnessing unemployment, lack of education, alcoholism, and poor nutrition among the Navajo people opened her eyes to the vastness of rural poverty.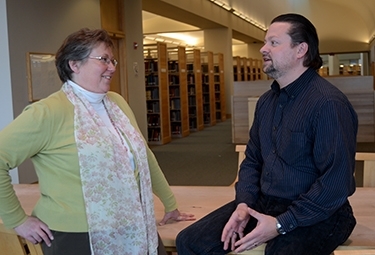 1-375" title="pp1-375" width="375" height="255" />
Tiffany Sargent '79 and Prof. James Davis are the co-directors of the Privilege and Poverty Project.

Undaunted, Costley determined that "a sustained investment in education could build a life that is incrementally more functional and less impoverished than the previous generation's," and she has put her thoughts into action. After graduation in May 2015, the Williamstown, Mass. native, will return to the Navajo Nation as a Teach for America fellow in a Bureau of Indian Education School.  
Costley is part of a growing number of Middlebury students who are using the experiential learning, coursework, internships, and mentoring offered through the College's Privilege and Poverty Project to work toward reducing economic inequality both in and out of Vermont.
"For years our students have said they would like the curriculum to address the topic of socioeconomic diversity," said Professor James Calvin Davis. "Now, with the Privilege and Poverty Project, Middlebury College is meeting the issue head on."
Described as an endeavor in "curricular innovation, experiential learning, and civic responsibility," the project studies the causes, effects, and perceptions of poverty, and combines the resources of traditional departments (e.g., sociology and economics) and newer programs (such as MiddCORE) with internships for undergraduates in agencies striving to alleviate poverty in Vermont and around the country.
"Middlebury's project is a laboratory for learning," said Davis, who is the academic director of Privilege and Poverty. "It focuses the rhetoric around engaged learning and the relevance of the liberal arts onto real-world social problems."
Not a formal major or minor, Privilege and Poverty is an academic initiative with coherence, relevance, and intellectual depth that can complement almost any other area of study. "To me it encapsulates the civic mission of a liberal arts education. Or to put it another way, it demonstrates how a liberal arts education can be useful in the 21st century," Davis said.
For generations Middlebury College students have reached out to Addison County residents-in-need via their volunteerism with Habitat for Humanity, the Graham Emergency Shelter in Vergennes, and other local poverty-alleviation organizations. But the effort really took wing 10 years ago when Middlebury joined Washington and Lee University in the Shepherd Poverty Internship Program. One of the founders of the program, Nancy Hamilton Shepherd, is a Middlebury graduate, Class of 1953.
"The project demonstrates how a liberal arts education can be useful in the 21st century."
There are now 22 member colleges and universities in the non-profit Shepherd Higher Education Consortium on Poverty established in 2011 with the support of Nancy Shepherd and her husband, Tom. Each summer the consortium selects approximately 100 undergraduates to learn about the multiple dimensions of poverty in the United States by working directly for agencies that seek to strengthen impoverished communities. The interns are assigned to agencies from Appalachia to the streets of New York City that fit their intellectual interests in order to expand their skills for future civic involvement and employment.
And while the Shepherd's national program places interns in rural and urban settings across the country, Middlebury has developed its own summer internship program that offers five anti-poverty internships closer to home.
The Addison County internships are coordinated by Middlebury's Office of Community Engagement. Director Tiffany Nourse Sargent '79, who heads the local internship program and serves with James Davis as co-director of Privilege and Poverty, explains: "It was always important for us to have the local internships as a complement to the Shepherds' national program. We had to be mindful of serving as an anchor in our own community while also reaching out to the rest of the country."
Fifty-nine Middlebury students have participated since 2005 in the Shepherd Poverty Internships and the Addison County Internships combined, and Sargent plans to research what those students and alumni are doing now. How has their work with impoverished Americans affected their lives? If Cate Costley's determination to join Teach for America and return to the Navajo Nation is any measure, then it's clear these internships are doing much to shape students' lives after Middlebury.
- With reporting and photography by Robert Keren
For More Information