Chilean Government Honors CNS Director for Nonproliferation Work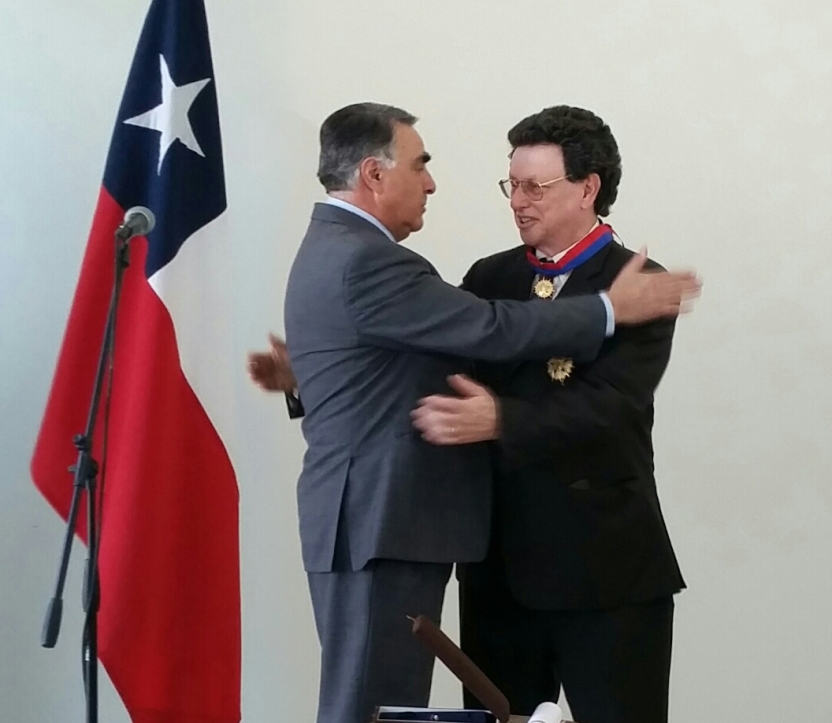 On January 8, the Chilean government awarded Dr. William Potter, director of the Middlebury Institute's James Martin Center for Nonproliferation Studies (CNS), the Order of Bernardo O'Higgins in recognition of his work in the field of disarmament and nonproliferation education. The award, authorized by the president of Chile, is the highest honor conferred on non-Chileans and is of the rank of Grand Officer. The ceremony was conducted at the Chilean Ministry of Foreign Affairs in conjunction with an international conference on "Roads to Nuclear Disarmament."
"The award was totally unexpected," says Potter. "It was a tremendous honor, and is indicative of the reputation CNS has internationally in the field of disarmament and nonproliferation education. I hope I can do justice to the honor bestowed upon me."
For over two decades, CNS has been involved in the training of young diplomats, scholars, and scientists from around the world in areas of disarmament and nonproliferation. In addition to regular coursework at MIIS, CNS has provided training in the form of a semester-long "Visiting Fellows" program and one-week intensive courses conducted in Vienna, Washington D.C. and Mexico City. The majority of visiting fellows originally hailed from the post-Soviet Union and China, but in recent years an increasing number of talented young diplomats from the developing world, including Chile, have participated in the highly selective program.
Chilean Ambassador Alfredo Labbé has been a member of the International Advisory Board of the CNS-affiliated Vienna Center for Disarmament and Non-Proliferation since its creation in 2011. Beginning in 2012 and during his tenure as Chile´s Ambassador to International Organizations in Vienna, Ambassador Labbé invited exceptional MIIS students to serve as interns on Chile's delegation to the meetings of the Non-Proliferation Treaty (NPT) review process. A total of four students in the Institute's Nonproliferation and Terrorism Studies program [link to program] who had previously participated in Potter's NPT simulation class have had a chance to serve on Chilean delegations. Recent alumni Benjamin Pack (MANPTS '14) and Thomas Gray (MANPTS '14) both served on the Chilean delegation at the 2014 NPT Review meeting in New York.
Upon returning to Chile in 2013, Ambassador Labbé assumed his new post as director general of foreign policy at the Chilean Ministry of Foreign Affairs. In that capacity, he organized the Conference on "Roads to Nuclear Disarmament" in Santiago on January 8-9, attended by Potter and his CNS colleague Gaukhar Mukhatzhanova (MAIPS '07).