Dispatch from Rwanda - Part 2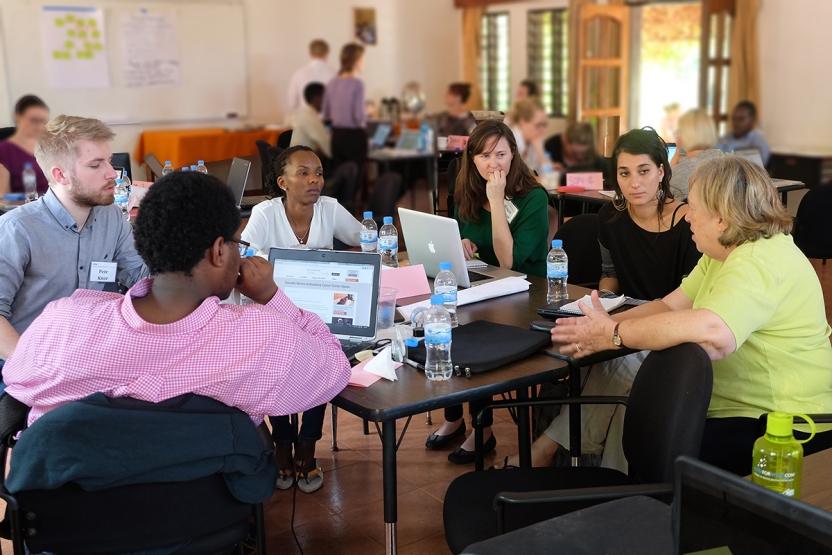 MIDDLEBURY, Vt. – Armel Nibasumba grew up in Burundi just south of Rwanda with poverty, strife, and ethnic tension all around him. This month the Middlebury College junior is back in East Africa to study project management for international development and social change through the Middlebury Institute of International Studies at Monterey.
Nibasumba, 22, is no stranger to managing projects to help rebuild his region of Africa. He received a Center for Social Entrepreneurship grant his first year at Middlebury to conduct peace-keeping workshops in Burundi, and last summer he launched the Twese for Peace National Camp Project in Burundi with a $10,000 Davis Fellowship for Peace. A biochemistry major, Nibasumba plans to become a doctor.
"This week, my group and I left Kigali and we quickly delved deep into an intensive DPMI training. In addition to the 12 participants in the immersion program in Kigali, we had 20 more participants from both the Middlebury Institute of International Studies at Monterey and Partners in Health (PIH).
"On Tuesday, the whole class moved to Partners in Health's center for training and operational research in Rwinkwavu, Eastern Rwanda, where we will be based for the next two weeks. Founded in 1987 by Dr. Paul Farmer, Dr. Jim Yong Kim, Ophelia Dahl, Thomas J. White and Todd McCormack, Partners in Health is a non-profit health care organization whose mission is to provide a preferential health care option for the poor through bringing the benefits of modern medical science to those most in need and serving as an antidote to despair. Originally operating in Haiti, it now extends its work to Russia, USA, Peru, Rwanda, Lesotho, Malawi, Mexico, Burundi, Guatemala, Kazakhstan, and the Dominican Republic.
"Throughout this week we learned to build 'problem trees' in an effort to better understand various health challenges that face PIH in Rwanda. We learned how to design log frames, which are goal focused and a useful tool for monitoring and evaluation. The program has emphasized the importance of building social capital in development work as a method for significant behavioral change. The class has been divided into six groups, all working on different projects focused on global health issues that PIH works to address. We will present our results to PIH officials for implementation.
"This week evolved around theory and practice. My group is working on a project to fight non-communicable disease, which has allowed us to use theories in the context of practical examples for development. Project design involves lot of trial and error, attention to details and perseverance, which added to a healthy group dynamic.
"The beauty of this secluded part of the land of a thousand hills has definitely provided me with a nurturing environment for reflection and hard work. At the end of the week, we had the opportunity to visit Akagera National Park on the banks of Lake Muhazi, exploring the rich biodiversity that Rwanda holds and creating stronger bonds between the program participants that hopefully will go beyond this program."
The is the second story in a series. Nibasumba's first dispatch from Rwanda was posted on January 15, and his third dispatch was posted on Februaty 11.

— Photo by Anissa Bensaid
For More Information