Feb Celebration Honors Class of 2014.5
[view:embed_content==490857]
MIDDLEBURY, Vt. – Fresh snow and wintry winds enveloped the campus as 129 seniors marked the completion of their undergraduate careers at Middlebury College's annual February Celebration on campus and at the Snow Bowl in the Green Mountains.
Middlebury's "Febs" – so called because the majority of them started their college education here in February 2011 – will earn their official bachelor of arts degrees on March 1, 2015. The celebration, which took place on January 30-31, commemorates the graduates' achievements.
"Each and every one of you should feel a sense of great accomplishment for all you have achieved here at Middlebury," said President Ronald D. Liebowitz in his final address to the Feb class. "You should carry with you great confidence because your experiences here at Middlebury have prepared you well to meet the challenges these dynamic times have already presented to your generation."
Among the lengthy list of achievements for the class of 2014.5, Liebowitz noted class members' leadership with Solar Decathlon, the Project on Creativity and Innovation, community engagement, music, theatre, athletics, and a host of other co-curricular activities.
The president's remarks were delivered at a highly spirited ceremony in Mead Chapel where every pew was filled with family members and friends.
Theatre major Nicholas Hemerling '14.5 delivered a story-infused student address, invoking the late children's author Maurice Sendak. Observing that Febs share a passion for adventure, Hemerling said, "We nurture our inner wild things. A wild thing can take any shape, by the way. It's not like all wild things are extroverts; it's not like our monsters can't be detail oriented—it's a good thing to have focus and self control over something you're passionate about. Just don't let that take you over. Don't let that kill your wild thing because if it doesn't work out, it's our wild things that will carry us on to the next dream."
Katy Smith Abbott, vice president of student affairs and dean of the College, presented the Jason B. Fleishman '03.5 Award to Tess Sneeringer, a biology major from Washington, D.C. The Fleishman award embodies Feb college pride, academic passion and determination, excellence in leadership and involvement, a positive attitude and care for others. The award was named for the late Jason Fleishman who died shortly after his Feb Celebration in 2004.
One by one each senior was called to the stage by Smith Abbott to receive a replica of Gamaliel Painter's cane, an enduring symbol of Middlebury College, handed to them by Greg Woodworth of the Class of 1981, a director of the alumni association. Woodworth's daughter Hilary Dixon Woodworth was among the graduates. Then the Febs took part in the traditional singing of the song "Gamaliel Painter's Cane," led by Francois S. Clemmons, the now-retired Twilight Artist-in-Residence who returned at the class's request.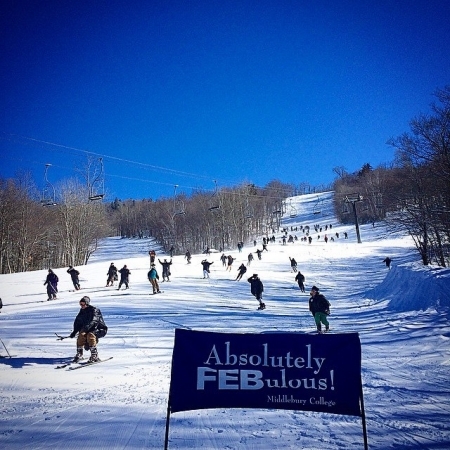 Members of the Class of 2014.5 enjoy the annual Ski Down at the Snow Bowl during February Celebration.
Members of the senior class sang the Middlebury alma mater, then recessed from Mead Chapel to "Festival Toccata" played on the Gress-Miles organ by Emory M. Fanning, professor emeritus of music and College organist.
The 2015 February Celebration continued at the Middlebury College Snow Bowl where members of the class braved icy winds to participate in the traditional "ski down the mountain" on the Lang trail. On snowboards, skis, snowshoes and foot, the graduates descended amid cheers from family members and friends in one of Middlebury's most-cherished traditions.
The classmates had one final opportunity to exchange hugs, say goodbye, and wish each other luck at the family luncheon back on campus in Proctor Dining Hall. Every member is invited back in the spring to participate in the formal Commencement exercises on May 24, 2015.
With reporting by Robert Keren and Stephen Diehl; Photos by Todd Balfour, Stephen Diehl, and Yeager "Teddy" Anderson '13.5.