Middlebury Voices in the News: Charlie Hebdo, Iran Nuclear, and State of the Union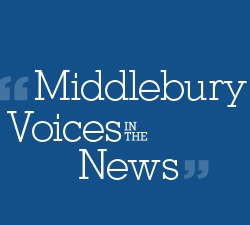 Following the recent terrorist attacks in Paris at the offices of the satirical magazine Charlie Hebdo, Senior Lecturer in Environmental Studies Rebecca Kneale Gould reflected on some of the many difficult questions the incident raised in an opinion piece for the Rutland Herald.
Read "Moi et Charlie," published January 18, 2015
In a USA Today article about the president's State of the Union Address, Professor of Political Science Matthew Dickinson said that the president's speaking tours before and after the address don't contribute much to law making. "The political science research, for what it's worth, shows that going on the road is not going to help him legislatively. It just doesn't work that way," Dickinson said. "He's still going to have to come back to Washington. He's going to have to negotiate with a Congress controlled by the opposition party."
Read "More than a Speech, the State of the Union is Now a Season," published January 21, 2015.
Associate Professor of Sociology and Gender, Sexuality, and Feminist Studies Laurie Essig commented in a Huffington Post article about Mt. Holyoke College's recent decision to cancel a performance of "The Vagina Monologues" due to its lack of inclusivity. "I think 'The Vagina Monologues' speak to lots of people even as they don't speak to everyone," Essig said. "I think it's important to think about they were never meant to be about what women are or even about the complexity of genders, but rather about vaginas."
Read "Why 'The Vagina Monologues' Isn't Exclusive To Women," published January 23, 2015
In the Washington Post's Fact Checker blog, Jeffrey Lewis, of the Middlebury Institute of International Studies says that President Obama's speechwriters may have misrepresented progress in nuclear negotiations with Iran. Obama claimed that "for the first time in a decade, we've halted the progress of its nuclear program and reduced its stockpile of nuclear material." "The 'most dangerous' would be a better turn of phrase," said Lewis. "I think the speechwriters are trying to explain something complicated in ordinary language — and maybe not quite sticking the landing."
Read "Obama's Claim that Iran's Nuclear Program has been Halted and its Nuclear Stockpile 'Reduced'," published January 22, 2015
In an opinion piece for CNN Professor of English and Creative Writing Jay Parini takes issue with statements by Louisiana Governor Bobby Jindal and others about so-called "no go zones" in Europe where, they claim, Sharia law prevails. "…one has to wonder what prompted his ignorant outburst," writes Parini. "Was this a lame attempt to play into the broad public fears of radical Islam that have arisen in the wake of the Charlie Hebdo killings? If so, that's not good enough for a politician with any shred of integrity."
Read "Bobby Jindal Doesn't Know What He's Talking About," published January 20, 2015.