Middlebury Voices in the News: Youth Protests, Dance Review, Study Abroad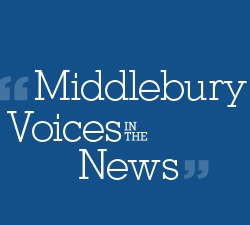 Visiting Assistant Professor of Political Science Orion Lewis and student Liza Keller '15 recently discussed the student protests in Hong Kong on the WCAX public affairs program, "The 30."
Watch "Experts on Efforts by Students to Gain More Freedom," published February 19, 2015
In a story for NPR, Professor of Psychology Barbara Hofer discussed some of the ways in which technology is changing the study abroad experience for students as instant communication home is possible at any time. "Before they ate a meal in a German pub having to take a picture of the big beer and the food before they actually ate it because they need to immediately post it on Facebook to let everybody back home know what they're doing," said Hofer. The story also includes quotes from Middlebury student Zoe Kaslow '15.
Listen or read, "Tech May Get In The Way Of Good Culture Shock While Studying Abroad," published February 10, 2014
The New York Times recently reviewed a dance performance by Assistant Professor of Dance Tzveta Kassabova. The performance, in collaboration with dancer Raja Feather Kelly, took place at St. Mark's Church in New York as part of Danspace Project's Dance: Access series.
Read "Attuned in Rhythm, Whether Together or Apart," published February 4, 2015
In a podcast for the web site, "New Books in Geography," Professor of Geography Anne Knowles discusses the iron industry in Antebellum America, the Holocaust, and how GIS can help illuminate previously unknown facets of both. Her recent books include Mastering Iron: The Struggle to Modernize an American Industry, 1800-1868 (University of Chicago Press, 2013) and Geographies of the Holocaust (Indiana University Press, 2014).
Listen to the podcast interview, published January 30, 2015