Students Bring Literary Journal to Life Onstage
MIDDLEBURY, Vt. – Middlebury debuted a lively new arts program last night with "NER Out Loud," a collaboration of the New England Review, the Mahaney Center for the Arts, and the student Oratory Society. Students presented poems, memoir, and short fiction from the pages of NER on the Concert Hall stage, lending their voices to the work on the page and bringing it to life for an audience of students, faculty, and community members. After the program, the audience gathered in the art center lobby for s'mores and hot chocolate, where they browsed copies of NER plus three student publications — Blackbird, Room 404, and Sweatervest — and heard readings from those magazines.
"I'd read all these pieces probably a hundred times before tonight, and thought I'd caught every nuance," said NER editor Carolyn Kuebler, "but these students have managed to reveal even more layers, more possible ways of hearing the language as it was written on the page." Kuebler also thanked collaborators Dana Yeaton, associate professor of Theatre and head of the new Oratory Society, and Liza Sacheli, director of the Mahaney Center for the Arts, both of whom helped bring the project to life.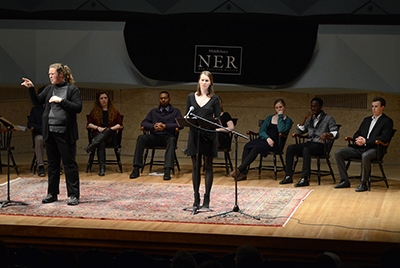 Caitlin Duffy '15.5 reads from "Shark Fishing" by Allegra Hyde. Eliza Goodhue provided American Sign Language interpretation.

The NER Out Loud program began with a welcome by Debanjan Roychoudhury '16, who served as MC and introduced the speakers and authors, offering the audience a little information about each student's upcoming theatrical and oratory works. Roychoudhury told the audience that all the readers on stage were members of a new student organization called the Oratory Society. The group offers its members speaker training and runs workshops with faculty in their classes.
Student readers included Kevin Benscheidt '17 reading Matthew Olzmann; Brenna Christensen '17 reading Kelli Russell Agodon; Caitlyn Duffy '15.5 reading Allegra Hyde; Cole Ellison '17 reading James Hoch; Jabari Matthew '17 reading Larry I. Palmer; Melissa MacDonald '15 reading Kate Lebo; and Sally Seitz '17 reading January Gill O'Neil. Eliza Goodhue provided American Sign Language interpretation, side by side with the student orators, who remained on stage throughout the production.
At the "s'more readings" reception afterward, NER intern Dustin Lowman '15 introduced the student magazines and readers, including Blackbird editor Nick Kaye '17 and readers Isabelle Stillman '16; Room 404 editor Dylan Redford '15 and reader Alice Oshima '15; and Sweatervest editors Emily Luan '15 and Doug LeCours '15.
Photos by Robert Keren