Working on Global Health in Rwanda
MIDDLEBURY, Vt. – Armel Nibasumba '16 has just returned from Rwanda where he took part in the Design, Partnering, Management, and Innovation (DPMI) program offered by the Middlebury Institute of International Studies at Monterey.
Nibasumba, 22, is no stranger to managing projects. He received a grant from the Middlebury Center for Social Entrepreneurship to conduct peace-keeping workshops in Burundi in 2013, and last summer he launched the Twese for Peace National Camp Project in Burundi with a $10,000 Davis Fellowship for Peace. A biochemistry major, Nibasumba hopes to become a doctor and serve his fellow Burundians.
"Week 3 was the culmination of the class. It was short and very busy. We only had four days remaining in the DPMI program and were pressed to finish our deliverables. Each team had to finalize its presentation and present to the Partners in Health officials on Thursday morning. All of the groups made the necessary investment so their work would be outstanding. Each group designed a global-health program that Partners in Health could put in place at Rwinkwavu in eastern Rwanda.
"My group was tasked to work on non-communicable diseases (NCDs). At first we had to narrow down our focus as this topic encompasses a broad group of diseases. After some outside-of-the-box thinking, our program was very unusual. Our project was titled 'Arrive and Thrive: A Road-Buddy System to Reduce Disability-Causing Road Accidents in Schoolchildren and Subsequent Chronic Care Needs.' Partners in Health is on the forefront of NCD care in Rwanda with innovative programs to bring effective and accessible care to everyone in the country. Our program was created to bring a new and innovative perspective to an off-the-beaten NCD path. Looking at our final presentation and remembering the steps we took to get there, I was proud of how far we had come and of how our DPMI training had given us the skills we needed.
"In reflecting on this experience and the wonderful three weeks we spent in Rwanda, I have nothing but deep thanks to MIIS, the DPMI program, and to PIH. This Winter Term program not only helped me learn about things that are close to my heart but also pushed me to question the status quo, go beyond my comfort zone, and feel vulnerable. It taught us how to manage group work and be patient. It showed us the importance of constructive criticism and human relations in development work. DPMI taught us that design is much more than color or form; it is the logical flow, connectivity, and the creation of a story line. It is an iterative process that is built out of many tools. It pays close attention to the tiniest things. And it is user centered and about the lived experience with the product. DPMI taught us about management styles and the primary focus on indicators for monitoring and evaluation. It emphasized that innovation is not just being unique and different, but also drawing from existing knowledge and expertise to be fruitful if it involves a diverse set of actors and stakeholders.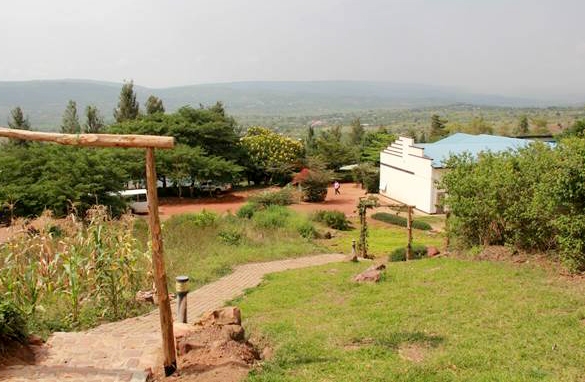 The Partners in Health Training Center sits on a hillside in Rwinkwavu, Rwanda.
"DPMI is much more than learning about practical skills. It is about using imagination and providing community-based solutions. It is a constant reminder that there are multiple streams to change making. It emphasized the importance of checking one's privilege and assumptions you are bringing to your work to make sure you are actually doing what you intended to achieve. Although project design is time consuming and involves much rethinking and redesigning, it is an important step towards making sure your project does not end up like the multitude others that fail every year.
"What was most special about this program was the people, and the breadth of experiences and opinions that made every conversation a conversation worth having. Rwinkwavu became our classroom for the week. For me personally, the daily feeling of being [close to] home, the happiness that comes with it, the constant topical breeze, and all of the familiar sounds of the hills contributed to my intellectual stimulation."
— Photos in Rwinkwavu by Elena Cryst
Armel Nibasumba posted his first dispatch shortly after his arrival in Rwanda, and posted his second dispatch about one week later.