A Governor Reflects on Four Decades of Public Service
MIDDLEBURY, Vt. — In his nearly 40 years of public service, Jim Douglas '72 says one of the strangest situations he ever found himself in was in 2009 when he helped President Barrack Obama rearrange furniture in the Oval Office after a photo session with the White House press corps. The couches had been moved aside to make room for photographers. Afterward, Obama grabbed the couch to move it back in place and Douglas says he instinctively picked up the other end to help. Later, Douglas noted, a photo of the couch-moving episode was named one of the top 10 presidential photos of all time by the Truman Library in Independence, Missouri.
The couch photo also appears on the back of the four-term Vermont governor's new memoir, The Vermont Way, which provided the backdrop for his recent talk to students, faculty, and staff in the Abernethy Room at the Axinn Center. Douglas has spent the past five years teaching and writing as executive in residence at Middlebury.
A skilled storyteller with quick comic timing, Douglas pieced together several anecdotes from his Vermont political career dating back to his first election to the Vermont House of Representatives just a few months after he graduated from Middlebury College. Since that time he has held numerous elected posts including secretary of state, state treasurer, and governor.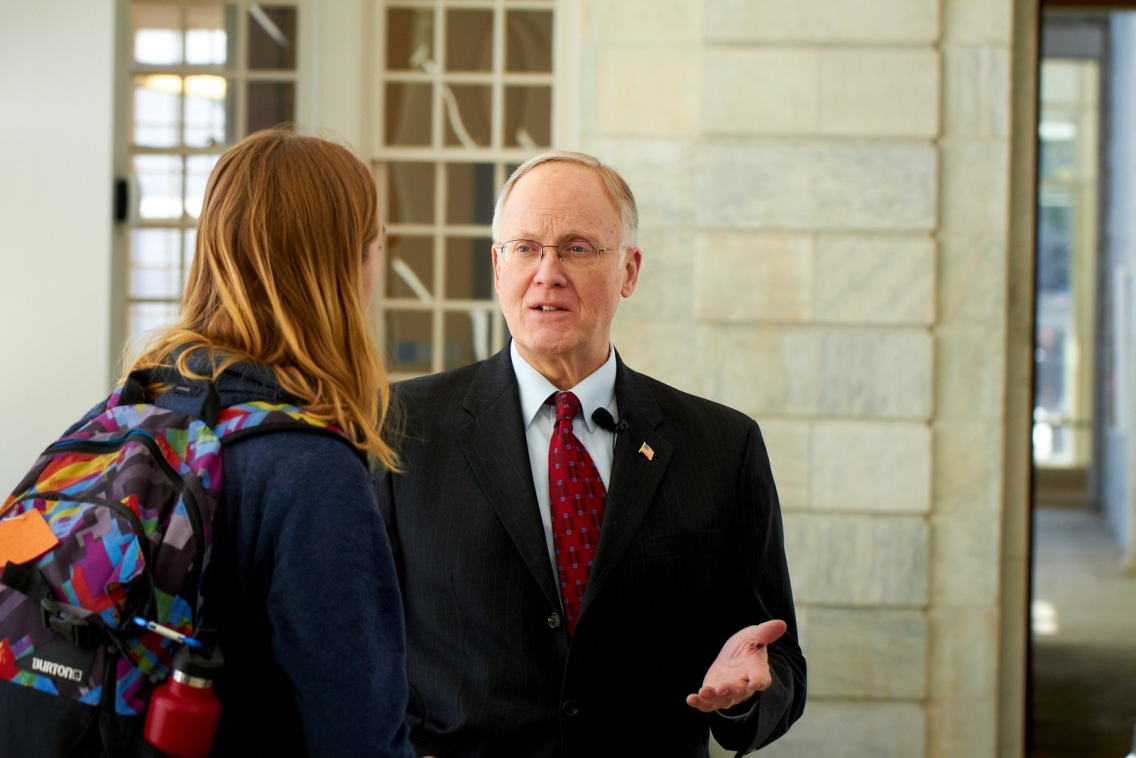 Jim Douglas '72 chats with a student before his talk in the Abernethy Room.
Throughout his career, Douglas has held the distinction of being a Republican leader in a largely Democratic state. "A lot of people have asked, 'How can a Republican win in such a deep blue state?,'" Douglas said. It was one of the first things President Obama asked him about when the two met at a gathering of governors shortly after the 2008 election.
The answer, Douglas believes, lies in a distinctive Vermont culture. "The differences between Vermont and the rest of the country seem to be greater in a number of different ways," said Douglas referring to the title of his book. "I think it's important to maintain the sort of integrity we have here compared to other places — the transparency, the collegiality in government." Douglas said that the small size of the Vermont State House helps encourage the kind of civility that sets Vermont apart. "You have to interact with your colleagues, and I've always thought that if you know you're going to go to lunch or dinner with someone on the other side of the aisle, you might tone down your rhetoric just a little when you're having a debate in the house or senate."
Douglas said that not much surprised him in the governor's office after so many years in government, but there were a few things that he couldn't have predicted, including the depth of the 2008 recession.
He had also not anticipated serving as governor during a time of war. "We had the greatest casualty rate per capita of any state," said Douglas. "It was a profound time for our state and because we're so small, we all know people who know those who lost family members. I spent far more time than I expected comforting families who lost a loved one in the Middle East."
Douglas was reluctant to offer any critique of the current administration, but did touch on what he felt were two of the most significant challenges facing Vermont. Demographics, he said, will play a major role in the future economic vitality of the state. "We have a real problem with the aging of our state. We're the second oldest state by median age and we're aging more rapidly than most." A declining school population, low birth rate, and little foreign immigration add to the challenge, he said. "I'm very concerned about where our work force is going to come from from this point forward."
Douglas said he also worries about the growing partisanship that he's seeing among Vermont legislators, while acknowledging that it's not nearly as bad as Washington. He said it concerns him to see that most votes in the Vermont House are straight along party lines. "I think we've got to find a way to get back to a day when party allegiance wasn't as important as it seems to be now. Although it's not as bad as elsewhere, it's not as good as it used to be."
An audience member asked Douglas if he would consider a run for national office or possibly an ambassadorship. Douglas said he had, in fact, received a significant post-gubernatorial offer, which he seriously considered but declined. "When you live in paradise, why would you want to go anywhere else?" he quipped.
With reporting by Stephen Diehl; Photos by Todd Balfour