Julia Alvarez '71 to Deliver Middlebury College Commencement Address
Middlebury Commencement
Sunday, May 24
10 a.m., Main Quad
Full schedule
LIVE WEBCAST
MIDDLEBURY, Vt. — Julia Alvarez, a highly regarded novelist, poet, and essayist, and a 1971 Middlebury graduate, will deliver the 2015 Middlebury College commencement address on Sunday, May 24.
Alvarez's acclaimed novels In the Time of theButterflies and How The García Girls Lost Their Accents are based on her life experience, the foundation for much of her work. She spent most of her childhood in her parents' native Dominican Republic before her family was forced to flee the dictatorship of Rafael Trujillo in 1960. Among her many awards is the National Medal of Arts, bestowed by President Barack Obama in 2013, and the highest honor given to artists and arts patrons by the United States government.
A writer-in-residence at Middlebury, Alvarez also attended the Middlebury Bread Loaf Writers' Conference for many summers and the Middlebury Bread Loaf School of English. She has taught at the College since 1988, transitioning from a tenured position to her residency in 1998 in order to focus on her writing and the sustainable coffee farm and literacy center, Alta Gracia, that she and her husband have established in the Dominican Republic.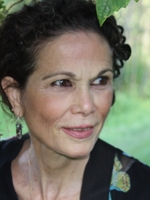 Julia Alvarez '71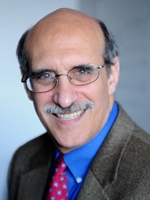 Martin Chalfie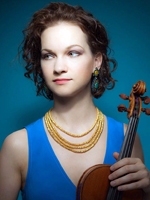 Hilary Hahn, Photo: Michael Patrick O'Leary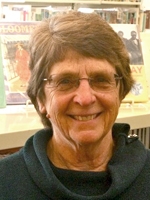 Christina Johnston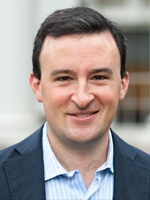 Eric Nelson

"Julia Alvarez is greatly admired for her prodigious talent and insightful portrayals of the human condition," said Middlebury President Ron Liebowitz. "Her powerful storytelling reveals much about what it means to inhabit two cultures and to face oppression with courage. We are proud to call her one of our own—as a graduate of the College, attendee of our Bread Loaf School of English and Bread Loaf Writers' Conference, and as a valued faculty colleague. "
Alvarez will receive a Doctor of Letters degree at the College's commencement ceremony. Four other distinguished men and women also will receive honorary degrees:
Martin Chalfie, a professor and former chair of the biological sciences at Columbia University, is a Nobel Laureate, receiving the 2008 Nobel Prize in Chemistry, along with Roger Tsien and Osamu Shimomura, for discoveries about green fluorescent protein (GFP). Chalfie's work with GFP has revolutionized biology by affording scientists new access to the inner workings of living cells. His seminal paper describing the uses of GFP — "Green fluorescent protein as a marker for gene expression" — was published in 1994 in Science and is among the most cited papers in the field of molecular biology and genetics, having been cited in more than 100,000 papers. He joined the Columbia faculty in 1982. Chalfie will receive a Doctor of Science degree.
Hilary Hahn, a Grammy Award-winning violinist, has captivated audiences worldwide since 1991, when at the age of 12 she made her major orchestral debut with the Baltimore Symphony Orchestra. With a broad-ranging repertoire from Bach to Barber and beyond, Hahn has performed in more than 40 countries as a recitalist and soloist. Since she began recording at 16, she has released 15 albums on the Deutsche Grammophon and Sony labels, all of which debuted in the top 10 of the Billboard classical chart. Her 16th album, Mozart 5, Vieuxtemps 4 — Violin Concertos, will be released at the end of March. Hahn has won three Grammy Awards — for Best Instrumental Soloist Performance with an Orchestra in 2003 and 2009 and for Best Chamber Music in 2015. She has spent four summers at the Middlebury Language Schools, where she studied German, French, and Japanese. Hahn will receive a Doctor of Arts degree.
Christina Johnston is the principal of Weybridge Elementary School in Weybridge, Vermont, a position she's held for more than 20 years. During her tenure, she has displayed bold and forward-thinking leadership that has earned national attention: Weybridge Elementary is now regarded as one of the best elementary schools in Vermont. Long a proponent of curricular innovation, Johnston has overseen paradigm-shifting programs in mathematics, science, and second-language acquisition that have elevated learning opportunities for her students. In recent years, Weybridge classrooms have incorporated digital learning initiatives into their K-6 Spanish language curriculum; engaged with a local aerospace engineering company to construct model bridges; and conducted experiments in a Middlebury College biology laboratory. Johnston will receive a Doctor of Education degree.
Eric Nelson, the Robert M. Beren Professor of Government at Harvard University, is a political theorist who has focused his research on the history of political thought in early modern Europe and America, and on that history's implication for debates in contemporary political theory. A former member of the Harvard Society of Fellows, he is the author of three books: The Royalist Revolution: Monarchy and the American Founding; The Hebrew Republic: Jewish Sources and the Transformation of European Political Thought, for which he received the Laura Shannon prize in Contemporary European Studies; and The Greek Tradition in Republican Thought. In 2013, he delivered Middlebury's John Hamilton Fulton Lecture in the Liberal Arts, a talk titled "The Lord Alone Shall Be King of America: Hebraism and the Republican Turn of 1776." Nelson will receive a Doctor of Laws degree.
The Middlebury College commencement ceremony will be held on the main quadrangle behind Voter Hall on College Street (Route 125) at 10 a.m. on Sunday, May 24. More than 5,000 family and friends are expected to attend.