Annual Spring Symposium Will Showcase Students' Creative and Intellectual Work
MIDDLEBURY, Vt. – The creative problem-solving methods employed by Middlebury undergraduates, and the results of their endeavors, will be on full display during the College's ninth annual Spring Student Symposium on Thursday, April 9, and Friday, April 10. Events are open to the public and a full schedule is available online.
More than 300 students will showcase their talents when the performing arts take center stage on the first day of the Symposium, and when the natural sciences, social sciences, humanities, and visual arts take over on the second day of the event. Nearly every academic discipline at the College will be represented in a performance, lecture, presentation, or poster session during the two-day, student-centered event.
"The Spring Student Symposium showcases the diverse interests of our student body," said Symposium Co-chair Pat Manley, a professor of geology who has been associated with the event since it began in 2007 with about 90 students. "We hope everyone will feel welcome to attend the oral presentations, performances, and poster sessions. It's a wonderful chance to learn something new about a topic you may never have considered before."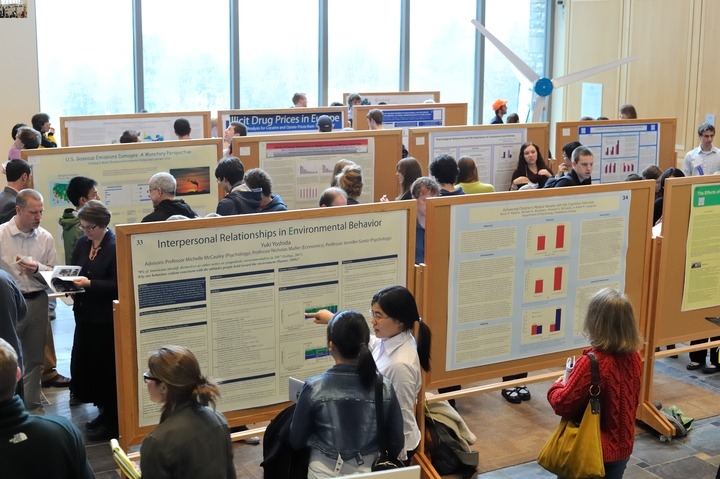 Student presenters and visitors mingle at one of the poster sessions in the Great Hall of McCardell Bicentennial Hall during the 2014 Spring Symposium.
Manley says the Symposium offers students an important chance to shift gears from their regular classroom studies. "It is a time where students are not judged or graded on their work but allowed to just share what they have been doing with their peers and the entire college community. It's a day of no classes, tests, or homework but a day filled with the best Middlebury College has to offer – its talented students."
On Thursday evening, for example, students will screen video projects, present theatre costume designs, and perform music and two theatre productions. On Friday, there will be numerous oral presentations, visual arts displays, and poster sessions hosted by student researchers in McCardell Bicentennial Hall.
Alumnus Kevin Murungi '01 will give a keynote talk on Thursday evening at 7 p.m. in the Mahaney Center for the Arts concert hall. Murungi, who majored in political science and minored in economics, is director of human rights and foreign policy programs at Global Kids, Inc., a non-profit educational organization for global learning and youth development.
Vice President for Academic Affairs and Dean of the Faculty Andi Lloyd will deliver the welcome on Friday morning, April 10, at 9 a.m. in McCardell Bicentenial Great Hall.
The Symposium will conclude with a reception for all participants and attendees beginning at 4:45 in Bicentennial Hall on Friday, also in the Great Hall.
The Spring Student Symposium is organized by the Symposium Committee with assistance from the Center for Teaching, Learning and Research, and from faculty and staff across the Middlebury campus.