Israeli Culture and the Teaching of Hebrew Language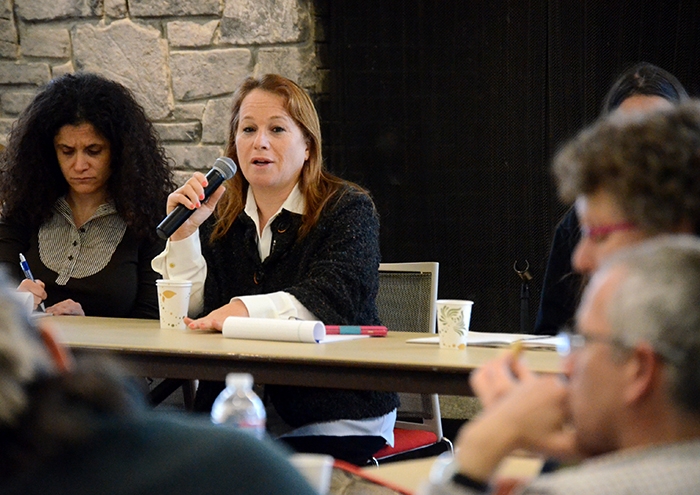 MIDDLEBURY, Vt. – The first research colloquium co-sponsored by Middlebury's Institute for the Advancement of Hebrew and the Israel Institute generated a series of discussions about integrating the teaching of Israeli culture into Hebrew language courses.
Hosted by the institute on the campus of Middlebury College, the colloquium attracted 32 Hebrew language educators from New York, San Francisco, London, Tel Aviv, and other locales for two days of panel discussions, presentations, and the formation of working groups for research projects.
The sessions were conducted in Hebrew on the topic "The Culture of Language: The Role of Israeli Culture in the Hebrew Language Classroom."
Vardit Ringvald, the director of the Institute for the Advancement of Hebrew, said the colloquium on April 19-20 pointed to two objectives: a) the need to research how incorporating Israeli culture into the Hebrew language curriculum reinforces the acquisition of language, and b) the need to train Hebrew language educators in the use of pedagogical tools that will maximize language acquisition via Israeli culture.
"I am extremely pleased with the outcome of the colloquium," said Ringvald, who is also director of the Middlebury School of Hebrew and a research professor at Middlebury College. "It offered the opportunity to collect a wide range of perspectives about the topic from language educators, culture educators, and scholars, and this collective wisdom will pave the way forward to our next phase."
"We now have the basis for a series of short meetings to develop the pedagogical tools needed for teaching culture in the classroom," she added.
The Institute for the Advancement of Hebrew was launched in 2013 to transform the way that Hebrew language is taught around the world.