Ninth Student Symposium Showcases Creativity, Inquiry
MIDDLEBURY, Vt. – More than 300 Middlebury students showcased their creative and intellectual pursuits over two days at the ninth annual Student Symposium. McCardell Bicentennial Hall was filled with energy and a festive atmosphere on Friday as students presented posters of their independent research and conducted oral presentations in rooms throughout the building.
Vice President of Academic Affairs and Dean of the Faculty Andi Lloyd welcomed the crowd on Friday morning. "When I looked through the catalog of talks last night, I couldn't help but marvel at the sheer breadth of your collective endeavors," Lloyd told the student presenters. She noted that there were scientific, literary, musical, and theatrical talks – often intermingled in the same session.
"The moment in your education when you realize that you're equipped to explore uncharted lands, to ask questions that have not previously been asked is a wonderful and liberating moment," said Lloyd. "I look forward to hearing from many of you today about your journeys, your detours, the places you were blocked, and the pleasure of solving problems."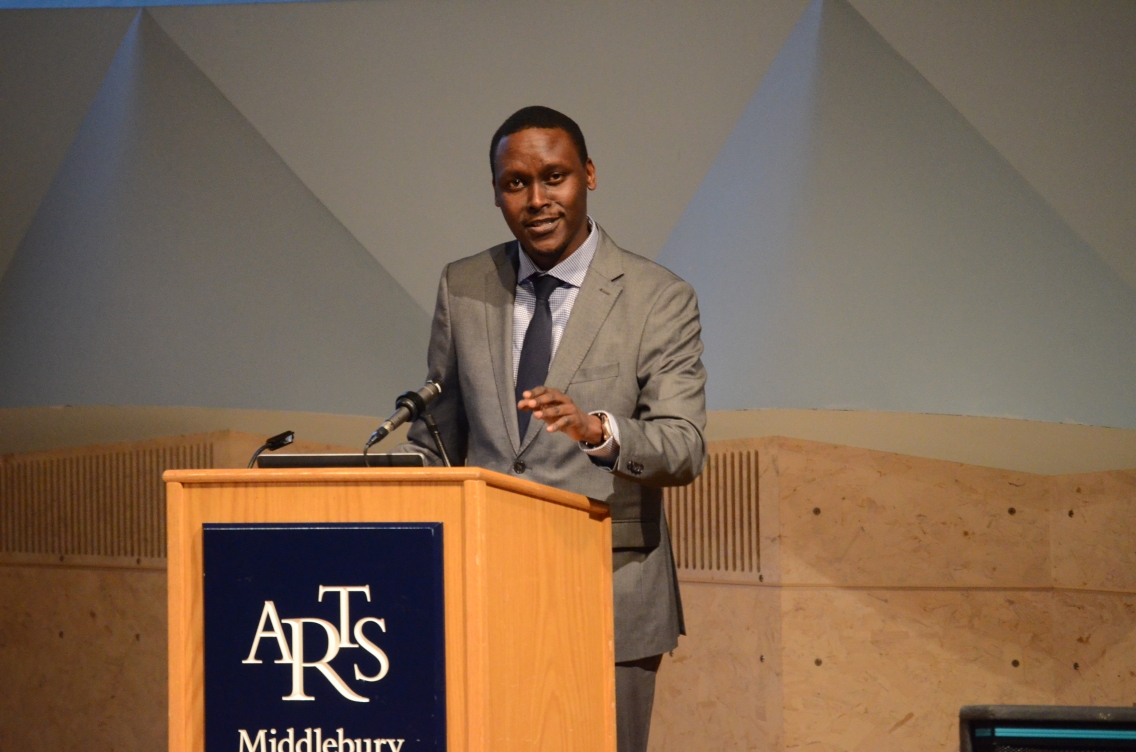 Kevin Murungi '01 gave the keynote address at the Mahaney Center for the Arts on Thursday evening.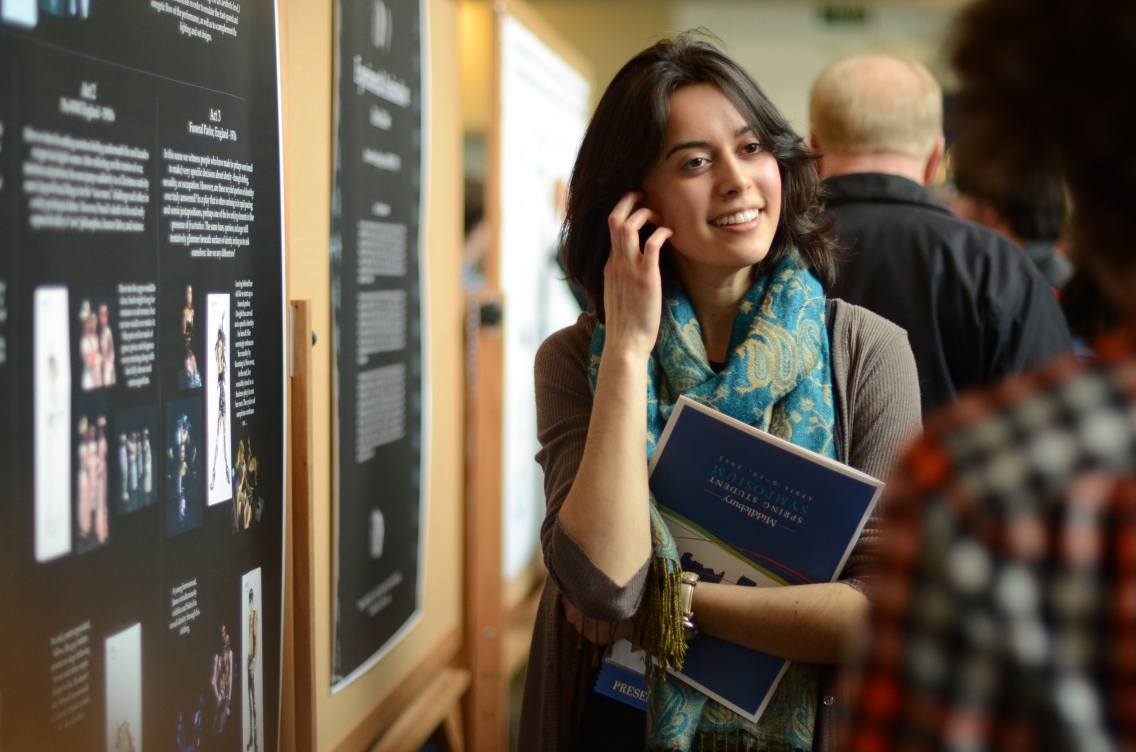 Krista Duke '15 discussed her costume design work for the theatre production of Vampire.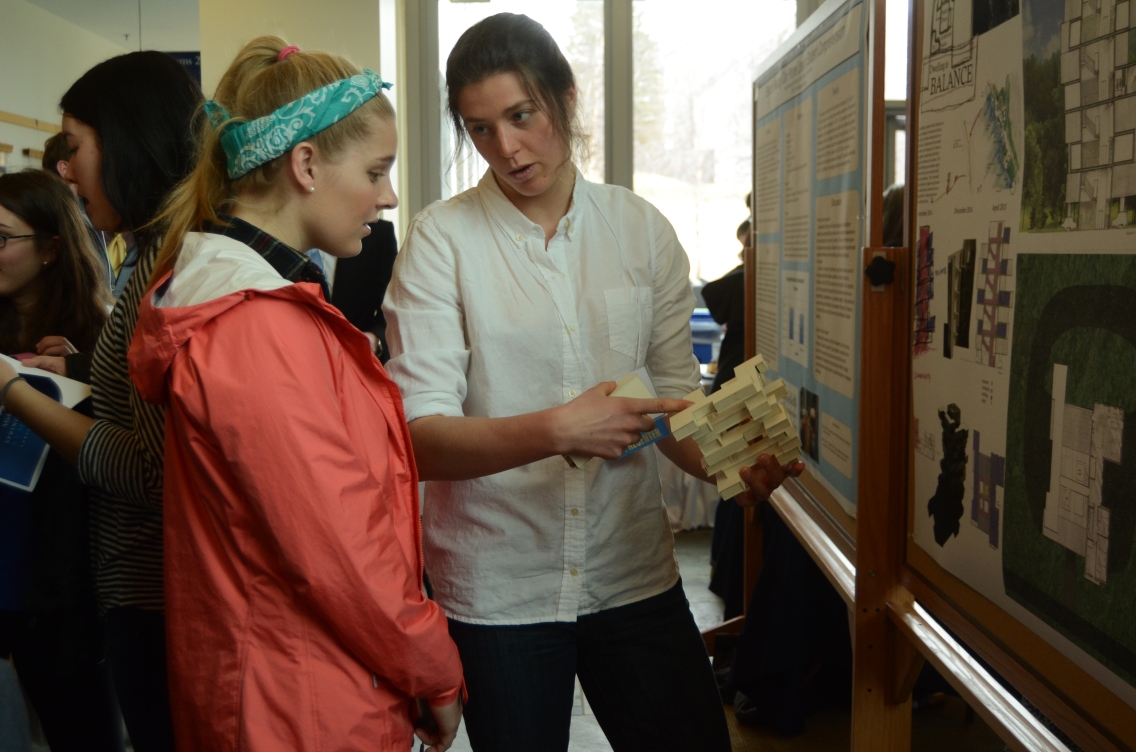 Heather Mooney '15 describes her architecture project, "Finding Balance on the Burlington North 40."
On Thursday evening at the Mahaney Center for the Arts, President Ron Liebowitz welcomed the audience to the launch of the symposium with appreciation for the uncertainty inherent in academic inquiry.
"There is an element of risk in any kind of creative work," said Liebowitz. "Whenever you do something that hasn't been done before, you can't be sure how it will turn out. For every successful innovation, there are many exciting ideas that prove to be impractical or just plain wrong. That's why Linus Pauling, the only person ever to win two Nobel prizes in unrelated fields, once observed, 'The best way to have a good idea is to have lots of ideas.'"
Alumnus Kevin Murungi, a member of the class of 2001, gave the keynote talk Thursday evening. Murungi is director of human rights and foreign policy programs at Global Kids, a nonprofit educational organization for global learning and youth development. The evening was also an opportunity to highlight many creative works, including musical performances, a dance demonstration, screening of student films, and a theatre performance.
The breadth of academic disciplines represented at the symposium was striking in Bicentennial Hall on Friday. At one of the first sessions of the day, students from a Modern Political Philosophy course took turns sharing their research on the historical underpinnings of current political thought. Next door, another group of students discussed the feasibility of microgrids for the future of energy at Middlebury, followed by a presentation by the cast and crew of senior theatre major Caitlin Duffy's thesis production, "Venus in Fur." Down the hall, International and Global Studies major Holly Hummer '15 presented a shortened version of her thesis, "Born Shinto, Marry Christian, Die Buddhist?"
Meanwhile, in the great hall, students presented posters on topics ranging from the impact of youth unemployment to the effects of testosterone on spatial memory in male rats.
Spencer Hardy '16.5, a biology major from Norwich, Vermont, presented research he had conducted over Winter Term on Vermont's bumblebee populations. Hardy used a data set provided by the Vermont Center for Eco Studies to analyze more than a century's worth of information about Vermont's shifting bee populations, which are important pollinators of tomatoes, blueberries, and agricultural crops.
Spencer says his research suggests the reasons for declining diversity of bumblebee species is more complicated than common wisdom suggests. "The work here shows that there are a lot of different factors influencing bumblebee declines," said Spencer. "So it's not going to be as simple as banning one pesticide and all the bumblebees will come back. There's climate change; there's land use changes – a lot of things that are going to be hard to mitigate."
Wrapping up the day of many presentations, the presenters and their guests gathered for a celebratory closing reception in the Great Hall. Now in its ninth year, the Middlebury Spring Symposium is sponsored by the Center for Teaching Learning and Research.
Reporting by Stephen Diehl; Photography by Robert Keren