College and Community Chorus to Present Mother's Day Concerts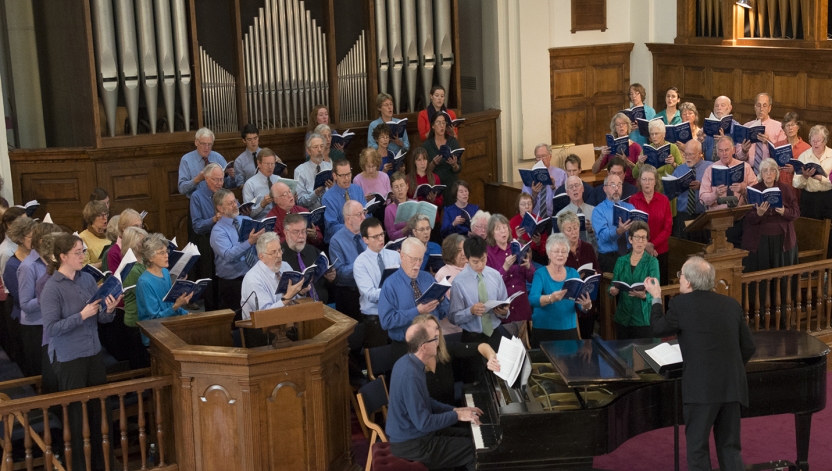 MIDDLEBURY, Vt. – The Middlebury College and Community Chorus invites all to its traditional Mother's Day weekend concerts that are just around the corner. The 80-voice choir sings twice during the May 9-10 weekend: first at the Brandon Town Hall on Saturday evening, May 9, at 7:30 p.m. as the Town Hall opens its doors for its spring and summer seasons (donations at the Town Hall door support ongoing renovations of the space for community and arts events); and then on Sunday afternoon, May 10, 3:00 p.m. in Mead Chapel on the College campus (free admission).
The program features the Vermont premiere of two extraordinary works performed side-by-side, composed by award-winning Norwegian composer Ola Gjeilo. He scores these works for the combined forces of solo piano, string quartet, and choir in an amazing soundscape. "Dark Night of the Soul" draws its text from the 16th-century mystic priest Saint John of the Cross, while "Luminous Night of the Soul" includes additional words by Saint John and new verses, by American poet Charles Anthony Silvestri, written specifically for Gjeilo's new piece.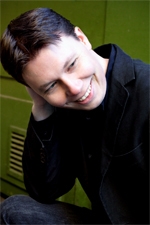 Composer Ola Gjeilo
Composed just five years ago, these spell-binding works feature a piano part that shifts from powerfully rhythmic to gently lyrical moods, performed by the choir's versatile keyboardist Timothy Guiles, while chorus, string instruments and soprano soloist Middlebury College student Samantha Allman '16 provide rich harmonic and melodic color to evoke the poetry's wide span of sentiments.
Vermont Symphony Orchestra and Champlain Philharmonic players join the chorus for this performance: Dieuwke Davydov, cello; Hilary Hatch, violin; Ann Kowalski, violin; Molly Bidwell, viola.
The concert opens with the bouyant chorus "Come, Gentle Spring!" by renowned classical composer Franz Josef Haydn; the text, while welcoming spring, also comments upon winter's strong hold! The choir offers two songs by Gwyneth Walker (who until recently made her home in Vermont) on the poetry of e.e. cummings: "I carry your heart" and "Spring!" – the latter with exclamations of delight that ring out from the ranks of the chorus. These works also showcase Tim Guiles at the piano.
As a special treat, Guiles leads the chorus in a unique a cappella arrangement of the traditional Shaker tune "Simple Gifts," with afro-jazz rhythms and harmonies, as lower voices sing "cheza ngoma" (Swahili for "dance and sing"), while upper voices perform a syncopated variation of the well-known Shaker song.
The chorus traces its origins to the Middlebury Musical Institute, a choir founded in the mid-1800s to study music and sing major choral works. Today, the group draws its singers from throughout Addison, Rutland, and Chittenden counties and communities in New York across Lake Champlain. Pianist Tim Guiles teaches music locally, and directs musical theater and a cappella choirs for schools and community groups across the state. Jeff Rehbach, who conducts the annual Messiah Sing in Middlebury each December, is in his fifteenth season leading the Community Chorus.
A verse from "Simple Gifts" expresses the hope that we may "find ourselves in the place just right… in the valley of love and delight." May that be true as spring takes hold, and you and your family come celebrate Mother's Day with this community musical program. For more information contact Jeff Rehbach at 802-989-7355.