Students Earn Fellowships, Scholarships, Awards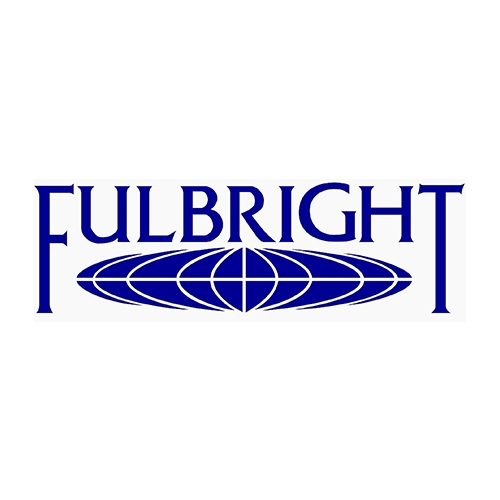 Editor's note: Spring is the time of year when national foundations, organizations, and agencies announce the recipients of fellowships, scholarships, and awards. The Communications Office will continue to update this story as more announcements are made.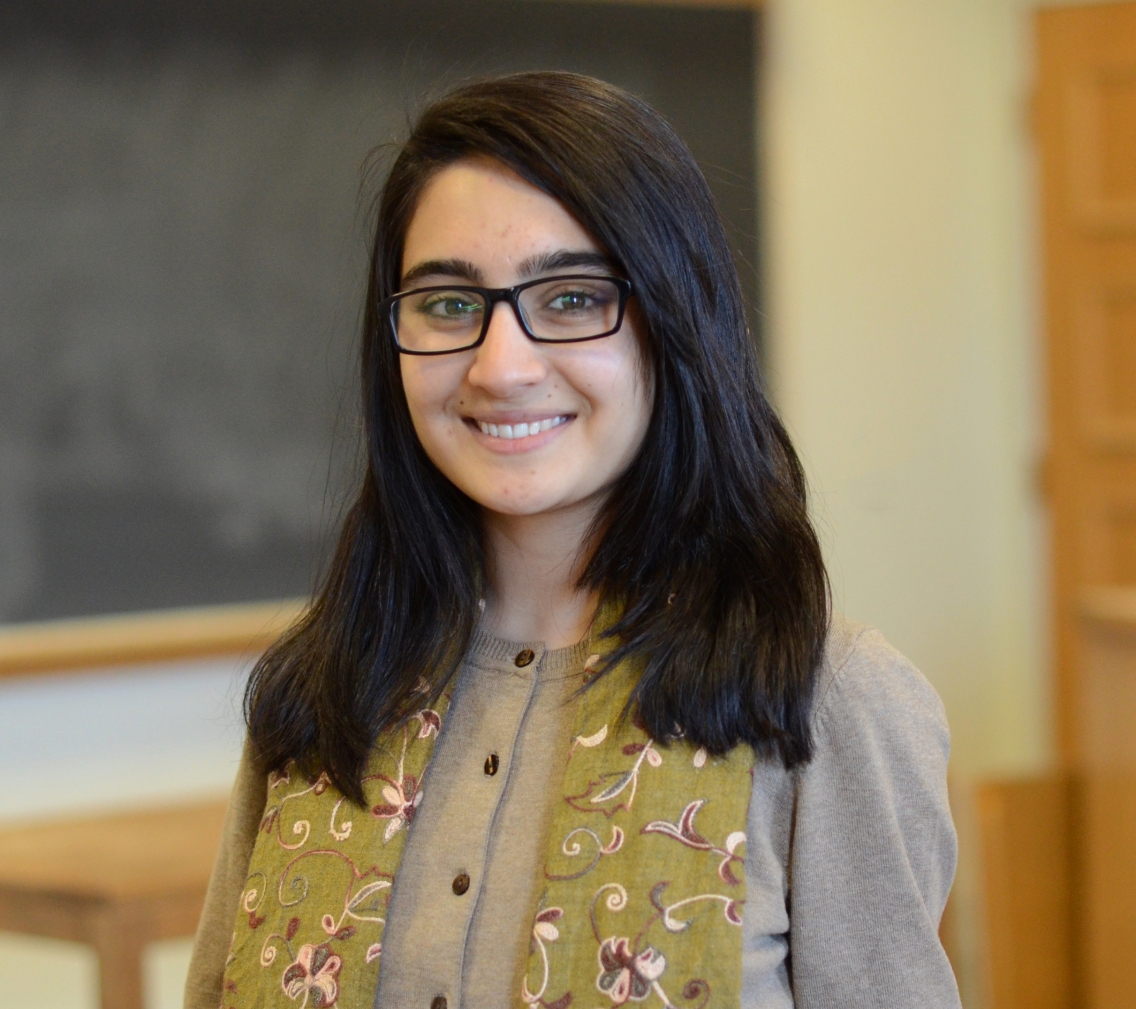 Davis Projects for Peace
Naina Qayyum '15, of Islamabad, Pakistan, has been awarded a $10,000 Projects for Peace grant from the Davis United World Scholars Program. Qayyum, an economics major with a minor in global health, will conduct her project this summer in Pakistan.
Qayyum, who has been very active in creativity and innovation projects at Middlebury, will run a two-week program called "Creative Youth for Community Leadership Enhancement" in Islamabad. The program will draw on the ideas of design thinking—a process of developing creative and innovative solutions to problems—to help Pakistani youth develop leadership skills and design creative solutions to challenges facing their communities. The program builds on a smaller pilot project she completed in rural Chitral, Pakistan in the summer of 2014.
---
Watson Fellowships
Two recent Middlebury College graduates, Linnea Burnham of Thetford, Vt., and Cathryn Manduca of Rochester, Minn., have been selected as Thomas J. Watson Fellows for 2015-16. The Watson Fellowship is a one-year, $30,000 grant for purpose-driven, independent study conducted beyond the borders of the United States.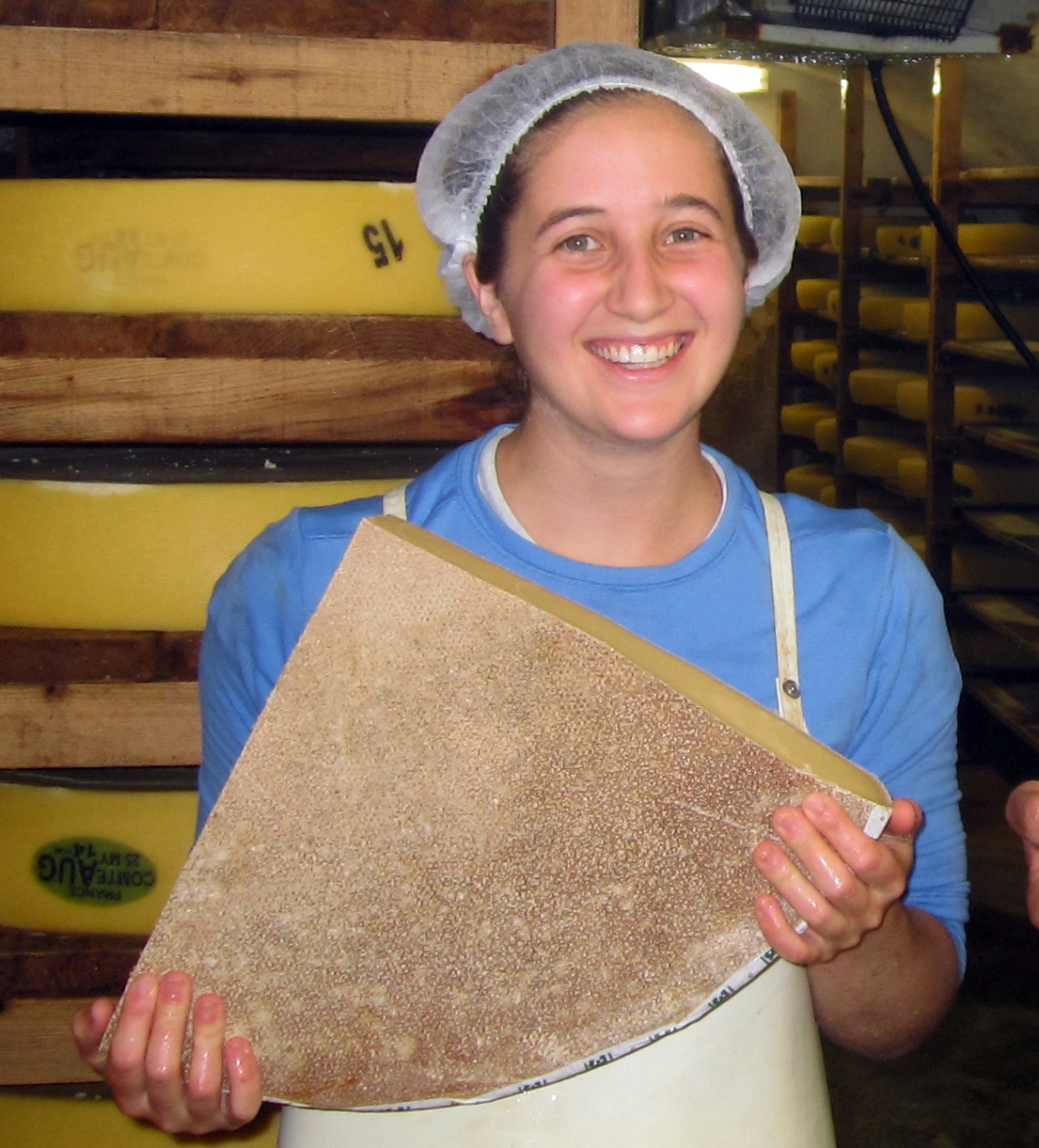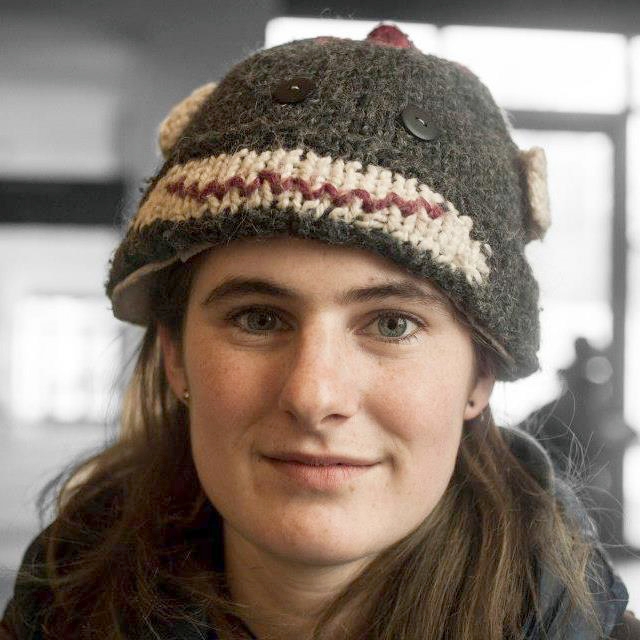 Linnea Burnham and Katie Manduca
Linnea Burnham '14.5 will immerse herself in the lives of artisanal cheesemakers in Italy, Switzerland, England, Norway, Brazil, and South Africa. Her fervor for how cheese is produced, and for how social, cultural, and economic forces shape the lives of the men and women who make it, is a direct reflection of her lifelong interest in local agriculture.
Cathryn (Katie) Manduca '14.5 will pursue her passion for textile arts by traveling in the United Kingdom, Norway, Guatemala, Bolivia, and Turkey during her Watson year. Manduca, who has been making sweaters and scarves for friends and family since she was eight years old, majored in computer science at Middlebury and discovered that her studies allowed her to merge her creative and analytic sides.
---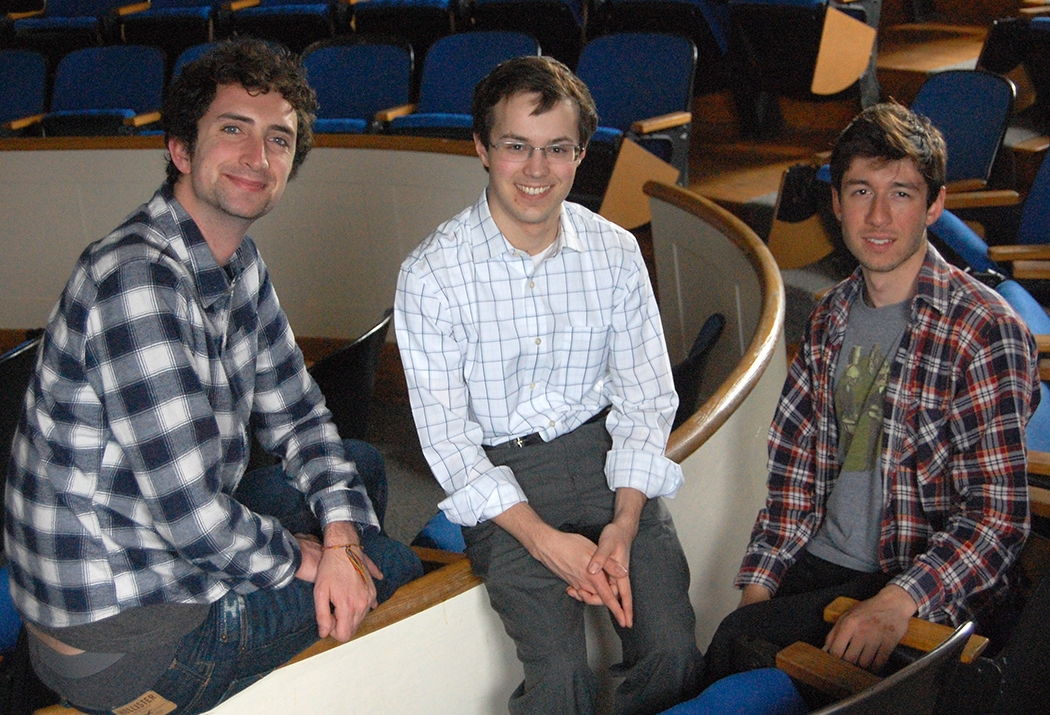 Forest Jarvis, Joe Flaherty, and Rod Abhari

Fulbright
Five Middlebury College seniors and two recent alumni have been selected as J. William Fulbright fellows for the 2015-16 year. Two of Middlebury's seven recipients will be conducting research abroad, while the other five will be teaching English in Europe, Morocco, and Brazil.
Rod Abhari '15, from Bixby, Okla., is a sociology major interested in global health. For his Fulbright he will travel to Swaziland to investigate how narratives of empowerment at teen clubs are internalized, reproduced, and resisted by the youth who participate in the organizations. Swaziland teen clubs strive to reduce the stigma of HIV/AIDS by offering empowerment workshops. Abhari hopes his research will contribute to linguistic and medical anthropology by illuminating the social meanings of empowerment, youth, and medicine.
Joseph Flaherty '15, a history and political science major from Appleton, Wis., will return to Turkey as an English teaching assistant after having studied abroad there as a Middlebury junior. Flaherty believes that having the ability to speak, read, and write in English will open up opportunities for Turkish people beyond the borders of their own country. The 2014-15 editor-in-chief of The Campus student newspaper, Flaherty also plans to work on a journalism project with Turkish university students.
Forest Jarvis '15, from Traverse City, Mich., will research the effects of socioeconomic status, inequality, and exclusion on the vulnerability of people to natural disasters in the Philippines. The international politics and economics major will conduct the majority of his research on the island of Luzon, using the flooding and displacement caused by Typhoon Nanmadol in 2011 as a case study. Jarvis, who has traveled extensively in Latin America, Vietnam and Morocco, speaks four languages in addition to English.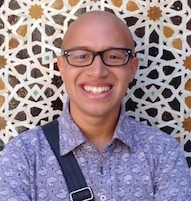 Zeke Caceres
Zeke Caceres '15, an international and global studies major from New York City, will return to Morocco as an English teaching assistant. Caceres, who speaks four languages, believes that language acquisition opens up opportunities that would be closed off otherwise. Caceres is a Posse scholar who plans to pursue graduate studies in Middle East politics and eventually work as a Foreign Service officer at the U.S. State Department.
Priscilla Odinmah '15, of New York City, a double major in psychology and education studies, will travel to Brazil to work as an English teaching assistant. While studying abroad in Brazil, Odinmah noticed that there were many enthusiastic students of English, but that some teaching methods were more effective than others. She hopes that by returning to Brazil with her previous experience, she'll be able to maximize the learning opportunities for her students. Odinmah, a Posse scholar, speaks four languages and hopes to pursue her master's in education, possibly in language instruction, when she returns from her Fulbright.
Molly O'Keefe '12.5 was a theatre major at Middlebury who has been living in New York City and serving as a bilingual teaching apprentice with the People's Theatre Project. Her Fulbright teaching assistantship will be in Bulgaria where she studied traditional music one summer during high school, and where she plans to use her skills as an actress and vocalist to create a positive classroom dynamic. She also plans to collaborate with Bulgarian theatre ensembles to study their techniques, and devise an original piece of theatre that can be performed for the public.
Sarah Pollnow '14, from Seattle, Wash., will be an English teaching assistant in Germany to augment her academic interests in the history, language, and culture of the country. The history major who was salutatorian of her class at Middlebury believes that exposure to Germany's pedagogical and historiographical traditions will broaden her perspective and further her development as a history teacher. Pollnow also plans to volunteer as a tutor or mentor to disadvantaged teens in Germany, and to follow-up her Fulbright year by teaching abroad for a second year in either France or Latin America.
---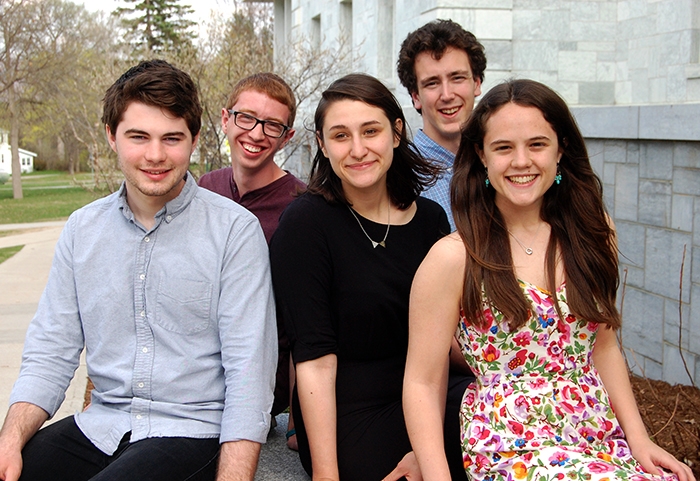 Kellogg Fellowships
The first group of Kellogg Fellows will receive $5,000 to support their travel and research, which can be conducted during the summer and/or during the academic year. The Kellogg Fellowship program at Middlebury College was established in 2014 in honor of Michael Kellogg, the husband of Lucy Pugh '79 and father of Baird Kellogg '10 and Camille Kellogg '17.
The 2015-16 recipients and the titles of their projects are: Mark Balderston '15.5, independent scholar in linguistics, "Variation in Second Person Pronoun Use in Florianopolis, Brazil"; Joshua Berlowitz '16, classics and political science major, "Alliances, Human Nature, and Thucydides"; Benjamin Clark '16, history major, "Removal, Resistance, and Reconstruction: William Holland Thomas and the Eastern Cherokee Indians"; and Dylan Gilbert '16, art history and Russian major, "Thousands of Tiny Tesserae: Constructing Heaven in Sicilian Byzantine Mosaics."
Also, Katherine Hamilton '15.5, political science major, "Founding Tensions: Liberalism and Communitarianism in the American Political Tradition"; Kyle Kysela '16, philosophy and economics major, "Finding Ourselves in Others: Skepticism in Wittgenstein and Cavell"; Dylan Faith Otterbein '16, art history major, "Bodies of Evidence: On Self-Violence and the Feminine Identity in Modern Performance Art"; and Tamir Williams '16, American studies and French major, "Bette AKA Mammy, Big Momma, Madea or Others Alike: Constructions of an American Stereotype."
---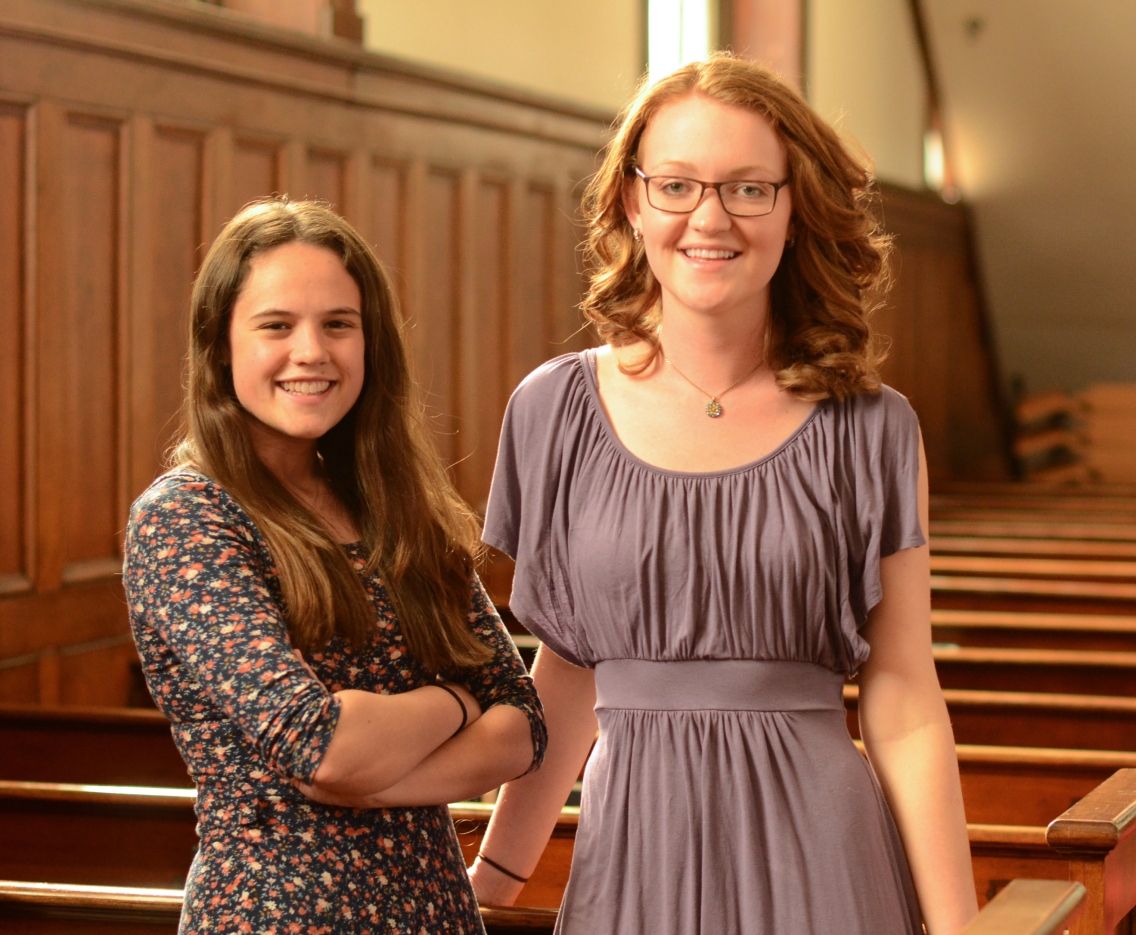 Truman Scholarships
Katherine Hamilton '15.5 of Washington, D.C., and Madison Orcutt '16 of Casper, Wyo., have been selected to receive 2015 Harry S. Truman Scholarships. Each scholarship provides up to $30,000 for graduate study, in addition to leadership training, advising, and internship opportunities within the federal government. Middlebury's two recipients are among the 58 undergraduates in the United States to receive Truman Scholarships this year.
Hamilton a political science major, is deeply interested in the issue of voters' rights. She plans to spend a year working on a presidential or congressional campaign, followed by three years of law school at an institution with a strong social-justice component such as the Educational Opportunity and Juvenile Justice Clinic at Yale Law School or the Brennan Center for Justice at NYU School of Law. Afterward Hamilton hopes to clerk for a judge on the U.S. Court of Appeals, practice law for a public-interest group such as the Southern Poverty Law Institute, and ultimately earn a position in the Voting Section of the Civil Rights Division of the Department of Justice.
Orcutt plans to attend law school and become an immigration attorney working with immigrant survivors of domestic violence and sexual trauma. "My interests straddle the line between immigration law and family law, since attorneys who work with immigrant survivors are often asked to address issues such as divorce, child support, alimony, orders of protection, and paternity, in addition to the adjustment of one's immigration status," she wrote in her Truman Scholarship essay.
---
Critical Language Scholarships
Three students, Caroline Agsten '17, Exequiel Caceres '15, and David Dennis '18, have been awarded U.S. State Department Critical Language Scholarships to study critically needed languages during the summer of 2015.
The Middlebury students are among the approximately 550 undergraduate and graduate students selected to spend between seven and 10 weeks this summer in an intensive language institute to study a language deemed critical by the State Department. The 13 languages offered are: Arabic, Azerbaijani, Bangla, Chinese, Hindi, Korean, Indonesian, Japanese, Persian, Punjabi, Russian, Turkish, and Urdu.
Caroline Agsten, of Hamden, Conn., will travel to Suzhou, China, to study Chinese. The Class of 2015's Exequiel Caceres from the Bronx, N.Y., will study Arabic in Madaba, Jordan. David Dennis from Decatur, Ala., will be in Malang, Indonesia, to study Indonesian.
The CLS Program seeks to expand dramatically the number of Americans studying and mastering critical foreign languages. It provides fully-funded, group-based intensive language instruction and structured cultural enrichment experiences. The participants are expected to continue their language study beyond the scholarship and apply their critical language skills in their future professional careers.
---
Classics Summer Study Awards
Four students have received awards from the Eve Adler Classics Department's newly established Eve Adler Memorial Fund for Summer Study in Classics/Classical Studies. The fund is intended primarily to support students who wish, during the summer, to study Greek and Latin language, literature, and art, or to participate in archaeological fieldwork at a Classical site.
Bernardo Andrade '18, of Rio de Janeiro, a newly declared Classics and philosophy double-major, will participate in the ten-week intensive beginning Latin program at the Summer Latin/Greek Institute of the City University of New York. John Loebs'16 , a Classics major from Twin Falls, Idaho, will study intensive intermediate Latin for six weeks at the University of Chicago Summer Language Institute.
Mike Russo '16, a Classics major from Wakefield Massachusetts, will participate in the Agora Excavations Program in Athens. Victoria Pipas '18 of Lebanon, New Hampshire, will join an archaeological team in Stabiae, Italy under the supervision of Professor Ian Sutherland, dean of Cook Commons and visiting associate professor of Classics. Sutherland co-directs the program in Stabiae, "In the Shadow of Vesuvius: Architectural Recording for Archaeology," which is run by the University of Maryland.
For More Information