Students Present Radon Findings to Public Health Officials
MIDDLEBURY, Vt. – A group of 20 Middlebury students shared findings from a semester-long inquiry into radon safety with a group of professionals from the Vermont Department of Health and other local agencies in Burlington this week. Their research was part of the senior seminar capstone course in environmental studies in which the class connects with community organizations to address issues impacting Vermonters.
The presentation was the result of a partnership with the Vermont Department of Health (VDH), the American Lung Association (ALA), and the Vermont Geological Survey, during which the students analyzed radon risk as a public health issue in Vermont.
The invisible odorless gas, which occurs naturally in uranium-rich bedrock and soil, first came under national scrutiny in the 1990s. A study of coal mining in West Virginia detailed its negative effects on lung health.
Ninety percent of Vermont homes remain untested for radon, with one in eight homes having unsafe levels of the radioactive gas – this is twice the national average. Roughly 55 people die as a result of radon poisoning in Vermont each year.
In an effort to examine the full scope of Vermont's radon risk, the students approached the issue from four different perspectives: geospatial analysis of the state, the risk and costs associated with mitigating radon, the salience of the issue, and possible actions for policy makers.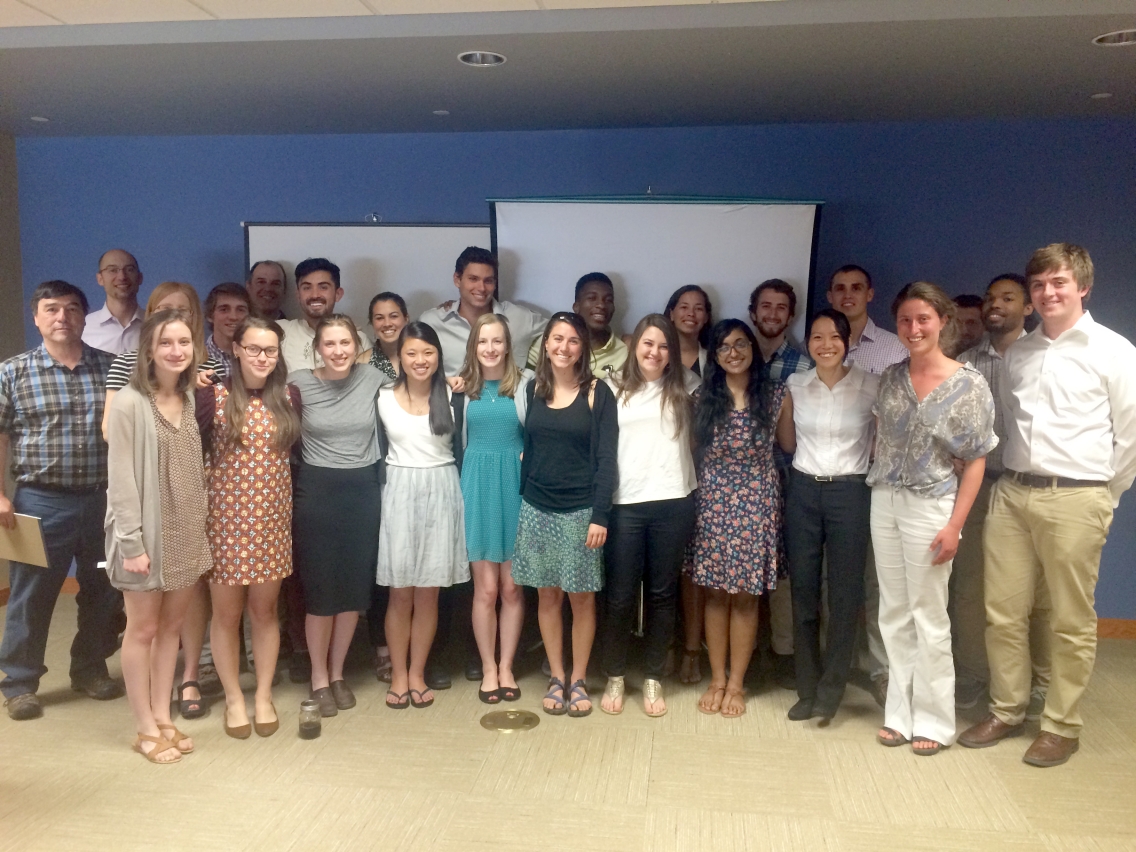 Students in the Environmental Studies Senior Seminar with representatives from the Vermont Department of Health, American Lung Association, and Vermont Geological Survey.
Using National Uranium Resource Evaluation and the results of VDH radon testing results, members of the geospatial team created risk maps, which identified high priority areas for increased testing.
"We believe that these maps can be useful for strategic planning," said Natalie Valentin '15. "The VDH and the ALA can use them in terms of 'where can we do more outreach? Where should we promote testing?'"
Outreach in particular poses a challenge. "We have radon on our minds and radars, but most of Vermont does not," explained Linda Waller '15. Waller and members of the seminar's salience team offered targeted outreach strategies – from print ads to narratives, as well as videos and community-based learning programs.
"What it comes down to is making radon testing accessible and understandable," said Becca Hicks '15.
"The environmental studies senior seminar is an incredible program," said David Grass '99, who serves as environmental health surveillance chief for the VDH. "They get laws passed, they have a tangible impact on the communities that they work in. It's been a tremendous pleasure to work with them over the course of this past year."
Jon Kim, a geologist and environmental scientist with the Vermont Geological Survey, has worked with Middlebury students since 2003. "Our philosophy is: we're not just looking for an internship experience," said Kim. "We're looking for high-level research to be produced by each student to actually help what we're doing and what the state is doing. We treat them as professionals."
Beyond testing and education, the group also laid out the potential costs and benefits of radon mitigation in both homes and schools, and established actions that could be taken by lawmakers to help such measures in the future.
In the remaining weeks of the semester, the students will finish writing their final report, which will be available for the public after June 1, 2015.
With reporting by Sarah Tompkins