Day One for President Laurie Patton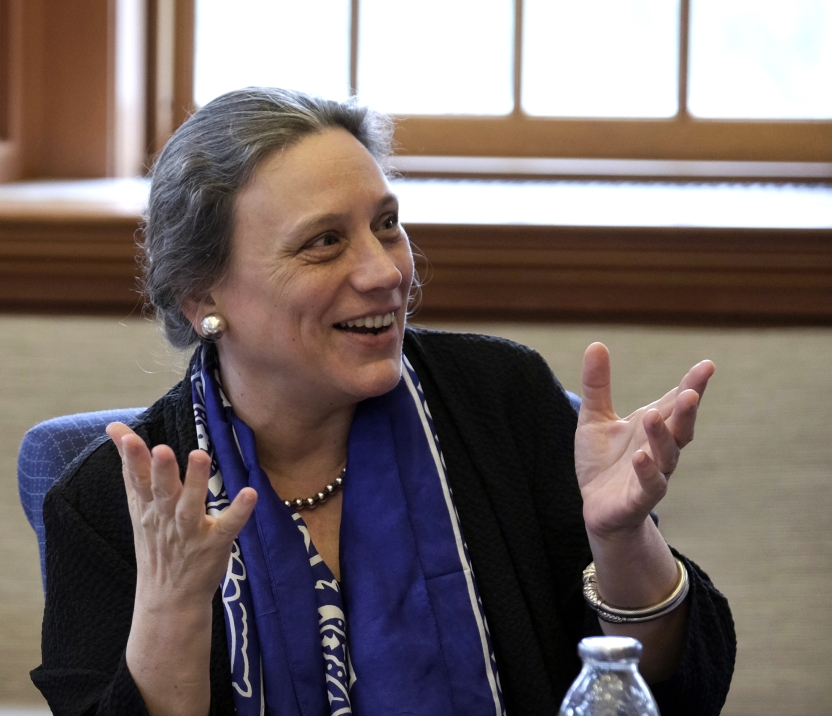 MIDDLEBURY, Vt. — Laurie L. Patton began her first official day as Middlebury's 17th president on Wednesday, July 1, 2015. Patton hit the ground running, arriving at her Old Chapel office for a day of meetings and introductions, capped off by the annual Convocation for the Language Schools. First order of business? Send a campus-wide greeting to the Middlebury community.
"I write to send warm greetings on my first day as Middlebury's new president," said Patton in her email. "The glorious Vermont summer weather has matched the excitement I feel in coming to work with such an extraordinary community!"
Patton and her husband, Shalom Goldman, who has been appointed Pardon Tillinghast Professor of History, Philosophy, and Religion in the Department of Religion, arrived on campus during a time when most students are not allowed to converse with her due to their pledge to speak no English while enrolled in the summer Language Schools.
"Upon arrival, I have already used sign language in an effort to respect the Language Pledge," Patton wrote. "It's wonderful to begin life as a Middlebury citizen!"
At a little after 8:30, Patton steered a silver Prius into her parking spot on Old Chapel Road and was immediately welcomed by a handful of colleagues. Once inside the building she made her way up to the third floor, stopping at open doorways to say good morning to people already at their desks.
Laurie Patton (right) with Provost Susan Baldridge at a morning meeting in the Old Chapel Board Room.

For the past eight months–ever since her appointment on November 18–Patton has been quietly getting to know the Middlebury community, visiting with faculty, staff, and students in Vermont and in Monterey, while laying the groundwork for her arrival through regular communication with her senior staff.
She warmly greeted each person she encountered in Old Chapel, offering hugs and familiar salutations. "Hi, dear," she said to Barbara McBride, assistant to the president. "It is so good to be here, and one of the best things about it is that after all we have done together already, this feels like just another day."
"It does," McBride replied. "But it's not just another day for Middlebury."
Middlebury's 17th president—and first woman to hold the job—spent the rest of the morning in a series of meetings and on several phone calls.
When there was a slight break in the weather in the early afternoon, Patton and Goldman took their two Great Pyrenees dogs, Padma and Suka, for a walk on campus.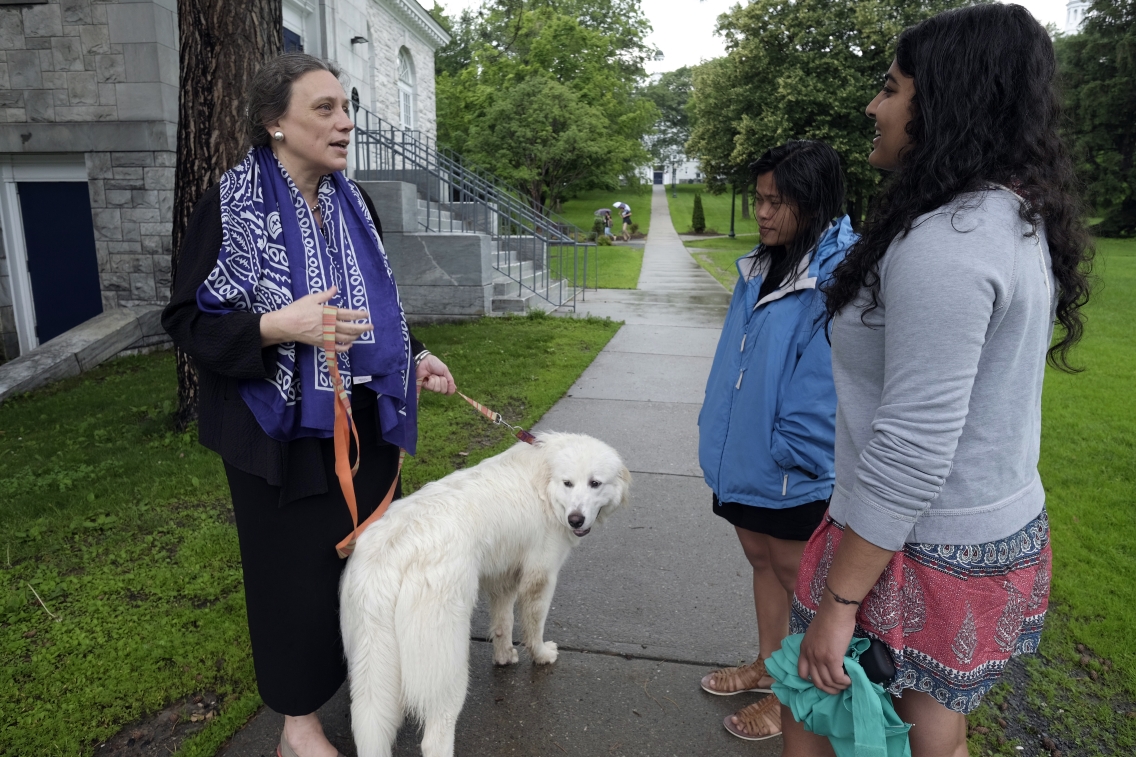 President Patton with her dog, Suka, greets two Middlebury students who are on campus for the summer working on research projects.

While a light rain was keeping the sidewalks sparse, the couple did encounter and chat with a distinguished faculty member; a young alumna; a prospective student and her father visiting from Oregon; and two sophomores, from India and the Philippines, respectively, who have stayed on campus for the summer—one to work in Armstrong Library and the other to help a professor revise a textbook. Patton conversed in Hindi with the young woman from India before finishing the loop back to Old Chapel.
More meetings followed, and then the evening would bring Patton's first public event, when she would speak in Mead Chapel at the opening Convocation for the second session of the Language Schools.
Patton takes over from President Ronald Liebowitz, who served as Middlebury president for 11 years. Liebowitz will be on sabbatical in the Boston area next year, working with his wife, Jessica, on a research project about PhD education in the United States and its relationship both to the future of the professoriate and to the future of the academy's engagement with society at-large.
Patton and Goldman, along with Padma and Suka, will reside in the President's House at 3 South Street.
For More Information