Laurie Patton Addresses Language School Students on Her First Day at Middlebury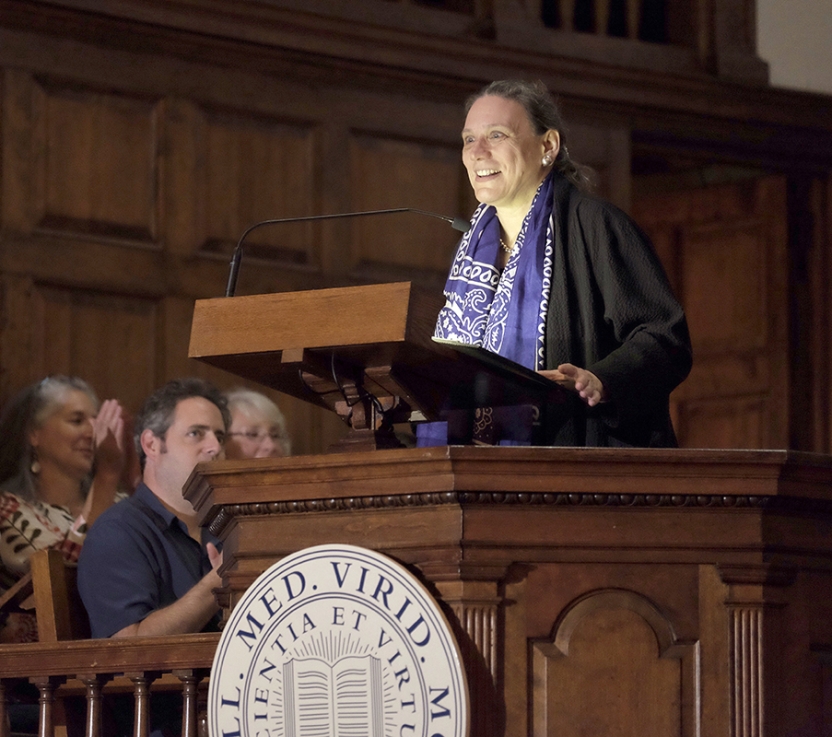 MIDDLEBURY, Vt. — Wrapping up her first day as Middlebury's seventeenth president, Laurie Patton got a taste of the spirit and enthusiasm of Middlebury Language Schools at the lively opening convocation at Mead Chapel. In keeping with tradition, students were seated by school, erupting in raucous cheers and chants throughout the evening. The convocation was the second one of the summer, this time welcoming students to the six-week sessions.
Patton herself received thunderous applause when Dean of the Language Schools Stephen Snyder invited her to the podium to share opening remarks.
"It is my great honor and pleasure, in my first official act on my very first day as your new president, to welcome you all to the opening of the second session of the Language Schools at Middlebury," said Patton. "And to be able to do so on the centennial anniversary, celebrating 100 years of inspirational work in the academy and the world, is an even greater privilege."
In her address, Patton offered inspiration to the language students by recalling her own struggles to learn Hindi when she was 23. She said that eventually a friend suggested she try a complete immersion in the language, where she had no choice but to learn. It worked, she said, but she wished she had come to that Middlebury-like solution sooner.
"When you are exhausted, when you think everyone else is learning more than you, when you can't think of the word and lapse into discouraged silence, remember that your whole project takes an immense amount of intellectual courage—everyday courage to rewire yourself and bring that new identity into flourishing," Patton told the students.
After Patton spoke, each of the school directors–Chinese, German, French, Hebrew, Japanese, Portuguese, Russian and Spanish–stepped up to the lectern and gave brief in-language greetings to the students in their respective schools, who responded with uproarious cheers. (Arabic, Italian, and Korean schools take place on the Mills College campus in California.)
While the evening was a beginning for Patton, it was an end of sorts for Michael Geisler, who has served as vice president of language schools, schools abroad, and graduate programs–as well as professor of German–for the past 11 years. Geisler stepped down from the position this year to assume the role of vice president for risk and compliance.
In his final convocation address, Geisler used knots as a metaphor for the challenge of learning a language. "Every time you build something new, you tie things in knots," said Geisler. "Physical knots to hold things together, emotional knots to build a community, administrative knots to make things work…and, of course, linguistic knots to talk about all the other knots you have created, and how to untie them, if necessary."
"In fact," Geisler continued, "history, to the extent that it is moving forward in a positive direction, is a constant dialectic of people tying and untying knots."
Geisler took time to recognize Language Schools founder Lilian Stroebe, marveling that her vision for immersion-learning is still intact 100 years later. Among Stroebe's many innovations was the Language Pledge, which Geisler said is "to this day the signature pedagogical implementation driving the Language Schools curriculum and its co-curricular activities."
In closing, Geisler offered words of encouragement to the students who were about to launch their intensive summer study. "There are no shortcuts, only patience and perseverance, and trust in yourselves, in your fellow students, and in your faculty who will be by your side, day in and day out. For having the courage to do all of that, I salute you on this Centennial."