Summer Study: Dispatch from Ethiopia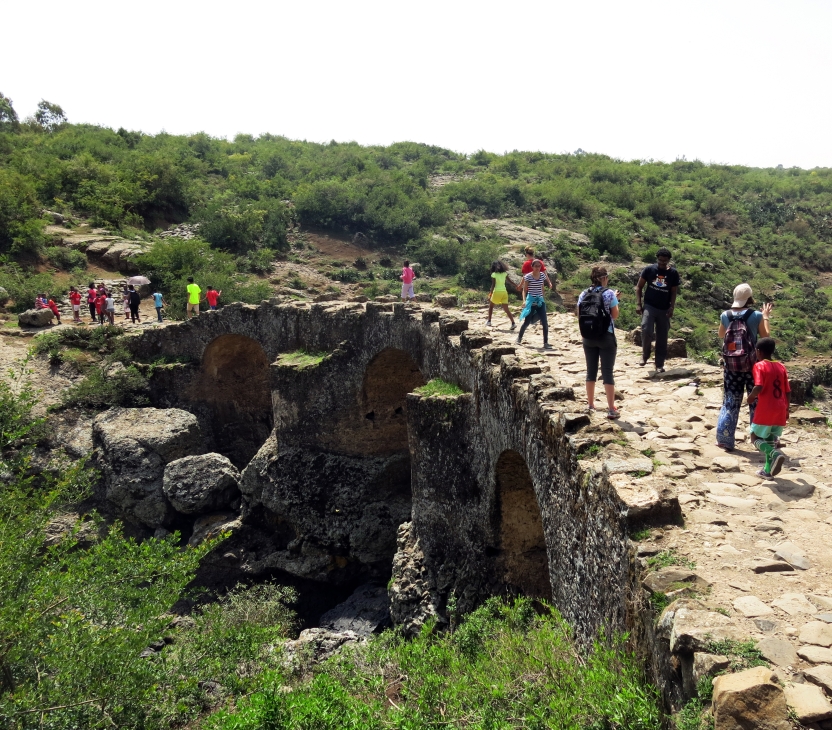 Middlebury alumnus Wyatt Orme '12.5 is based in Rwanda this year, working on several writing assignments. We asked Orme, who was traveling in Ethiopia, to report on Professor Claudia Cooper's summer study course.
ADDIS ABABA, ETHIOPIA —On Friday, July 17, students enrolled in the off-campus summer course "Development Across the Disciplines" finished their one-month stay in Addis Ababa, Ethiopia's capital.
Eight students, mostly underclassmen, spent a month examining both the theory and practice of international development. Scholarly articles and seminars went hand-in-hand with fieldwork, site visits, and outings around the city and region.
Exposure to daily life in Ethiopia was crucial to the students' academic experience, said Professor Claudia Cooper. Cooper co-taught the class with her son, Nick Rogerson, who teaches philosophy at the University of Toledo in Ohio and has taught during Winter Term at Middlebury. "You can't get what it's like and why it matters when you're far away," said Cooper.
Reflecting on the month, the students agreed. "It's a different kind of classroom here," said Charles Griggs, a rising senior from Chicago. To read about women's issues and inequality, he said, with "…the victims of these issues … literally sitting on your lap, that changes everything."
Griggs was referring to the children living at homes run by Cooper and Rogerson's own NGO they cofounded in 2008 with Eric Hoest '08. Global Family Initiative (GFI) started to respond to the crisis of Ethiopia's nearly 4.5 million orphans. Their first venture is "The Betasab Project," which funds two houses in Lafto, a suburb of Addis Ababa, each with 10 orphans. It pays their medical care, school tuition, and provides a network of support.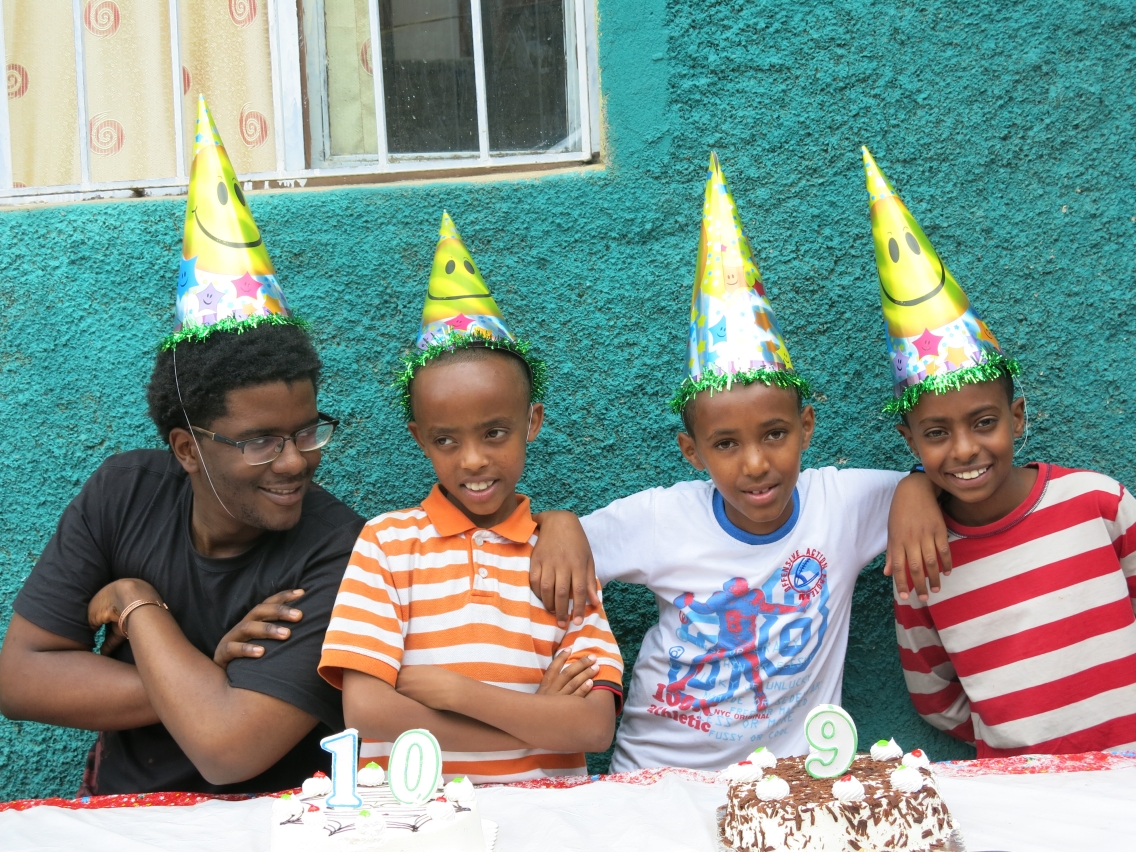 Charles Griggs '16, left, celebrates two birthdays with children from the Betasab houses. Griggs himself had a birthday during the travel study course in Ethiopia.
Students spent time with the Betasab children; they also visited the homes of families involved in GFI's Learning Lions Program, which is an education sponsorship initiative the non-profit is introducing to the greater Lafto community. With the help of a translator, students walked families through a questionnaire – the findings will demonstrate how well the initiative is working.
Over the course of the month, students were exposed to a variety of development models. In addition to Betasab's grassroots operation, they met several times with a representative of USAID and also shadowed Middlebury graduate Dr. Rick Hodes, '74, who runs a free medical clinic in Addis Ababa under the auspices of the American Jewish Joint Distribution Committee, or JDC.
Griggs claims to not have known much about development before coming to Ethiopia, but, thanks to this experience, is now considering a career allowing him to work internationally, possibly through medicine.
Final projects were left wide open. One student examined the presence of Chinese companies in the country. Others, like rising sophomore Georgia Grace Edwards, conducted interviews with the Betasab children. She is curious about perceptions of disability in Ethiopia, plans to compare her findings to a sample in the U.S., and hopes to present her project at the Spring Student Symposium back in Middlebury.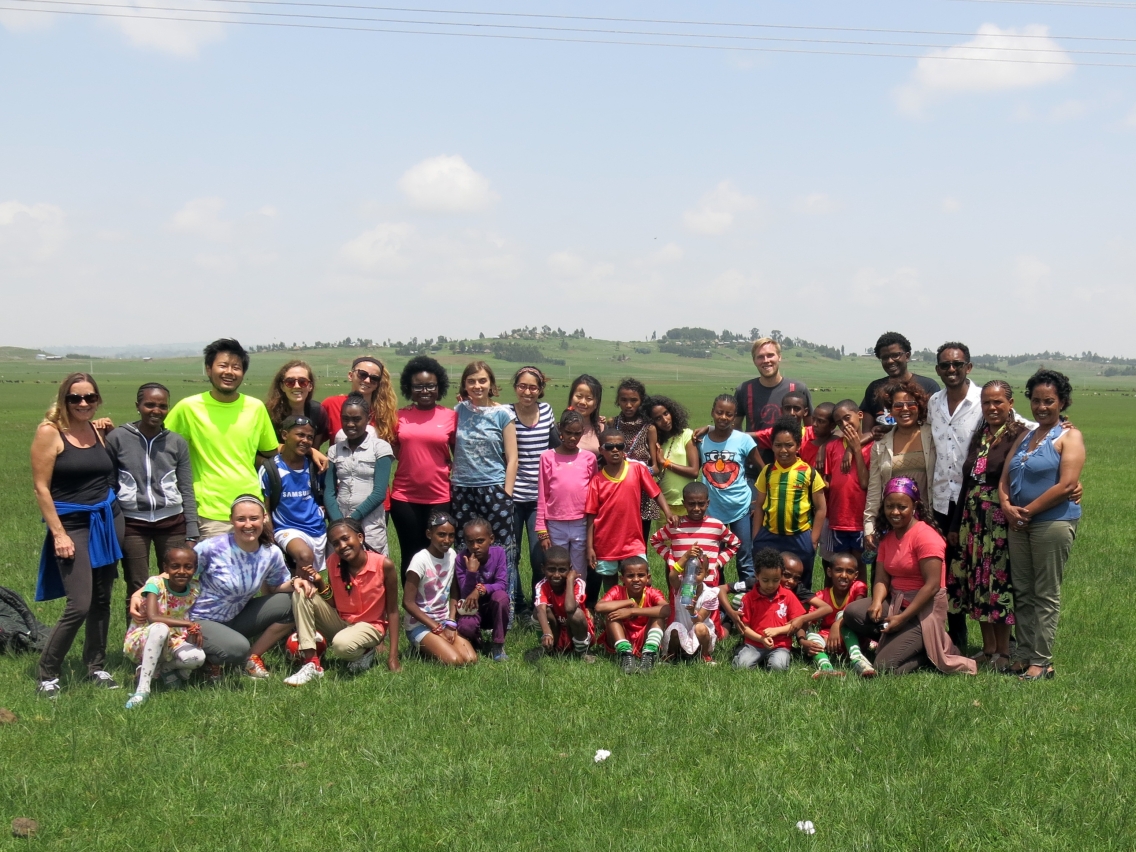 Middlebury students and faculty, and children from Betasab enjoyed a soccer match.
At first, the openness of the coursework made Edwards a bit reluctant, but that quickly subsided. "By exploring our own interests … and bringing that to the table, I was able to learn so much more." Still, the month went by quickly. "I'm leaving with more questions than answers," she said.
Studying development in a developing country, like Ethiopia, poses a particular challenge Cooper and Rogerson know well through their own work.
"Because once you know what's really there, what are you going to do about it?" Cooper said. She's not expecting the eight students to become social activists, but she and Rogerson did want them to grapple with big questions about privilege and justice.
"For me, that's the purpose of a liberal arts education," said Cooper.
Of course, there was time away from big questions. The group took a trip to Portuguese Bridge and got a stunning view of the Ethiopian Rift Valley.
At a traditional Ethiopian culture show, the students were invited on stage and brought down the house.
And, for the record, students spent the month referring to Cooper and Rogerson by their first names.
"When you live with your professor, it's hard to keep it that formal," said Edwards.
By Wyatt Orme '12.5, Photos by Claudia Cooper
For More Information