Middlebury Announces Alumni and Family Scholarship Program to Attend the Institute of International Studies at Monterey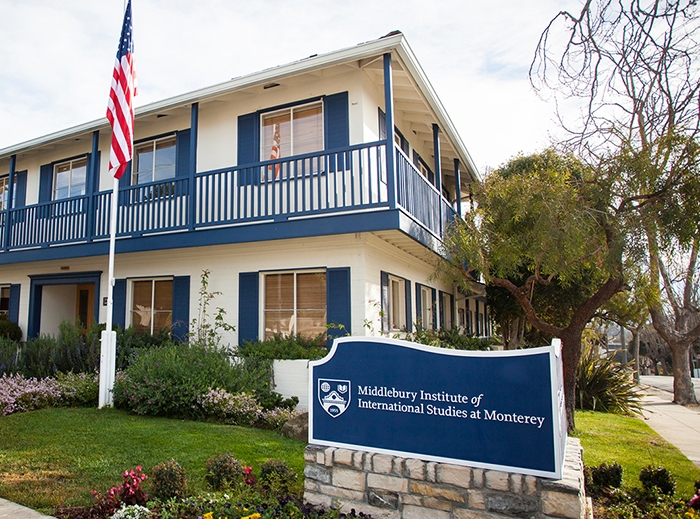 MIDDLEBURY, Vt. – All alumni of Middlebury degree programs and members of their families are now eligible for a $10,000 Legacy Scholarship to enroll in a graduate program at the Middlebury Institute of International Studies at Monterey.
The scholarship program extends to the spouses, siblings, parents, children, grandchildren, nieces, and nephews of alumni, and "alumni" are defined as individuals who graduated from, or were enrolled in, any Middlebury undergraduate or graduate degree program including those offered by the Language Schools, the Bread Loaf School of English, and the Institute itself.
Applicants for the Legacy Scholarships who meet the admission criteria of the Middlebury Institute of International Studies at Monterey will automatically receive the $10,000 scholarship. They can also be considered for additional merit and need-based scholarships to assist in their graduate studies.
The Institute offers a vast number of programs leading to master's degrees in the following fields:
- Translation, Translation and Interpretation, Conference Interpretation, Translation and Localization Management
- Teaching Foreign Languages, Teaching English to Speakers of Other Languages
- Nonproliferation and Terrorism Studies
- International Policy and Development, Public Administration
- MBA Global Impact Management
- International Education Management
- International Environmental Policy
- International Trade and Economic Diplomacy
Middlebury has taken the unusual step of creating this legacy scholarship program to locate and train the next generation of leaders who seek to understand the world's most-pressing social and environmental challenges. Graduates of the Institute have launched careers in global engagement and cross-cultural communication with the United Nations, U.S. Department of State, World Bank, and Peace Corps, as well as for-profit companies such as Google, Apple, and Oracle.
Use this form to refer a student to the Middlebury Institute of International Studies at Monterey.
Consult the Institute's web site for more information about degree programs, financial aid, student life, and careers.
For information about the Legacy Scholarship, call the Institute's Office of Admissions at 831-647-4166.