Middlebury Concludes $535.5 Million Fundraising Campaign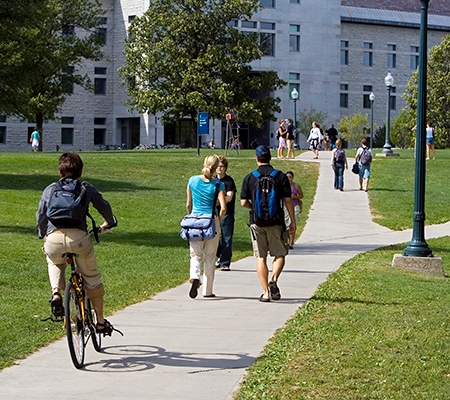 MIDDLEBURY, Vt. - Middlebury has successfully concluded the largest fundraising campaign in its 215-year history. At the close of the eight-year campaign on June 30, the Middlebury Initiative had raised $535.5 million in gifts and pledges, exceeding the $500 million goal established at the launch of the campaign in 2007.
The Initiative has benefited all of Middlebury's seven schools and programs: Middlebury College, Middlebury Language Schools, Middlebury Schools Abroad, Middlebury Bread Loaf School of English, Middlebury Bread Loaf Writers' Conferences, Middlebury School of the Environment, and the Middlebury Institute of International Studies at Monterey.
"The success of the Middlebury Initiative is a testament to the generous support of alumni, parents, friends, and foundations from around the world," said Jim Keyes '71, vice president for advancement. "Their support has made a Middlebury education more accessible and has strengthened our programs in countless ways." Keyes pointed to 142 additional endowed scholarships, 40 more faculty positions, and 26 new Schools Abroad sites as just a few of the benefits of the Initiative.
June 30 also marked the end of the fundraising efforts for Middlebury's 2015 fiscal year. During the year, Middlebury received $42.3 million in gifts. That amount was less than the $49 million received in fiscal year 2014—a drop Keyes attributed to the several large cash gifts received last year timed to the final construction phase of Middlebury's new Virtue Field House, which opened in January 2015. That building, together with a new squash center, which opened in 2013, was the first in Middlebury's modern history to be fully funded by donors.
Fiscal year 2015 saw a significant increase in new gift pledges. Pledges during the year totaled $32.6 million—more than double the $15.6 million in pledges received in fiscal year 2014.
Middlebury enjoyed particularly strong support among undergraduate alumni–53 percent made contributions during the year. Middlebury's undergraduate participation rate continues to be among the highest in the country for all colleges and universities.
Two groups saw significant increases in their number of donors during the year: Language School alumni (up 39 percent) and parents of Middlebury College students (up 28 percent). The growing number of parent donors brought this group's participation rate to a strong 40 percent, its highest level in eight years.
"Our donors see that their gifts of whatever size can have a real impact," said Keyes in explaining one of the factors that contributes to Middlebury's traditionally high participation rates. "It is their enthusiasm that made the Middlebury Initiative and our fundraising efforts this year a success. We truly appreciate their support."
For More Information