Alumni College Sets Record for Participation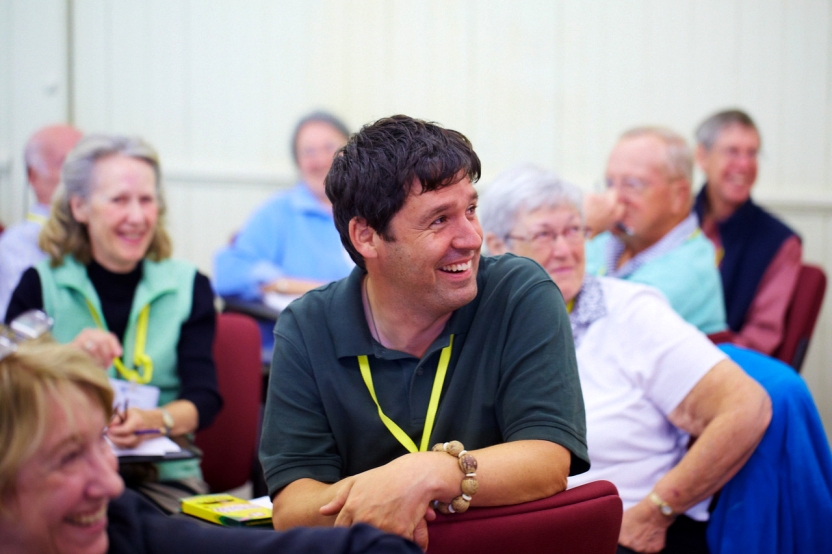 MIDDLEBURY, Vt. – Quality and quantity were in abundance at the 40th session of Alumni College as a record number of Middlebury alumni, parents, and family members returned to the Bread Loaf campus to experience college life again, August 27-30.
The late summer weather was magnificent, and the newly renovated Bread Loaf Inn was a welcome sight for guests, who enjoyed its history and grandeur. In addition, President Laurie L. Patton delivered her first address to a group of alumni, Professor Emeritus Russ Leng '60 talked about his experiences teaching online, and a filmmaker in town for the first-ever Middlebury New Filmmakers Festival gave a special screening of a movie.
But Alumni College is first and foremost about academics, and this year was no exception. Five members of the faculty designed their courses to be stimulating and intensive, and Alumni College participants were hard-pressed to select from just one of these offerings:
- "Frankenstein's Flesh," with Cates Baldridge, the Phillip Battell and Sarah Stewart professor of English and American literatures;
- "The Changing Vermont Landscape," with Chris McGrory Klyza, the Robert '35 and Helen '38 Stafford Professor in Public Policy, Political Science and Environmental Studies;
- "The People's Civil War," with Associate Professor Amy Feely Morsman of the history department;
- "The Rise and Sprawl of the Modern American City," with Associate Professor Caitlin Myers of the economics department; and
- "The Ides of March," with Associate Professor Christopher Star of the classics department.
Alumni College slide show
[view:embed_content==500858]
With 132 participants this year, including 61 first-time Alumni College students, the event has been gaining in popularity in recent years.
"Everything came together this year," said Faith Peters James '01, the associate director of Alumni and Parent Programs. "We had a record number of participants, and they represented 50 years of Middlebury classes. We also had more parents than ever before. Everyone enjoyed meeting with our new president, and of course the gorgeous Bread Loaf setting and weather made it all perfect.
"The alumni and parents raved about their classes, and we loved seeing how the faculty were energized by the students' commitment, passion, and challenging questions.
"Your opportunity to learn from Middlebury's excellent faculty doesn't have to end when you graduate," James said, "and that opportunity isn't limited to alumni. Our goal is to make Alumni College one of the best experiences that alumni and parents can have."
– Photography by Todd Balfour and Teddy Anderson '13