Andrea Olsen Presents "Dancing in Wild Places: Seaweed and Ocean Health" October 4
Environmental Performance is the Capstone on Olsen's Time at Middlebury
Middlebury, VT—As part of the campus-wide Celebration of 50 Years of Environmental Education and Leadership at Middlebury, dancer and professor Andrea Olsen will perform her newest work, "Dancing in Wild Places: Seaweed and Ocean Health" on Sunday, October 4. The work represents the final major performance of Olsen's 33 year career at Middlebury College, before she moves on to a three-year appointment at the Middlebury Institute of International Studies at Monterey.
Based on research conducted in seven international seaweed sites, "Dancing in Wild Places: Seaweed and Ocean Health" is a 40-minute dance work with an introduction and comments by noted environmentalist, educator, and writer John Elder, as well as staging assistance by artist Peter Schmitz. Combining scientific information with creative storytelling and evocative movement, Olsen opens our awareness to the vast underwater gardens that are visible in the intertidal zone and appear along the wrack-line on beaches.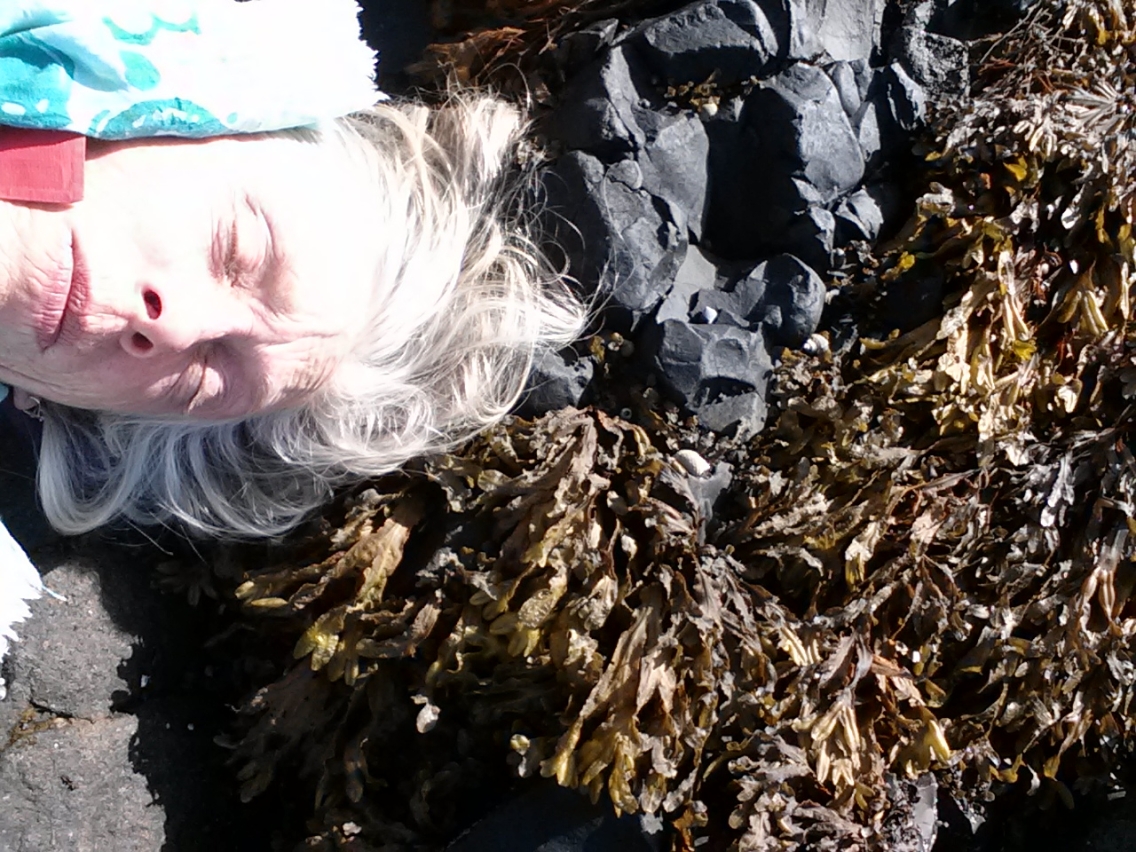 Andrea Olsen in Iceland.
Beginning in Monterey, California, the performance will carry its performers and audience to Brittany, France; Connemara, Ireland; Skagaströnd, Iceland; Cape Breton, Nova Scotia; Briny Breezes, Florida; and the Florida Keys. Over the journey, the performance will layer the knowledge base about the underwater flora that supports numerous life forms and helps stabilize ocean temperatures, along with the intercultural heritage that links seaweed to such far-ranging products as iodine, gunpowder, and cosmetics. Each of the dance work's seven sections will create a web of information, story, and movement inviting our imaginative participation in the deep heritage of algae, the oldest life form on the planet and an essential focus of ecosystem sustainability.
This work was inspired by Olsen's 2014 collaboration with San Francisco-based visual artist Josie Iselin. Conversations and images from Iselin's book An Ocean Garden: The Secret Life of Seaweed inform the project.
About Andrea Olsen
Olsen has taught, toured, and created nature-based dances internationally over the past four decades. She has served as Professor of Dance and the John Elder Professor in Environmental Studies at Middlebury College, and as Distinguished Visiting Professor at Middlebury Institute of International Studies at Monterey.
Olsen has performed as a solo artist and with the touring company Dance Gallery since l972, presenting original choreography in Asia, the South Pacific, Europe, and throughout the U.S. She has collaborated with celebrated composers on full-evening works, including David Darling, Peter Jones, and Mike Vargas. Her accomplishments have earned her numerous grants, including a Fulbright Senior Scholar Award, Whiting Fellowship, an ACLS Contemplative Practice Fellowship, and a Mellon Foundation Inter-institutional grant for research and study in the Galapagos Islands, Denmark, and Germany. She has been a Fulbright Senior Scholar in New Zealand, working with Maori, Cook Island, and Samoan dancers. She has taught at many major U.S. dance festivals, including the American Dance Festival, Bates Dance Festival, and the Seattle Festival of Dance and Improvisation. Her work in somatics and in the discipline of authentic movement has been presented at the Kripalu Center for Yoga and Health, the Omega Institute for Holistic Studies, the Sophia Institute, and numerous colleges and private studios. Olsen is author of a trilogy of books on the body, The Place of Dance: A Somatic Guide to Dancing and Dance Making (2014), Body and Earth: An Experiential Guide (2002); and Bodystories: A Guide to Experiential Anatomy (2004), with colleague Caryn McHose. She has presented lectures and performances at Wesleyan University, Smith College, the University of California at Santa Barbara, Schumacher College, and Mount Holyoke College. Learn more at andrea-olsen.com.
"Dancing in Wild Places: Seaweed and Ocean Health" will take place on Sunday, October 4, 2015 at 2:00 P.M. in the Dance Theatre of the Kevin P. Mahaney '84 Center for the Arts. The Mahaney Center is located on the campus of Middlebury College, at 72 Porter Field Road in Middlebury, just off Route 30 south/S. Main Street. Free parking is available curbside on Rt. 30 or in the Center for the Arts parking lot, in rows marked faculty/staff/visitors. Admission is free. For more information, call (802) 443-MIDD (6433) or go to http://www.middlebury.edu/arts.
For More Information