Middlebury Board of Trustees Names Four New Members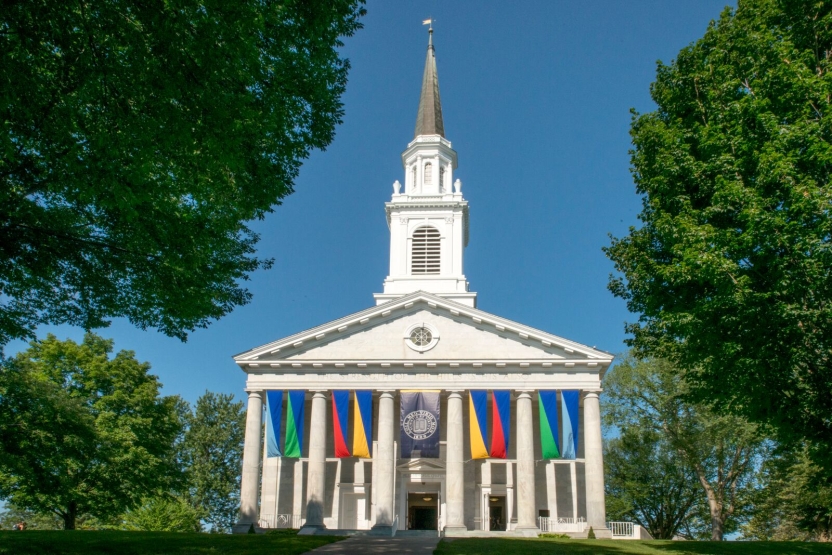 MIDDLEBURY, Vt. – Four Middlebury graduates joined the Middlebury Board of Trustees in July – three as term trustees appointed by the board and the fourth as an alumni trustee elected by the alumni body.
All four will serve five-year terms on the 33-member board that governs Middlebury College and all of its affiliated schools and programs. The new trustees are:

Joseph W. Brown '90, a new term trustee, is president of Hartzell Propeller Inc. and chief operating officer of its parent company, Tailwind Technologies Inc. Brown is active in the aviation industry through his business and by serving on boards and industry organizations including the General Aviation Manufacturers Association, of which he currently chairs the board of directors and chairs the policy and legal issues committee. A resident of Washington Township, Ohio, Brown is married to Middlebury College classmate Kristen Peterjohn Brown '90, and together they have four children.

Leilani McClellan Brown '93 is vice president and chief marketing officer of Starr Companies, a New York-based global insurance and financial services firm. She oversees the company's marketing, brand management, advertising, corporate communications, and digital strategy. Prior to joining Starr in 2011, Brown was senior vice president and chief marketing officer for CQ Roll Call, and she previously held marketing leadership roles with MetLife and AIG. The new term trustee has a master's degree in public administration from NYU, and lives in Westbury, N.Y., with her husband, Stanton, and their son.

Janine Feng '92 is a managing director-partner of The Carlyle Group, the global alternative asset management firm with approximately $200 billion of assets under management and operating 40 offices around the world. She advises on Asian buyout/growth capital investment opportunities in the healthcare, financial services, consumer/retail, and industrial sectors. Prior to joining Carlyle in 1998, Feng was in Credit Suisse First Boston's investment banking division in New York. The term trustee earned an MBA from Harvard. Feng and her husband Oliver Weisberg reside in Hong Kong with their two children.

Henry J. Simonds '97 is the president of Headwater Films/Media, a company he founded in 2001 to develop and finance independent documentary and narrative films. Simonds has served as a writer, editor, and/or producer on over a dozen films including "Romance & Cigarettes" and "Andy Warhol: A Documentary." He is also an artist, curator, and collector of photography, sculpture, and mixed media. Simonds, a grandson of noted philanthropist Henry Hillman, is active with the Hillman Family Foundations. Elected to the Middlebury board by the alumni body, Simonds and his wife Colleen live in New York City with their two sons.
In addition to confirming the appointment of new trustees, four new "partner overseers" were also announced at the May 2015 meeting of the board. Serving alongside members of the board of trustees and members of the Middlebury faculty and staff, the partner overseers review and monitor the academic, educational, and student affairs operations of the institution.
Under Middlebury's form of governance there are separate boards of overseers for 1) the undergraduate college, 2) the Middlebury Institute of International Studies at Monterey, and 3) for the "schools" including Middlebury Language Schools, Bread Loaf School of English, Bread Loaf Writers' Conference, C.V. Starr Schools Abroad, and School of the Environment.
The newly named partner overseers are:
Zachary A. Bourque '01, a shareholder and director of Rice, Heard & Bigelow, a trust management and estate planning firm, as a schools overseer for a three-year term;
Peter L. Burrows, superintendent of the Addison (Vt.) Central School District, as a college overseer for a three-year term;
Jane S. Edwards, senior associate dean of Yale College and dean of international and professional experience for Yale University, as a schools overseer for a three-year term; and
Kelvin Roldan '01, chief communications and public policy officer for the Hartford (Conn.) public school system, as a college overseer for a three-year term.
Three student constituent overseers have also been named: Ilana Gratch '16.5 for Middlebury College; Wesley Hollingsworth for the Middlebury Institute of International Studies at Monterey; and Daniel Pena '16 for the Schools.
Also at the May meeting of Middlebury trustees, three trustees were re-elected to five-year terms and two trustees were granted emeritus status. Re-elected were Garrett M. Moran '76, James Edward Virtue '82, and Russell J. Leng '60, and elevated to emeritus status were Frederick M. Fritz '68 and Kendrick R. Wilson III.
Additionally, the board acted to elect Kimberly Collins Parizeau '79 as a vice chair of the Middlebury Board of Trustees. She joins the other vice chairs, Allan R. Dragone Jr. '78 and John R. Tormondsen '82, as officers of the corporation with Board Chair Marna C. Whittington.
All of the new appointments took effect on July 1, 2015.