Inauguration Events to Include Festival of Learning, Concert, Fireworks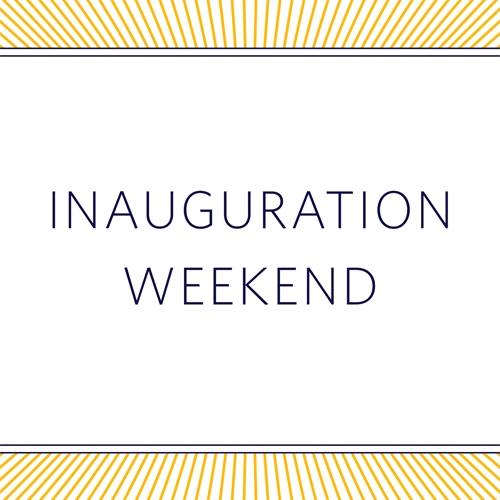 MIDDLEBURY, Vt. — Middlebury will celebrate the inauguration of President Laurie L. Patton on Sunday, October 11, at 10:30 a.m. in an outdoor ceremony on the main campus quad. Patton, who is the institution's 17th president and the first woman to hold the position, took office on July 1, 2015. She was previously dean of the Trinity College of Arts and Sciences at Duke University.
Students, faculty, staff, and the general public are invited to several events on inauguration weekend. On Saturday, October 10, as part of a liberal arts "Festival of Learning," there will be three panel discussions at Wilson Hall in McCullough Student Center aimed at engaging the academic community in timely topics related to the arts, sciences, and humanities. Each of the panels will feature distinguished scholars and practitioners from a variety of disciplines, and will be moderated by a Middlebury College faculty member.
"We have an amazing group with diverse perspectives gathered for these panels," said Professor Caitlin Myers, who is co-chairing the inauguration. "There is a personal aspect to these panels because many of the panelists are friends and former colleagues of President Patton's from previous institutions where she either taught or was a student."
On Saturday evening at 7 p.m. there will be a free family-friendly concert outdoors on the Main Quad near McCullough Student Center, followed by fireworks at 9:45 p.m. behind the Peterson Family Athletics Complex. La Bottine Souriante, the traditional French Canadian folk music group with a modern twist, will open the concert with their high-energy performance. Brad Corrigan, co-founder of the band Dispatch and a Middlebury alumnus from the class of 1996, will take the stage later with his distinctive indie rock style. Concert goers are encouraged to bring lawn chairs or blankets to sit on. The rain location will be Virtue Field House at the Peterson Family Athletics Complex. The concert is a no-alcohol event.
"We think this weekend will be a great opportunity for the town and college to celebrate our community together, and for our friends and neighbors to meet Laurie Patton," said David Donahue '91, co-chair of the inauguration committee. "We especially encourage families to join us at the Saturday evening concert, which offers a lot for everyone to enjoy."
On Sunday morning, the inauguration ceremony will begin at 10:30 a.m. on the Main Quad. Immediately following the ceremony, there will be a community-wide luncheon on Proctor Terrace. The rain location for the ceremony will be Virtue Field House, with the luncheon held at Pepin Gymnasium–both in the Peterson Family Athletics Complex.
One week prior to inauguration weekend, the Middlebury Institute of International Studies at Monterey will host a pre-inaugural symposium, "The Challenge of Translatability: 21st Century Practices, Policies, and Possibilities," on Sunday, October 4, at 6 p.m. in Irvine Auditorium. The evening will begin with a keynote talk by Patton, followed by a roundtable discussion led by Jeff Dayton-Johnson, vice president for academic affairs and dean of the Institute. A reception will follow at 8 p.m. Open to all, the event is an opportunity for friends in the Monterey area to meet Laurie Patton. Irvine Auditorium is located at 499 Pierce Street in Monterey.
American Sign Language interpretation will be provided during the academic panels and at the inauguraiton ceremony on Sunday. Live streaming will also be available for the panel discussions and ceremony. For more information, including a full schedule of events, visit the presidential inauguration web site.
About Laurie L. Patton
Middlebury's 17th president, Laurie Patton, is an authority on South Asian history, culture, and religion. She is the author or editor of nine books and more than 50 articles in the field and has translated the classical Sanskrit text, The Bhagavad Gita. In addition, she has published two books of poetry. Patton has lectured widely on interfaith issues and religion and public life, and she has consulted with White House offices on faith-based initiatives, as well as on civic engagement. She has held two Fulbright Fellowships (in Israel and India) and has held visiting appointments at the University of Tel Aviv, Hebrew University, and Deccan College (India).
Patton earned her BA from Harvard University in 1983 and her PhD from the University of Chicago in 1991. In May 2014, she was named the Alumna of the Year at the University of Chicago Divinity School.
About the October 10 academic panels and participants
10 a.m. – The first panel will explore subjects of "Race, Gender, and Equality," moderated by Tara Affolter, assistant professor in education studies. Panelists will include David Simon, Baltimore-based journalist, author and television producer, and creator of "The Wire;" Gyanendra Pandey, Arts and Sciences Distinguished Professor in the department of history at Emory University; Ruby Lal, professor of South Asian studies at Emory University; and William Darity, the Samuel DuBois Cook Professor of Public Policy at Duke University.
1:30 p.m. – A second panel will tackle the topic of "Scientific Exploration and the Boundaries of Life," moderated by Eilat Glikman, assistant professor of physics. The panelists will include John Grotzinger, chief scientist and head of strategic planning for the Mars Rover Mission and Fletcher Johns Professor of Geology at the California Institute of Technology; Mohamed Noor, the Earl D. McLean Professor and Chair of Biology at Duke University; and Pat Marsteller, professor of practice in the biology department at Emory University.
3:30 p.m. – The last of the three panels will take place on the subject of "The Ethical Dimensions of Reading Classical Literature," moderated by Timothy Billings, professor of English and American Literatures. The panelists for this session will include Wendy Doniger, Mircea Eliade Distinguished Service Professor in the History of Religions at the University of Chicago; James Romm, the James H. Ottaway Jr. Professor of Classics and director of the Classical Studies Program at Bard College; Karen Stolley, professor of Spanish at Emory University; and Luke Bretherton, professor of theological ethics and senior fellow at the Kenan Institute for Ethics at Duke University.
For More Information