New Anderson Freeman Resource Center Offers Support for Underrepresented Students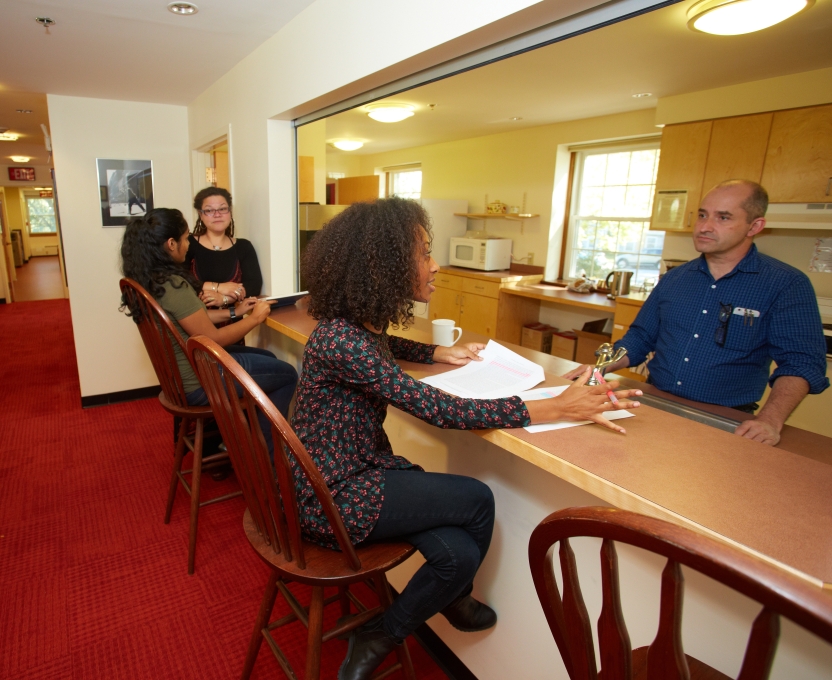 MIDDLEBURY, Vt. – Middlebury has launched a new intercultural center especially focused on serving the needs of students from traditionally underrepresented groups. The Anderson Freeman Resource Center, located in Carr Hall, will offer a broad range of services from library reference help to counseling hours as well as providing a computer lab, a meditation room, study rooms, and social spaces.
Roberto Lint Sagarena, director of the new facility, says the center is a response to the needs of Middlebury's increasingly diverse undergraduate student body as they attain their goals of academic achievement while exploring and sustaining their identities and cultures.
"We hope the center will be a home base for students who are adjusting to life at Middlebury," said Lint Sagarena. "It would be easy to assume that, because a student is talented enough to be accepted to Middlebury, everything falls into place once they arrive. But we know that's not always the case and we need to provide extra support for students to achieve their academic and personal goals."
Professor Roberto Lint Sagarena, director of the Anderson Freeman Resource Center, with Associate Director Jennifer Herrera.
The center provides a student life complement to the academic mission of the Center for the Comparative Study for Race and Ethnicity (CCSRE), which is housed in the same building. The pairing of the two centers will create opportunities for students, staff, and faculty to work together across academic and student life. The physical space has been renovated to offer a library, an event space, a student lounge, a meditation space, study rooms, a counseling room, and a computer lab.
Lint Sagarena says the new center will focus on the social and cultural concerns of students of color, students who are the first in their families to attend college, students from low-income backgrounds, international students, LGBTQ+ students, and others that have been historically underrepresented in U.S. higher education.
Jennifer Herrera, a Middlebury staff member with more than 16 years experience in multicultural student affairs work, has been hired as associate director, a newly created full-time position. Herrera will oversee the new center, lead efforts for the retention and care of its student constituencies, and develop co-curricular programs.
"Students played a central role in the conception of this center," said Herrera, "and we invite them to embrace it and make it their own. This new central hub will support student collaboration in the creation of excellent intercultural programs and foster a shared sense of purpose and community."
The Center is named in recognition of two alumni: Mary Annette Anderson and Martin Henry Freeman. "These remarkable alumni exemplify the level of personal development that the center aspires to promote among our students," said Lint Sagarena.
Mary Annette Anderson was the first woman of color to graduate from Middlebury College. She was a native Vermonter, born and raised in Shoreham. Her father was a former slave who settled in Vermont after the Civil War. After saving enough money working as a hired hand, he bought his own farm and later met and married Anderson's mother, who was of French Canadian and Native American descent. Anderson was a member of Alpha Chi sorority, the first woman of color to be inducted into Middlebury's Phi Beta Kappa chapter, and served as valedictorian of the Middlebury College class of 1899. After college, Anderson moved to New Orleans, Louisiana, where she taught at Straight College. She then went on to live in Washington, D.C., where she enjoyed a career teaching English and History at Howard University.
Martin Henry Freeman, a native of Rutland, Vermont, is remembered for a number of accomplishments including becoming the first African American college president in U.S. history. He graduated from Middlebury College in 1849 and delivered the Salutatory address at his commencement. From 1850-1863, Freeman advanced from junior professor to president of the all-black Allegheny Institute (later Avery College), in Pittsburgh, Pennsylvania. A strong advocate for relocation to Africa, Freeman moved to Liberia where he served from 1864-1868 as professor of mathematics at Liberia College in Monrovia. In 1868, he was appointed president of that institution as well.
The center is open to students now and services will be coming online throughout the Fall. A more formal launch will take place in January in conjunction with Alumni of Color Weekend and the College's Martin Luther King Jr. celebration.
For more information, contact the Anderson Freeman Center at AFC@middlebury.edu, 802-443-2214, or visit the Carr Hall location.
Reporting by Stephen Diehl; Photos by Todd Balfour.