Students Nurture Young Entrepreneurs, Storytelling with Summer Grants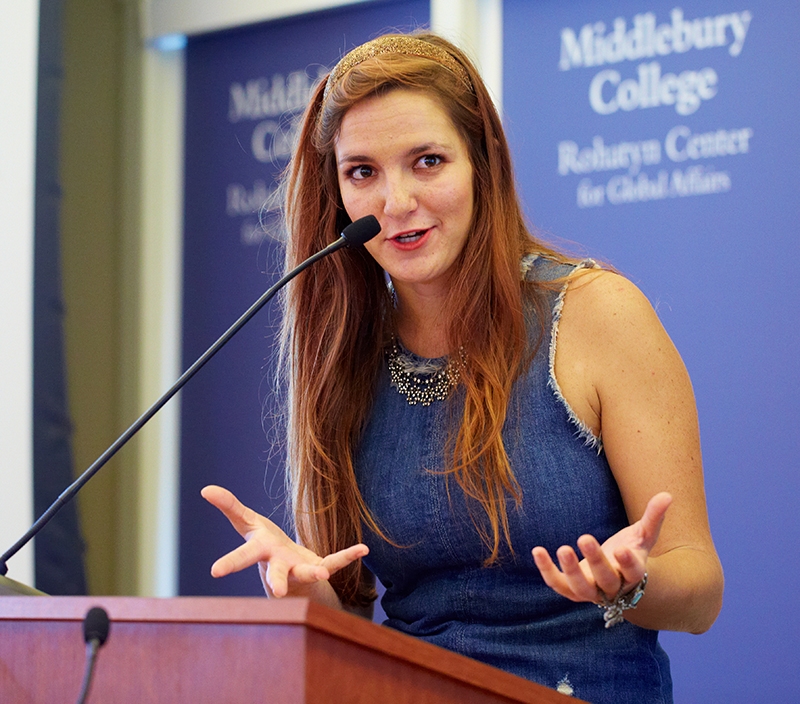 MIDDLEBURY, Vt. – From Tanzania to Afghanistan, from a cross-country road trip to the small towns of the American south, Middlebury students spent last summer diving into social entrepreneurship projects that spanned the globe.
These students gathered back on common ground on October 16 to reflect on those experiences during presentations at the Robert A. Jones '59 House at Middlebury. The event highlighted one Middlebury project that won $10,000 in funding from the Davis Projects for Peace, established on the occasion of philanthropist Kathryn W. Davis's 100th birthday to build international prospects for peace, and another that won $10,000 in funding from the president's office. Three more students reported the results of their $3,000 MiddChallenge grants co-sponsored by the Center for Social Entrepreneurship.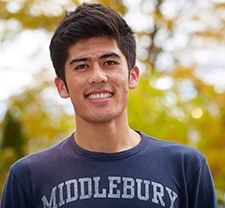 Farid Noori '18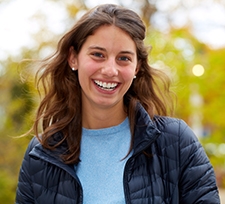 Lena Jacobs '17.5
"What these projects have in common is at the core of our mission, which is to enable our students to reflect on who they are, connect with others, analyze systematic challenges, and engage the world around them," said Mustafa Babak, the assistant director of the Center for Social Entrepreneurship. "Through working with these amazing Middlebury College students, we have found that they want to integrate effecting social change with their liberal arts experience."
The projects included:
-A 10-day summer camp run by Naina Quayyum '15 in her native Pakistan to inspire design thinking, a proven process for creative problem solving, among students and young professionals. "The energy of young people needs to be nurtured and channeled," said Quayyum in a video presentation from Pakistan about her efforts.
-A week-long entrepreneurship and leadership institute for women in Tanzania, organized by Priscilla Makundi '16 and Guadalupe Barajas '14.5. The two co-founded the Sote Tunaweza Initiative with the goal of lifting women out of poverty and fostering innovation through leadership and entrepreneurship summits. The two led their second summit this summer, a week-long event in Tanzania. "Sometimes the biggest and most important thing you can do for somebody is let them know that you believe in them," said Barajas in a video submitted for the gathering.
-The Heartland Project, a storytelling initiative by Alexa Beyer '16 to represent with fiction the environmental issues facing small towns. "Fiction allows [people in these communities] the justice of having their story told, without the press of being on the record," said Beyer.
-The AghazGar project in Afghanistan, spearheaded by Farid Noori '18. Concerned that young people in Afghanistan lacked incentives, capital, and the entrepreneurial mindset to start businesses, Noori designed a 10-day camp to encourage creativity, resilience, and basic business skills in young Afghani men and women. His goal is to help Afghanistan become a "start-up nation," and he hopes to found a coworking space in Kabul to provide a place for young people to work together.
-The Dream Bus, a project by Lena Jacobs '17.5. Jacobs converted an old school bus into a mobile classroom for the Future Project, a nonprofit that helps embed "Dream Directors" in high schools to inspire students to discover and act on their passions, often reigniting their interest in school. The bus also connects high school students with local graphic designers, marketing professionals, and other expertss whose advice encourages the students to take risks and pursue their project ideas. She and a team of "Dream Directors" and filmmakers made a cross-country trek in the bus, stopping in cities along the way to collect the dreams of young people around the country.
With reporting by Kathryn Flagg, Photos by Todd Balfour