Ward Prize Honors First-Year Writing
MIDDLEBURY, Vt — The Middlebury Center for Teaching, Learning, and Research and the Writing Program honored up-and-coming first-year writers with the presentation of the 38th annual Paul W. Ward '25 Prize in Writing at a ceremony in Twilight Hall Friday, October 2. The $500 cash prize recognizes outstanding essay writing by first-year students. This year's winners and honorees, all members of the Class of 2018, were nominated from many academic disciplines and were judged by a faculty committee for writing completed during the 2014–15 academic year.
"We are impressed at the range of interests and styles that all your writing represents," said Writing Center Director and Senior Lecturer Mary Ellen Bertolini. "The judges read personal narratives, short stories, critical arguments, and research papers from many departments and across many divisions."
That range is especially gratifying, said Bertolini, because "when Middlebury College committed itself to requiring writing in courses throughout the curriculum, we committed ourselves to an idea about the place of writing in a liberal arts education."
The winning submission, "Stand Your Ground: A Southern History Meets Modern Law," was written by Nina Colombotos as part of her first-year seminar taught by Visiting Assistant Professor of American Studies Deborah Evans. The course was themed around the idea of what the term "Southern" means in today's cultural climate.
Introducing her student, Evans noted that Colombotos showed an unusual level of engagement with her writing, fully embracing her topic and immersing herself in the research. Evans also said that Colombotos impressed her with her ability to communicate ideas through her writing. "I respect her clarity and intensity, and how gracefully and straight forwardly she translates complex topics for her audience," said Evans. "That she can talk about such a legalistic topic and make it come alive really sets her apart as a writer."
Two students, Sawyer Crosby and Morgan Grady-Benson, were named Runners-Up, which comes with a $250 prize. Crosby's paper, "The Depletion of Groundwater Reserves in the Rio Laja Watershed and Its Effects on The San Miguel de Allende Municipality," was nominated by Professor Peter Ryan. Grady-Benson's work, "I Used to Play the Harp," was nominated by Mary Ellen Bertolini. Each of the runners up read excerpts from their papers.
Three students received honorable mention: Gabe Weisbuch for "2Fe(s) + 2H2O(l) + O2(g) 2Fe2+(aq) + 4OH-(aq);" Naomi Eisenberg for "The Creation of Urban Noise: Street art by JR as a mechanism to provoke thought;" and Robert Erickson for "Converging Focus," nominated by Professor Brett Millier.
"We hope you talented writers of the Class of 2018 will share your gifts with incoming classes by working with them in their first-year seminars and college writing classes," Bertolini told the students, who are invited by the Writing Program to train as peer writing tutors and writing and academic mentors.
The prize is offered in memory of Paul W. Ward '25, whose lifelong career as a journalist and diplomatic reporter brought him both the Pulitzer Prize and the French Legion of Honor. During his long career he emphasized the use of basic English as a writer's most necessary tool. Precise and exact usage of words, exact meanings, and phrases expressed lucidly and gracefully seemed to him the most direct and understandable means of communicating with his readers.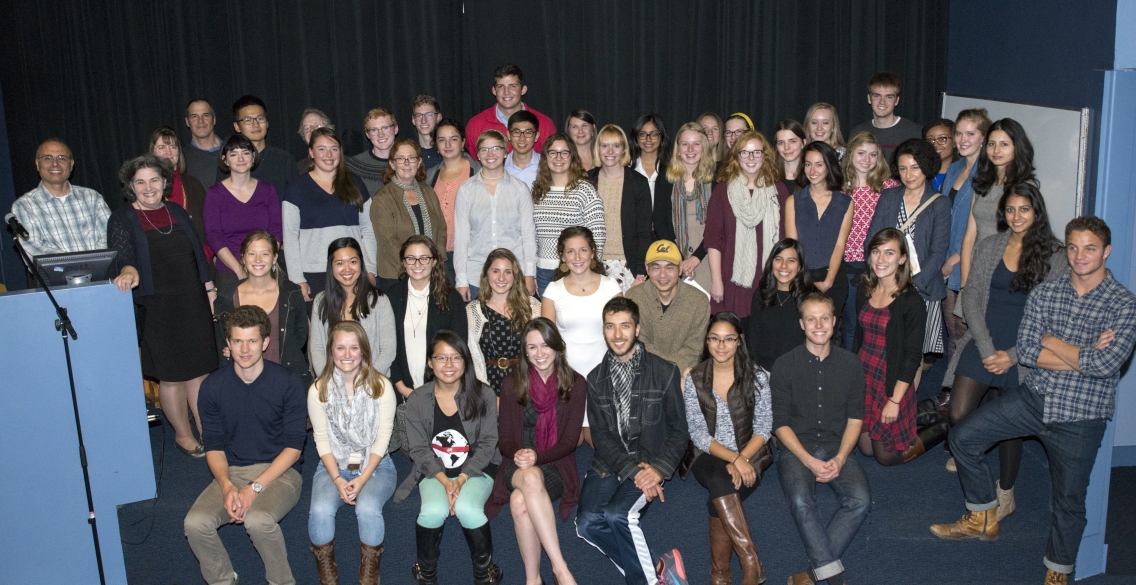 Ward prize nominees and their faculty advisors gathered for a group photo following the award ceremony at Twilight Hall auditorium.
For More Information