Athletics Hall of Fame Inducts 10 New Members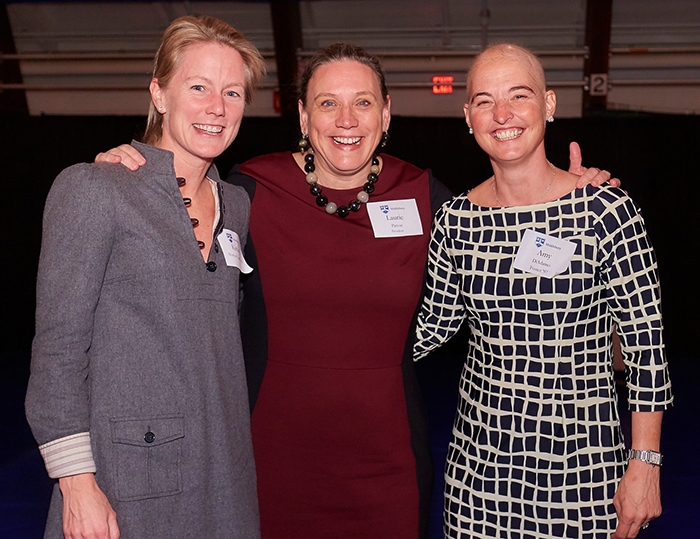 MIDDLEBURY, Vt. – The Middlebury Athletics Hall of Fame, now in its second year of existence, inducted 10 former student-athletes and coaches into its ranks at a gala ceremony held on November 7 in Nelson Recreation Center.
More than 200 people were in attendance, including six of the evening's 10 honorees and two of the five members of the inaugural class inducted one year ago. The Hall of Fame commemorates the athletic performance and service of alumni, coaches, administrators, and staff dating back to the 1880s for men when baseball became the first varsity sport, and back to 1934 for women when the ski team held a carnival for athletes of both genders.
Erin Quinn '86, director of athletics, welcomed everyone to the gathering, and President Laurie Patton said the Hall of Fame celebrates "the culture of success at Middlebury, a culture based on perseverance and community."
"My theme for this year and the next and the next and the one after that is resilience," the president said, "and the people we honor tonight demonstrate that resilience."
The new Hall of Fame members are:
John Corbisiero '50, who played football, baseball, and ice hockey at Middlebury, established school records in football, and later was drafted by the Chicago Bears. Now retired and living in Texas, Corbisiero was introduced by Karl Lindholm '67 and represented by his son Mike.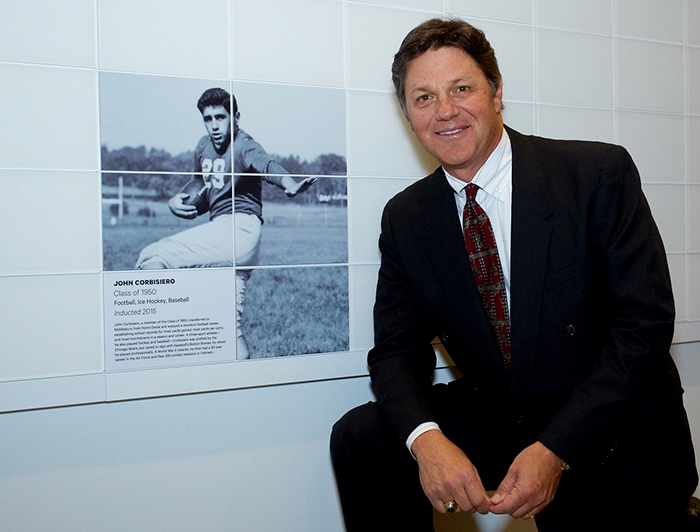 Mike Corbisiero with his father's plaque inside Peterson Family Athletics Complex. (Click on photos to enlarge.)
Lindholm said "Corbs" was known on the gridiron as "Mr. Cleated Fury," and when he played catcher and blocked home plate "it stayed blocked." The inductee had a 30-year career in the Air Force, flew 106 combat missions in Vietnam, and retired as a Colonel. Mike Corbisiero said his father sends regards "from warm San Antonio," and has fond memories of Jack Kirk '39, Duke Nelson '32, and Benjamin Wissler, professor of physics.
Amy DiAdamo Foster '97 was a three-time All American lacrosse player who scored more goals, more assists, and more points than any other player in women's lacrosse history at the College. In each season her team advanced to the NCAA final four, and in her senior year the women's team won the national championship.
Missy Foote, Foster's former coach, said Amy transformed women's lacrosse at Middlebury and "was simply the best of the best…with her undeniable grit." Her "supreme gift was how she inspired her teammates." The recipient thanked her teammates and her coaches, especially Foote who motivated her players with maxims like "you have more in you" and "you can do anything for 20 seconds no matter how difficult the task."
Heidi George '98 was the three-time NCAA champion in the 1,650-meter freestyle and set the Division III record in the distance – a record that stood for 14 years. She is the only swimmer or diver in Panther history to win three consecutive national titles in the same event, and also holds the school record in the 1,000-meter freestyle. George still swims competitively and currently holds master's world records at three distances.
Mary Ellen "Mel" McLaughlin, a former Middlebury swimming coach, remembered the time George swam an entire 1,650-meter freestyle race doing the butterfly and set the pool record at Norwich University. McLaughlin said George is an extraordinary athlete and citizen who always celebrated the achievements of her teammates. She is admired for "following her passion and making a lasting imprint on Middlebury swimming."
Roy Heffernan '78, who set school records in football that stood for decades, still holds the single-game rushing mark of 311 yards and currently stands as the second-leading rusher in Middlebury history, despite having played only three years of football. On the lacrosse field Heffernan led the Panthers to four ECAC championships and twice earned All-American honors.
Mickey Heinecken, the former football coach, said his years at the helm (1973-2000) were blessed with many outstanding players, "but there is not a better candidate than Roy to be the first football player from my era to be inducted in the Hall of Fame." Heffernan accepted the engraved pewter plate given to each inductee and said the honor "carries so much weight" for one reason – people – and he named the family members, coaches, teammates, and faculty and staff who influenced his life.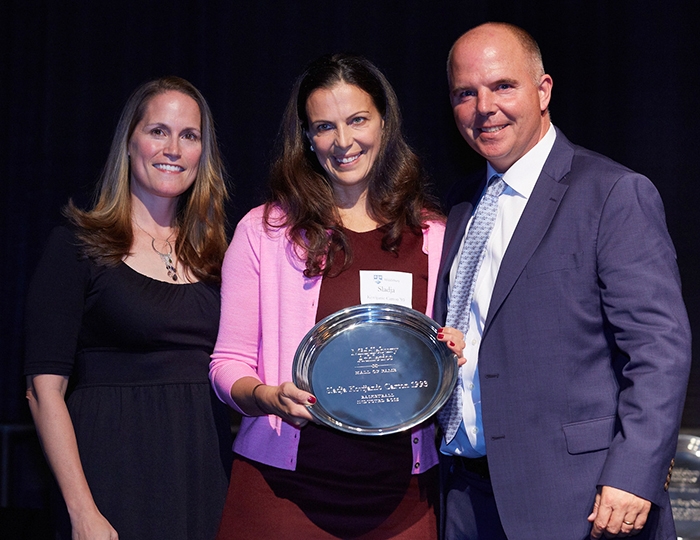 (l-r) Erica Moody '92, Sladja Kovijanic Carton '93, and Erin Quinn '86.
Sladja Kovijanic Carton '93 is the most prolific scorer in the history of women's basketball at Middlebury. She holds the records for most points in a season (648) and in a career (1,602) despite playing just three years. Her 30.9 points per game in 1992-93 led the nation in scoring and earned All-American honors.
Former teammate Erica Moody '92 said Sladja was a fierce competitor who went on to play for the Serbian national team. She could have played at a much larger college, but selected Middlebury because of its academics, its proximity to her family, and her passion for basketball. Carton dedicated the honor "to my great teammates and coaches at Middlebury," in particular former coach Amy Backus for her ability to motivate and inspire student-athletes.
Alfred "Sonny" Dennis '55 was one of the greatest athletes to ever compete for Middlebury. As a football player he was renowned for his long and electrifying touchdown runs; on the hardwood he set school and state records for most points in a season and a career; and in track and field he was undefeated in every race his junior year.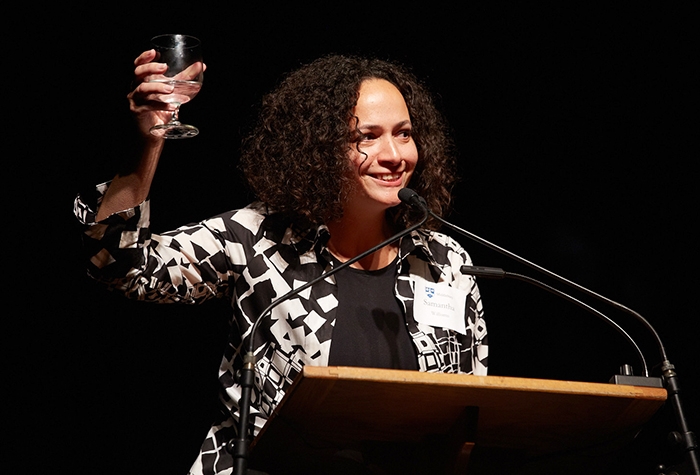 Samantha Williams raised her glass to toast all of the Hall of Fame inductees.
Karl Lindholm '67 marveled that the late Sonny Dennis, who passed away in 1995, still stands in third place on Middlebury's all-time men's basketball scoring list with 1,554 points. Teams played fewer games in the 1950s than they do today, and there was no 30-second shot clock or three-point line. Lindholm quoted one of Dennis's teammates who said, "Sonny was a brilliant athlete. If you played with him, you cherished the memories." Dennis's daughter Samantha Williams accepted the honor on her father's behalf and said "he would have been thrilled to be here."
Michelle Labbe Hunter '01 was a three-time All American in ice hockey who holds the school record for assists, is second all-time in goals, and was the AHCA Division III Women's National Player of the Year in 2001. Her teams dominated play during her tenure winning four ECAC championships and two national titles finishing 89-8-1 – a record that includes not a single loss to another Division III team.
Hunter was unable to attend the induction ceremony having recently given birth to a child, and she is expected to attend the 2016 event.
Walter "Duke" Nelson '32 had impact on Middlebury as an athlete, coach, and administrator. He played three sports (football, hockey, and baseball); coached six including women's ice hockey, men's lacrosse, and golf; and served as director of athletics from 1956 to 1969. The building in which the Hall of Fame induction ceremony was held is named in memory of Duke Nelson, who passed away in 1989.
Russ Reilly, former athletic director, spoke on Nelson's behalf and listed his numerous achievements including his 26 years as men's golf coach, 22 years as men's ice hockey coach, and his decision in 1981 to come out of retirement (at age 72) to coach the first women's varsity ice hockey team. Nelson's daughter, Janet Nelson, accepted the award for her father.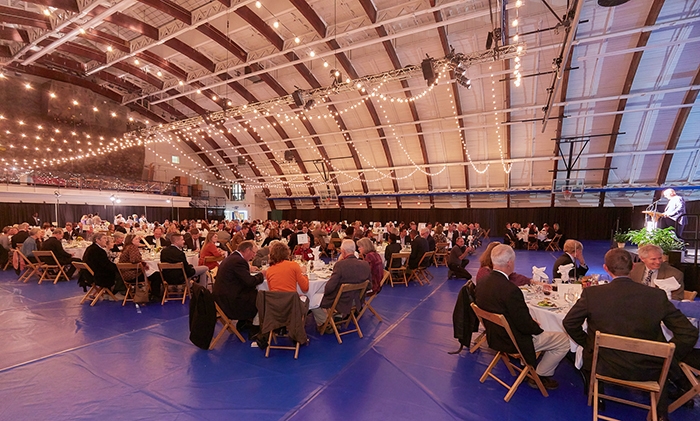 Memories were shared and enjoyed inside Nelson Recreation Center.
Jeff Thomsen '83 scored more goals (181), recorded more assists (129), and tallied more points (310) than anyone else in the history of Middlebury lacrosse, despite playing fewer games than contemporary student-athletes. His scoring average of 5.96 points per game places Thomsen in sixth place all time in Division III men's lacrosse.
Jim Grube, who coached lacrosse at Middlebury from 1979 to 1991, said the three-time All American "was the Wayne Gretzky of lacrosse" for his talent, accomplishments, records, and teamwork. Thomsen, who along with Roy Heffernan is the first men's lacrosse player to be inducted in the Hall of Fame, said he was proud to represent his teammates and coaches, and the great tradition of men's lacrosse at Middlebury, which includes three national championships. "All of the athletes at Middlebury set a tone of competitiveness and quality" that makes the school a leading force in Division III athletics, he said.
Karin Von Berg Noyes '81, a premier long-distance runner, won the New England Cross Country Championship as a sophomore and twice earned All-American honors in track and field. Her time in the 1,500 meters (4:28, set in 1979) has stood as the NESCAC Championship Meet record for 35 years and counting.
Terry Aldrich, retired coach of cross country, track, and Nordic skiing, said it was rare to find an athlete "so strong in such a wide variety of events, from 800 meters to 10,000 meters." He told stories demonstrating Noyes' ability and determination, such as the day she set the record in the 1,500 meters. It's easy to forget, Aldrich said, that less than an hour later Noyes ran the 5,000-meter race and set a meet, conference, and track record in that event too.
The director of athletics, Erin Quinn, closed Middlebury's second annual Hall of Fame induction ceremony by paraphrasing John F. Kennedy: "Tonight Middlebury College revealed itself by the men and women it honored, and the men and women it remembered."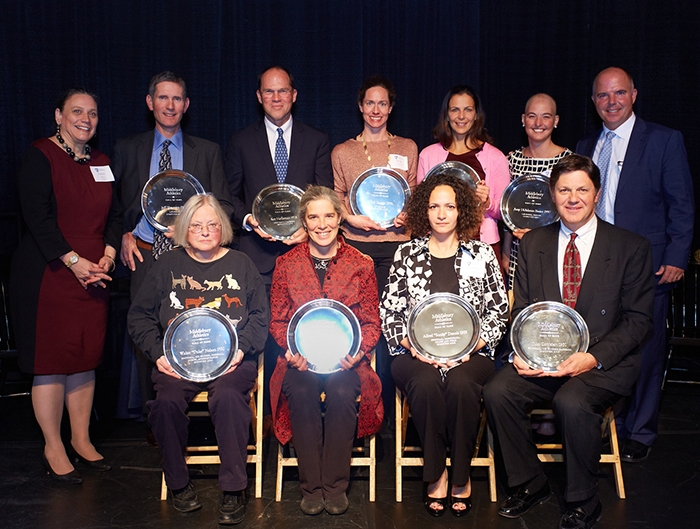 Standing (l-r): President Patton, Jeff Thomsen '83, Roy Heffernan '78, Heidi George '98, Sladja Kovijanic Carton '93, Amy DiAdamo Foster '97, and AD Erin Quinn '86. Seated: Janet Nelson, Karin Von Berg Noyes '81, Samantha Williams, and Mike Corbisiero.
– With reporting by Robert Keren and photography by Todd Balfour and Teddy Anderson '13.5