On 'Discover the Brain' Day Students Offer an Introduction to Neuroscience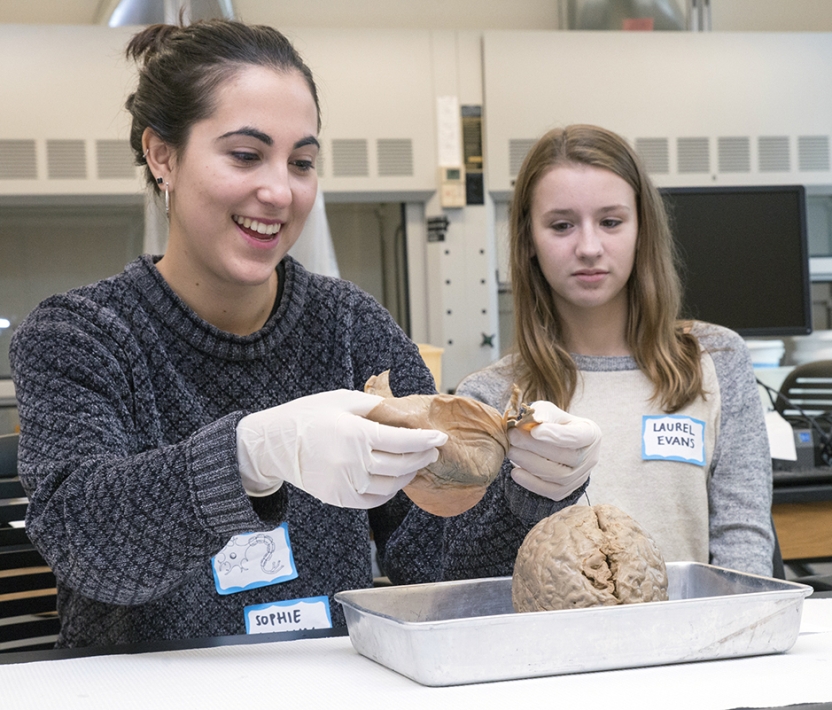 MIDDLEBURY, Vt. — Biology, chemistry, physics — all are run-of-the-mill classes for most high school students. Neuroscience, on the other hand?
"High schools don't offer much in the way of neuroscience," said Middlebury resident Lisa Bernardin. "This is a start, just to see what the field is all about."
Bernardin organized "Discover the Brain" day at Bicentennial Hall on a recent Saturday as a way for Middlebury students to share their academic interests with area high schoolers. A neuroscience enthusiast herself, Bernardin teamed up with Middlebury faculty and students to offer a half-day introduction to the study of the brain.
"The brain is a world consisting of a number of unexplored continents and great stretches of unknown territory," Mark Spritzer, an associate professor of biology, said on Saturday morning. He was quoting Santiago Ramón y Cajal, considered by many the father of modern neuroscience. "We're going to explore some of those worlds today," said Spritzer, who teaches in the college's interdisciplinary neuroscience program.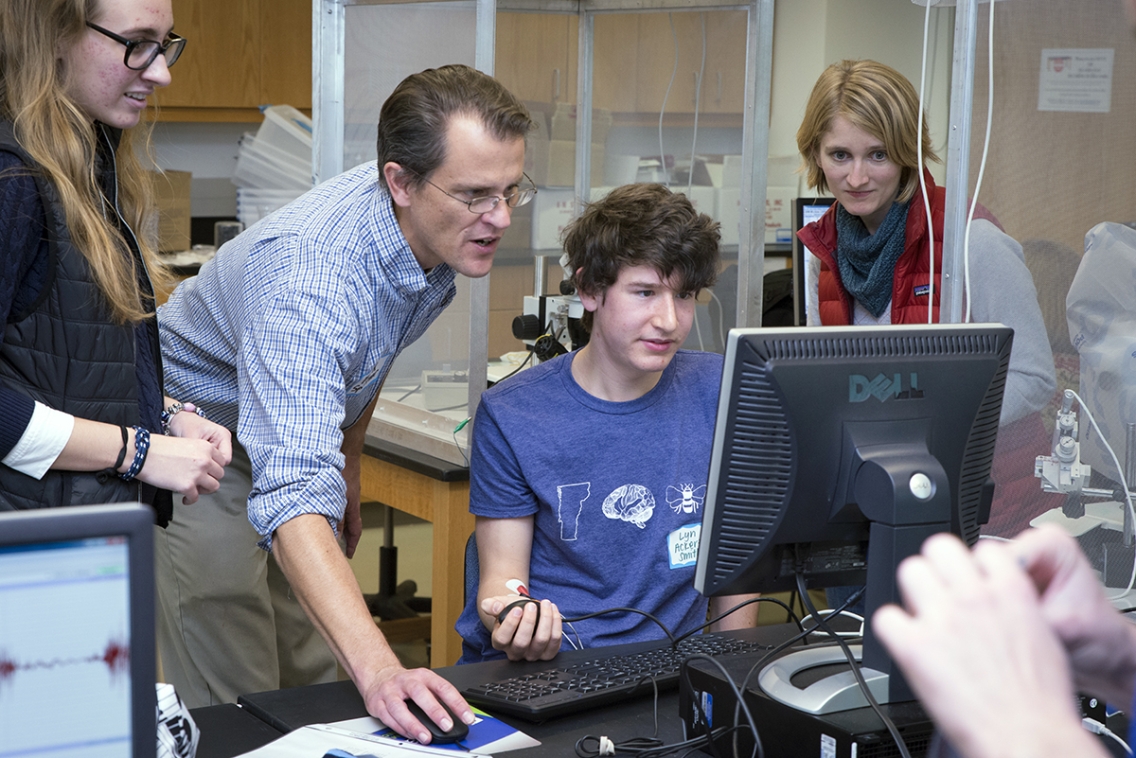 Middlebury Professor Mark Spritzer helps students interpret data coming from electrodes attached to a student's arm.

"It's really a remarkable time to be a neuroscientist," said Spritzer, noting that neuroscientists are using recent discoveries to treat depression, brain injuries, and even to help quadriplegic and paraplegic patients regain use of their limbs.
The day of lectures, demonstrations and quizzes was part of a larger effort to enlighten high school students about the brain and neuroscience. In 2010, Bernardin founded the Vermont chapter of the Brain Bee, an international neuroscience competition for high school students. About a half-dozen Middlebury College neuroscience students volunteer weekly to help high schoolers prepare for the competition, and a growing number of high schools throughout the state boast extracurricular neuroscience clubs.
Over the course of the morning, the high schoolers hustled to and from a series of demonstrations. "Sorry it smells so bad in here," quipped Emily Goins '17, as students trickled into an animal physiology lab. "We dissected crayfish, and this is the result." But the students themselves turned out to be the subject of the experiments in that particular lab: After a brief lecture from Spritzer on the components of the nervous system, they hooked themselves up to electrodes and monitored heart and muscle activity on nearby computer screens.
"I just hope [the high school students] understand stand how cool it is, and how much of an interdisciplinary science it is," said Goins of neuroscience.
Downstairs, in another lab, the high schoolers donned purple latex gloves as Christina Pil '16, a neuroscience major, walked them through a detailed anatomical demonstration of the brain. The students picked up plasticized human brains, and peered at brains preserved in formaldehyde, as Pil pointed out various anatomical structures. "Do you guys know what this is?" she asked, flashing one slide that focused on the bulbous knob at the base of the brain. "The cerebellum," a few called out.
"Enjoy the brains," one student said as a new group filtered into the lab. And without missing a beat, the next batch of students quickly snapped on their gloves, and got to work.
With reporting by Kathryn Flagg '08, photos by May Mantell