The Politics of Values in Today's Europe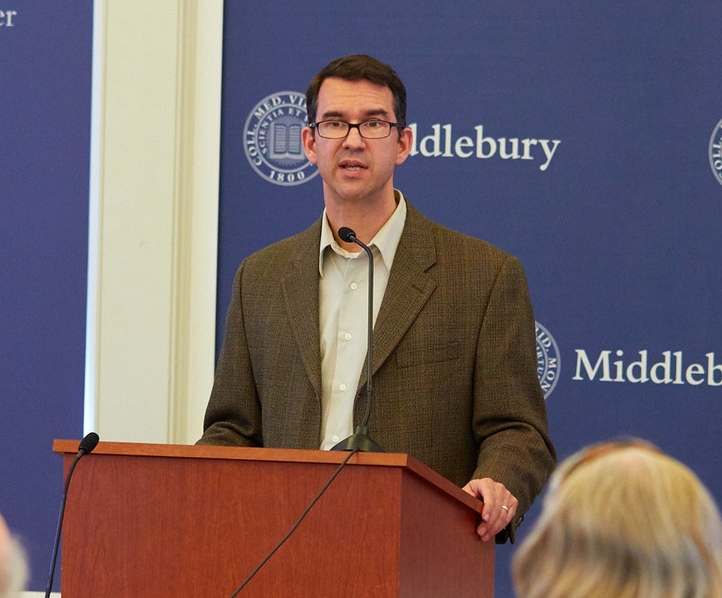 MIDDLEBURY, Vt. – The conference room at Robert A. Jones '59 House was filled to near capacity on November 20 to hear political scientist Erik Bleich's lecture on "Ethnic Diversity and the Politics of Values in Today's Europe."
The burgeoning migrant crisis in Europe and the events of November 13 in Paris weighed heavily on the minds of the speaker and his audience as Professor Bleich said: "Freedom is a more powerful rhetorical tool in some domains than in others; invoking freedom is often a strategic and political choice, and not just a philosophical choice; and freedom is always balanced against other core liberal, democratic values."
The other core values cited by Bleich were equality, dignity, human rights, rule of law, solidarity, opportunity, and fairness.
"Freedom is not the master value that we sometimes think it is, especially in the United States," the Middlebury professor said, and there are always "multiple values at stake in the politics of diversity" in Europe and elsewhere in the world.
For his talk hosted by the Rohatyn Center for Global Affairs, Bleich chose to examine three topics in Europe's politics of diversity through the lens of freedom: freedom of speech, freedom of religion, and freedom of movement.
Where the United States "takes a broad view" of freedom of speech, in Europe individuals can be charged with a crime for racist speech, hate speech, Holocaust denial, or genocide denial. Most convictions result in a fine, Bleich said, but on occasion individuals have been imprisoned.
"Going to jail for expressing an opinion" – such as saying the Holocaust is a myth – "is something that makes a lot of people uncomfortable," said Bleich.
Regarding freedom of religion, Bleich discussed the European Convention on Human Rights and specifically Article 9.1, which grants individuals the right to freedom of thought, conscience, and religion, and Article 9.2, which in turn places limitations on the freedoms granted in the previous article. Those limitations include laws "necessary in a democratic society in the interests of public safety, for the protection of public order, health or morals, or for the protection of the rights and freedoms of others."
Bleich examined specific cases involving freedom of religion in Europe and said, "Very few people value freedom above all other values because freedom is just one core value among many that we hold in a liberal democracy."
Freedom of movement "is a freedom that we hear a lot less about than freedom of speech or freedom of religion. It is a freedom that we take for granted if it is within national borders. But it's also a freedom that we think does not exist if we are crossing national borders."
Bleich said freedom of movement in Europe today for migrants and refugees"has been dramatically limited in the past few months. Countries have started sealing up their borders, putting up barbed wire, and physically restraining migrants and refugees. Limiting freedom of movement has real human cost and these limits we see today are historic."
Open borders were "an established and prominent feature" of life for Europeans, which makes the current situation for migrants and refugees "almost unthinkable," said Bleich.
And freedom of movement doesn't attract the fervent support that other freedoms enjoy. "Appealing to the principle of freedom of movement across borders is not the strongest political strategy out there because it is a type of freedom that is less rooted in public discussions, and is less embedded in international law than freedom of speech or freedom of religion."