Students Appreciate College Charter on Founders' Day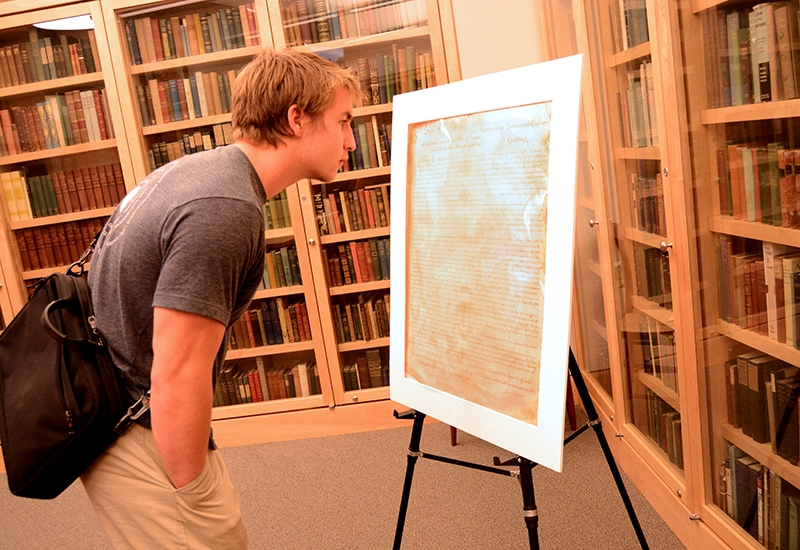 MIDDLEBURY, Vt. – On the 215th anniversary of the College's founding, the Special Collections staff in Davis Family Library placed Middlebury's original, hand-written charter on display for all to see.
Current undergraduates, in particular, noticed the fine condition of the 23-inch by 28-inch parchment document signed by Isaac Tichenor, governor of Vermont, and Roswell Hopkins, secretary of state, on November 1, 1800. The charter, which had been approved by a vote of the Vermont Legislature earlier the same day, gave 16 men the authority to establish a college in the frontier town of Middlebury, and to serve as the "President and Fellows" of the institution.
Jeremiah Atwater, previously of Yale College, is named president in the charter, and five founders – Gamaliel Painter, Samuel Miller, Darius Matthews, Seth Storrs, and Nathaniel Chipman – are joined by seven lawyers and three ministers to comprise the first group of "fellows" (i.e., trustees) of the fledgling enterprise.
The president and fellows met on November 4, 1800, in the library room of the former Addison County Grammar School building that stood near Twilight Hall, and they elected Storrs as secretary, Matthews treasurer, and Joel Doolittle (a 1799 Yale graduate) as the first tutor. Seven students took entrance examinations and were admitted to the College the following day.
The charter was restored in the year 2000 at Northeast Document Conservation Center in Andover, Massachusetts, for the College's Bicentennial, and has been carefully preserved by Special Collections.
Prior to 2000 it had been "tightly rolled and extremely cockled with several horizontal creases," according to the conservation center. "There were several tears, creases, and holes… the ink was faded, abraded, and flaked in places… and scattered deposits of grime and a few stains."
The conservators reduced the surface soiling and mended the tears using "Japanese paper and wheat starch paste." The charter was humidified and flattened between blotters under pressure, encapsulated in polyester film, and mounted in an acid-free, eight-ply, white window mat, which was how it was displayed in the Special Collections Reading Room.
In observance of Founders' Day, the library staff also placed on display: the original library compact that predates the charter, the earliest minutes of meetings of the President and Fellows, the first catalog of library books and borrowers, and Gamaliel Painter's log book for the construction of "Stone College," the historic 1816 structure that bears Painter's name.
For More Information