New Electric Vehicle Charging Station Goes Live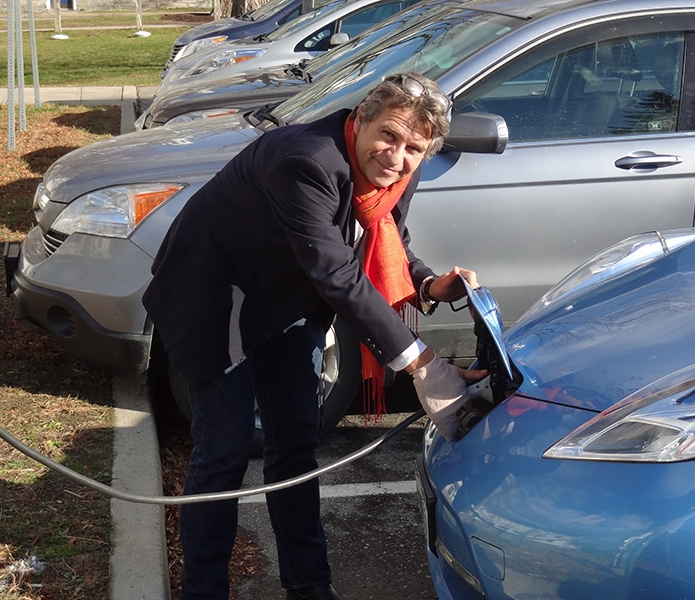 MIDDLEBURY, Vt. – Middlebury College recently installed its first charging station for electric vehicles (EV). Located in the parking lot behind the Franklin Environmental Center along Hillcrest Road, the new station is available to employees, students, parents, alums, and members of the public who need a charge on their way through Middlebury.
Middlebury student Ali Cook '16 initiated the project in 2014. "I'm glad that our original proposal to establish an EV charging station on campus has become a reality," said Cook. "I want to thank the Environmental Council, the Office of Sustainability Integration, and the Facilities staff who helped make it happen!"
The station is a "Level 2" charger with two ports so drivers can charge two vehicles simultaneously. Level 2 chargers take three to six hours to fully charge a vehicle, though there are many variables that affect charging time. The cost is $1.00 per hour with a membership in EVGo, the nation's largest public charging network, or $1.50 per hour with no membership plan.
The College's new EV charger is located on Hillcrest Road.
Currently, the Sustainability Office is aware of five Middlebury employees who own electric vehicles. This resource is now available to them, and to alumni and parents, some of whom have asked recently about whether there are charging facilities on campus. The College charging station brings to five the number of stations available in Middlebury, with a total of 12 ports available to EV owners.
"Electric vehicles are a good choice for budget-minded and environmentally conscious drivers," said Jack Byrne, director of sustainability integration. "They have lower maintenance costs and 'fueling costs' are the equivalent of $1.00 per gallon compared to internal combustion vehicles. Their emissions, including CO2, are also significantly lower. We hope the increasing availability of EV chargers will encourage employees and students to consider electric vehicles the next time they are in the market for a car."
Byrne added that potential electric car buyers can also consult the Vermont Energy Investment Corporation's informative webpage, which includes a map of EV charging stations in North America. The new charging station is part of the NRG EVgo network of chargers. The College leases it from Green Mountain Power.
Ted Dunakin and Mike Moser of the College's Facilities Services Department provided logistical support and managed the installation process of the charger. "As is often the case with sustainability initiatives at Middlebury, various people within the College community collaborated," said Byrne. "In this situation, a project initiated by a student became a reality with the help of knowledgeable staff members."
Installation costs were covered by grants from the College's Environmental Council and the Vermont Clean Cities Program at the University of Vermont Transportation Research Center.