Student Voice: Spending a Cold Night Out for the Homeless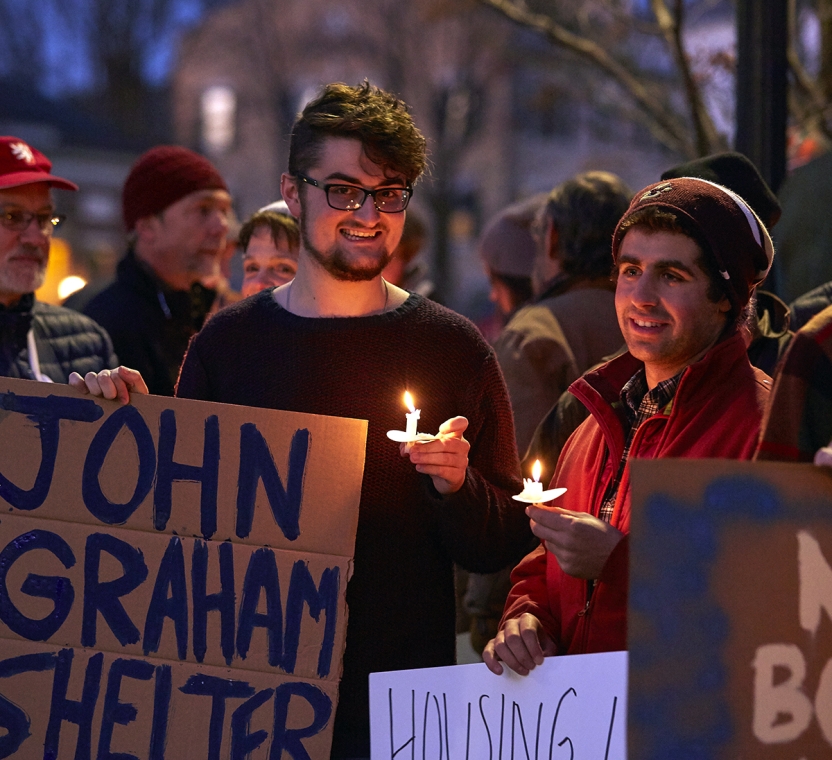 Guest columnist Dan Adamek '18 serves on the board of directors for the John Graham Shelter, which advocates for the homeless populations of Addison County, Vermont.
In Vermont, winter is seen as a time of immense fun by most Middlebury students. To us, winter means skiing at the Snow Bowl. Winter means snowball fights and making snow angels on Battell Beach. Snow means curling up with some homework and drinking hot tea in front of a fire.
But, for homeless Vermonters, winter means something entirely different. For homeless families with children, winter means parents struggling around government bureaucracy in order to get an emergency motel room for a few days. Winter means sleepless nights spent shivering inside an old tent feeling the frigid wind permeate into a tattered sleeping bag. Winter means hypothermia. And, as happens in Vermont annually, for a few of the most vulnerable people, winter can even mean death.
On the night of Saturday, December 5, I had the opportunity to help organize a group of community members on the Middlebury Town Green for a Candlelight Vigil to End Homelessness. I was joined by faith leaders, business owners, politicians, farmers and students who all believed one thing: Housing is a human right. Afterward, some of us moved to Otter Creek Falls where we spent just one night in the freezing cold—something that our homeless neighbors face each and every day.
In the weeks leading up to this event, participants fundraised from friends, family members, colleagues and local businesses. Although donations are still pouring in, we have raised upwards of $35,000 that will go directly toward bringing homeless individuals in our community inside from the cold into safe, permanent housing. This is incredible.
Community members gathered in Middlebury for a vigil before the sleep-out by Otter Creek.

Last summer, I had the opportunity to intern at John Graham Housing & Services as a Shepherd Poverty Intern. After the summer ended, I was lucky enough to be offered a position there as a part-time service coordinator and was invited to join its Board of Directors. In light of a 54% increase in childhood homelessness in Vermont over the past five years, my work at John Graham has allowed me to understand what having a stable place to call "home" really does for someone. I have been able to find a better sense of place in the greater Middlebury community and have been able to see the role that Middlebury College plays as such a privileged institution in an area where homelessness may not be easily visible, but is still a pertinent issue.
I can't wait to see the effects of the Sleep-out in our community—from greater awareness among the Middlebury student body that will hopefully bolster action for economic justice to seeing the faces of individuals and families who will directly benefit from the services that funds raised from the Sleep-out will provide.
If you are interested in making a gift to continue helping those who are most vulnerable in the greater Middlebury area, you can do so here.
- Dan Adamek, '18
Photos by Yeager Anderson '13.5
For More Information