Undergrads Put Design-Build Concepts into Practice on a Maine Island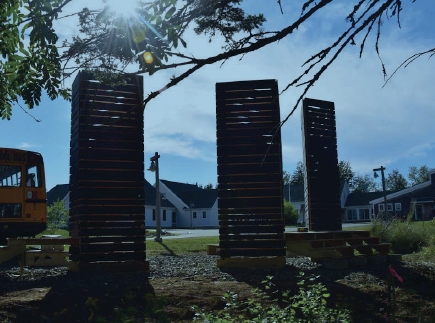 MIDDLEBURY, Vt. – The Vermont chapter of the American Institute of Architects (AIA) has awarded its highest honor to a team of Middlebury College students for a project they created on an island off the coast of Maine.
The award-winning Compost Commons for the North Haven (Me.) Community School was designed and constructed by the students in one week's time. It was judged by the AIA to be "a fine example of community engagement marked by good design and careful attention to the craft of building. The entire process was collaborative and participatory, and the result is beautiful."
The AIA's Honor Award was presented on December 10 to the Bear Island Design Assembly – the name given to the collaborative formed by architects John McLeod and Stephen Kredell with Middlebury undergraduates. It marked the third year in a row that BIDA took home an award from Vermont's association of professional architects.
Last year the Middlebury team won the Honor Award for the moveable, multipurpose chicken houses they designed and built for Islesboro (Me.) Central School, and in 2013 the students led by McLeod and Kredell received an AIA Citation for the flexible farm stand they created at the same school.
The unusual, not-for-credit summer program thrusts liberal-arts students together for an intensive week in Maine working side by side with architects and builders (whose services are provided on a pro bono basis) to design, create, and install a project that will benefit the host community.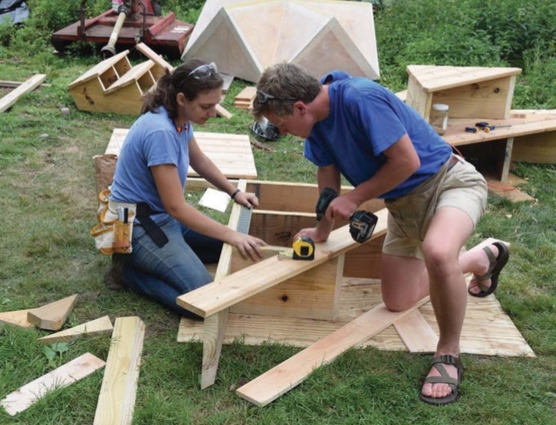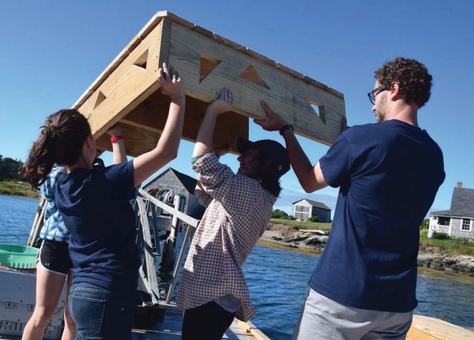 The towers and benches were constructed on Bear Island (top) and transported by boat (below) to North Haven Island. (Click on photos to enlarge.)
BIDA seeks to focus the students' collective skills and energies on a single project, while at the same time teaching them to "live lightly off the land" and bring good design to a project that will benefit more than a single client or fulfill a studio assignment.
"It's a bit of a high-wire act for all of us," explained McLeod, visiting assistant professor of architecture. "We have only one week in which to design and build our project, and we start the process with no pre-conceived ideas. It's important that we develop the concept and design together."
The Compost Commons comprises three 12-foot-tall, triangular towers that hold 80 cubic feet of compost, allow the school to experiment with composting invasive green crabs, and enable the community to load and unload compost without being impeded by the snow. The commons also functions as a meeting place, a classroom, and a place to store garden tools.
In the four summers that McLeod and Kredell have conducted BIDA, "we always try to respond to what the community asks for, and then we give them so much more," said McLeod.
BIDA is inspired by the genius of R. Buckminster Fuller and by the quality of life along the rugged Maine coast. The team begins its seven-day undertaking on Bear Island in Penobscot Bay as guests of the family of the late architect, inventor, and theorist. Without electricity or running water the students design their project and build it on Bear Island before transporting it across the bay and assembling it in place.
McLeod said the process teaches participants "to do more with less, to be efficient and use all resources fully. When you are on an island you always have to plan ahead. You have to be smart about how you use your resources. It's an important philosophy in life and it's important in architecture too.
"As we grow and try to become better practitioners of architecture," McLeod continued, "we also have to be better stewards of the planet by making buildings that don't waste resources and are as efficient as possible."
The students in BIDA 2015 agree with McLeod and take it a step further.
"We often don't get to be part of something so concrete until after we have left the undergrad bubble," said Morgan Raith '16.5, who helped design and build the Compost Commons.
"Any theoretical lessons you learn [in the classroom] will be supplemented exponentially and arguably only truly realized when you go into the field and apply them yourself," added Ed Acosta '18.
"Seeing the design-build process through, from concept to drawings to cut lists to actual built form, allows us to experience the full process of architecture," said Kelsey Follansbee '16. "Without this experience, much of what we learn in architecture class would remain too abstract."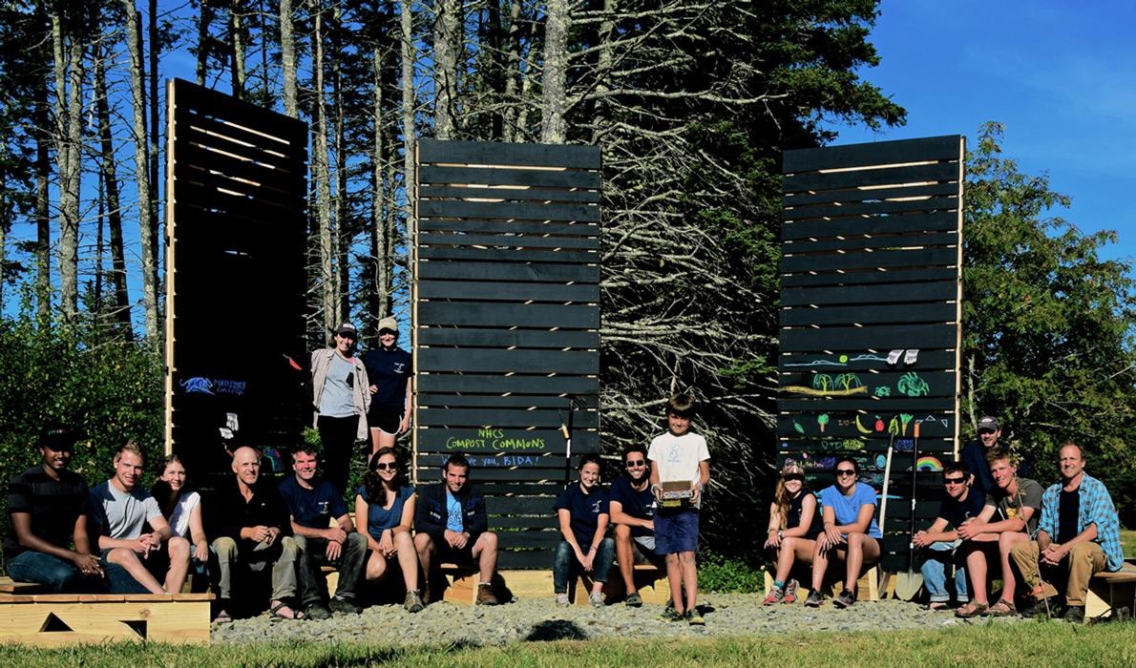 The members of the Bear Island Design Assembly team with their 2015 award-winning Compost Commons at the North Haven Community School.
– Photos courtesy of Bear Island Design Assembly; reporting by Robert Keren
For More Information