Four Students, Three Faculty Present at Spanish Sociolinguistics Workshop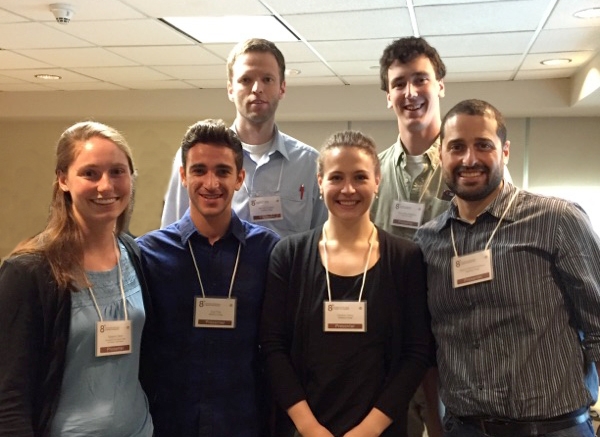 Top (l-r): Brandon Baird and Mark Balderston. Below: Madeline Gilbert, Evan Patz, Caroline Cating, and Marcos Rohena-Madrazo.
Evan Patz '17 and Jeffrey Stevenson, associate professor and director of the School in Chile, presented "Socio-phonological variation of syllable final /s/ aspiration in Chilean Spanish and L2 acquisition."
Mark Balderston '15.5, Caroline Cating '16.5, and Assistant Professors Brandon Baird and Marcos Rohena-Madrazo presented "He sounds like he plays fútbol: Perceptions of single-word Spanish phonology switches within English utterances."
Madeline Gilbert '14 and Prof. Rohena-Madrazo presented "Sociolinguistic stratification of coda (-r) in Buenos Aires Spanish: Hyperarticulation and Deletion."
The Workshop on Sociolinguistics. is one of the most important academic events in the field of sociolinguistics, said Prof. Baird.
Middlebury's Undergraduate Research Office provided funding support for the students' participation at the workshop.