All First-Year Students to Participate in Expanded JusTalks Program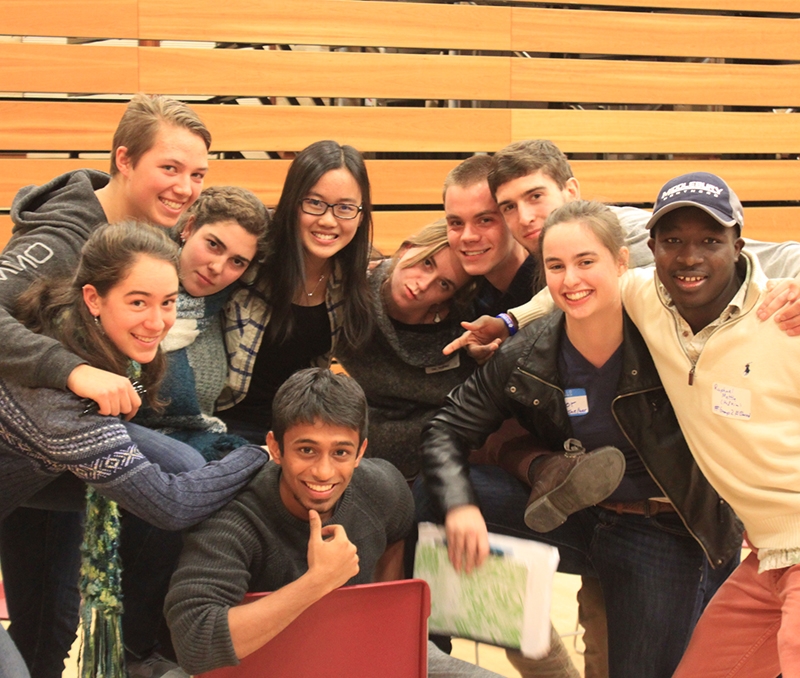 MIDDLEBURY, Vt. – Beginning with the 2016-2017 academic year, all first-year students at Middlebury will take part in JusTalks, a student-run one-day program that encourages dialogue about race and other difficult topics. The College is also creating a new winter term course, "JusTalks: Facilitating Social Change," that will be offered for the first time in January 2017. Middlebury President Laurie Patton announced the expansion of JusTalks in an all-campus email in April.
In her message Patton said that she looked forward to working with students, faculty, and staff "to ensure that JusTalks succeeds in its objective of making Middlebury College a more inclusive and aware place for all students." Also in the email was a note to the student body from the "JusTalks Team" – a group of 15 students who currently lead the initiative. They have advocated for a mandatory event since 2011 when students who are now graduates created JusTalks. In 2013 JusTalks began holding its annual daylong program once during winter term, with 60-100 students participating each year.
"It's important for every first-year students to experience JusTalks since it offers a space for all students ­­– regardless of their identities, major, or affiliation with different organizations – to grapple with hard issues," said Klaudia Wojciechowska, a junior and one of the group's leaders. "It also provides concrete tools or methods for how to discuss them."
Wojciechowska noted that there are some other colleges and universities with similar programs but they are not required. "Middlebury is making a bold statement about the importance of diversity, inclusion, and community in higher education today," she said.
In 2017 the JusTalks daylong event will take place at the Middlebury Bread Loaf campus during winter term or during one weekend in spring semester. The program will include large and small group conversations on power, privilege, identity, and inequality, with a particular focus on how students experience these topics at Middlebury. JusTalks will remain a student-led organization, with student facilitators guiding each session.
Associate Professor of Education Studies Jonathan Miller-Lane and a Middlebury alum who has not been named yet, will co-teach the new JusTalks winter term course. The class will focus on the practice of dialogues that are likely to lead to complex conversations about identity, ranging from class, gender, and race to sexual identity.
Students in the course will also plan the JusTalks one-day events for first-year students and learn the skills necessary to serve as the facilitators of these sessions. Given the time commitment for the course, including planning meetings in the fall, students were required to apply to take the class to ensure that everyone who enrolled understood what would be required.

Miller-Lane is looking forward to the collaborative nature of the course. "JusTalks is a student-led initiative. Without the students, the program and the course wouldn't exist," he said. "In this class, the faculty and the students will be collaborating as equal partners."
For Miller-Lane, the main strength of JusTalks is its relationship to the liberal arts. "One of the fundamental goals of a liberal arts education is to learn how to disagree well for the purpose of understanding multiple viewpoints," he said. "JusTalks offers no ideological agenda other than the commitment to explore serious, difficult topics."
Miller-Lane points out that the one-day event for all first-year students is not an isolated conversation but really a continuation of a dialogue that will begin during their orientation. He hopes it will also help equip them for challenging discussions they'll have in future years at Middlebury. "We all experience Middlebury very differently," he said. "JusTalks is simply one effort, albeit an important one, that encourages us to explore the impact of that different experience on each of us."
The initiative has broad-based support among students, he said, because all of them have experienced the impasse that can take place when students can't talk about hard issues.
"By making JusTalks part of every student's experience, the College is saying that how we live together and how we communicate in the classroom both matter," he added. "If we argue that a residential, liberal arts college offers benefits that online courses can't, then we need to bring more intellectual attention to the intersections between academic and residential life. JusTalks is one way to do that."
Wojciechowska and her fellow leaders of JusTalks hope that it fosters a shift in campus culture towards community accountability. "Our passion for the JusTalks program reflects our belief in the potential of Middlebury to constantly challenge and better itself," she said. "We are excited to continue our work with the administration to cement this program into the permanent foundation of a Middlebury education."
Reporting by Sarah Ray
For More Information