Elizabeth Lee '17 Receives James E. Webb Internship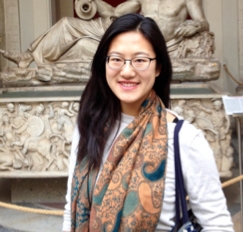 Elizabeth Lee '17 will conduct research this summer at the Smithsonian's National Museum of American History.
Elizabeth Lee '17 is the recipient of a James E. Webb Internship for Minority Graduate and Undergraduates in Business and Public Administration at the Smithsonian Institution. This summer Lee will work as an intern in the National Museum of American History's Political History Division conducting research on youth voting and political activism in the 20th century and today. Her efforts will support school lesson resources for the exhibition American Democracy: A Great Leap of Faith. She will also participate in a Smithsonian working group on promoting civic engagement, assisting in the development of a museum-wide statement on the value of civic learning.
Lee was one of 10 students selected from more than 100 applicants for a James E. Webb Internship.
A philosophy major with minors in political science and French, Lee moved with her family from her native California to Shanghai at age 13 and attended high school there. It was in Shanghai, under the Chinese Communist regime, where Lee became interested in how government systems can influence the way people live and learn.
Last summer, Lee was an advocacy intern at the United Planning Organization through the Shepherd Higher Education Consortium on Poverty program. At Middlebury, she is also involved in organizing work for progressive causes and the Debate Society.
In the future, Lee hopes to navigate the political system to further the rights of economically marginalized groups, especially through improving quality and access to education.
The Smithsonian Institution is the world's largest museum and research complex, with 19 museums and galleries and the National Zoological Park. On July 1, 1836, Congress accepted the legacy bequeathed to the nation by James Smithson and pledged the faith of the United States to the charitable trust. The total number of objects, works of art and specimens at the Smithsonian is estimated at nearly 138 million, including more than 127 million specimens and artifacts at the National Museum of Natural History.