Middlebury Mourns the Death of Murphy Roberts '17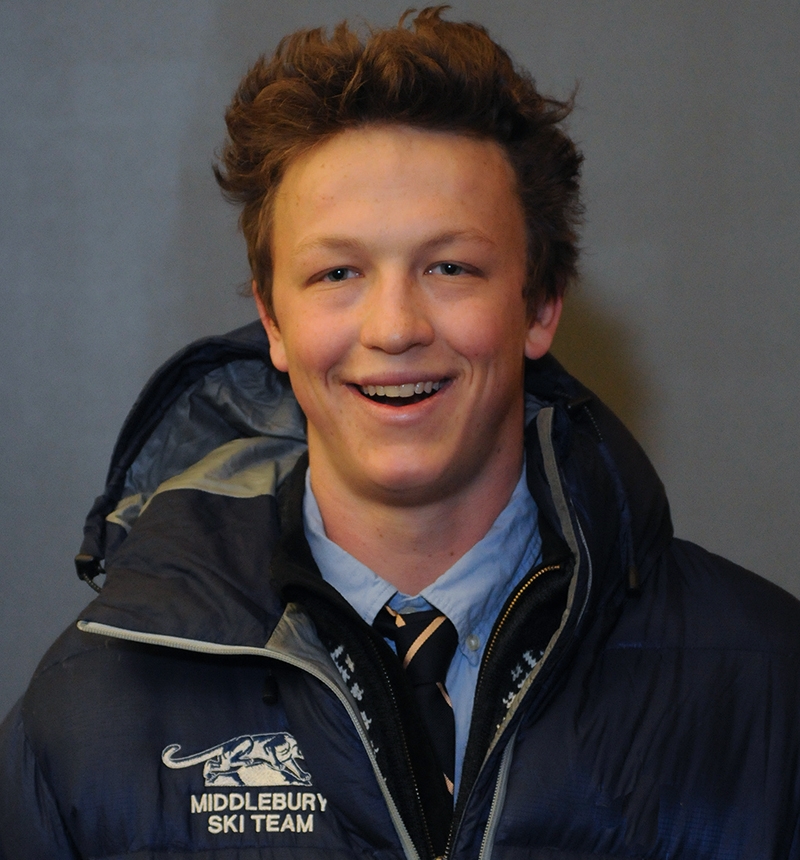 Update: There will be a memorial service for Murphy Roberts '17 on Saturday, September 17, at 11 a.m. in Middlebury's Mead Chapel. All are welcome to attend.

MIDDLEBURY, Vt. – Middlebury College mourns the loss of a current undergraduate student, Murphy Roberts '17, who died on Sunday, August 14, while hiking in Southern Utah. Murphy experienced a seizure related to his Type 1 diabetes, which caused a fall that resulted in a series of complications. He was never in pain and died with his parents and siblings by his side. The rising senior and political science major was 22 years old.
Murphy Roberts epitomized the ideals of Middlebury College both as a student and as a human being, said his academic advisor, Orion Lewis, assistant professor of political science. "Murphy was deeply engaged with some of the foremost problems in the world, and he displayed the seriousness, personal motivation, and idealism we hope for with all of our students."
"He was just starting to come into his own as a student and as a professional. His time at Middlebury Institute in Monterey last fall [while enrolled in courses in Nonproliferation and Terrorism Studies] sparked his interest in conflict studies and motivated him to pursue more serious academic work as part of his career development in this critical field."
Added Lewis, "Murphy was also a genuinely good person: engaged and respectful, he was an active member of his classes and a peer adviser for other students. We had planned to work together this year to use his experience to develop campus outreach events for Middlebury Institute programs."
Roberts was so moved by the quality of the professors and the depth of his studies at the Middlebury Institute that he was also considering applying to a graduate program there, a family member said. He wrote this blog post last October while he was in the midst of his studies there.
Hailing from Steamboat Springs, Colo., Murphy Lowry Roberts—the youngest of four children—arrived at Middlebury in 2013 after graduating from Burke Mountain Academy in Vermont. He followed in the path of his older brother, Higginson, who also skied at Middlebury and graduated in 2014.
The Alpine skiing coach at Middlebury, Stever Bartlett, said, "Murphy brought passion and intensity to all of his efforts. His soul was happiest when he was chasing adventure, competing as a member of the ski team, supporting a teammate, or showing his spirit for Middlebury. He loved his family and his home state of Colorado."
Hector Vila, an assistant professor of writing who is also a faculty affiliate to Middlebury athletes, remembers Roberts as "a gentle, wise, loving young man who saw things and understood people as if he were a sage, someone wise beyond his years."
"Murphy loved to engage challenging ideas, delving deeply into difficult subjects, particularly those that questioned his own sense of self, which he always questioned and sought. Murphy was committed to contributing to society, first and foremost, putting his shoulder to the wheel that would push humanity forward," Vila noted.
Murphy's concern for others was reflected in a commentary titled "Make America Change Again," which was published in June 2016 by Steamboat Today, the local newspaper for the Steamboat Springs region in northwestern Colorado. Roberts wrote: "We cannot let ourselves fall victim to leaders who wish to push others away for their differences… The world does not exist in a vacuum. Therefore, our laws should not exist in a vacuum, and they should never be constructed based on fear of what we do not know."
Murphy Roberts is survived by his parents, Stuart Roberts and Lulu Gould, and his siblings, Dylan, Higginson, and Cassady. A service to celebrate his life is scheduled for August 25 at Howelson Hill Ski Area in Steamboat Springs at 5:30 p.m., and a service at Middlebury will take place after the fall semester begins.
People wishing to reach out to the Roberts family are asked to write to them at P.O. Box 881119, Steamboat Springs, CO 80488. In lieu of gifts, flowers, etc., the family asks people to consider making a donation in Murphy's name to the Juvenile Diabetes Research Foundation.