Staff Members Enjoy a Summer Afternoon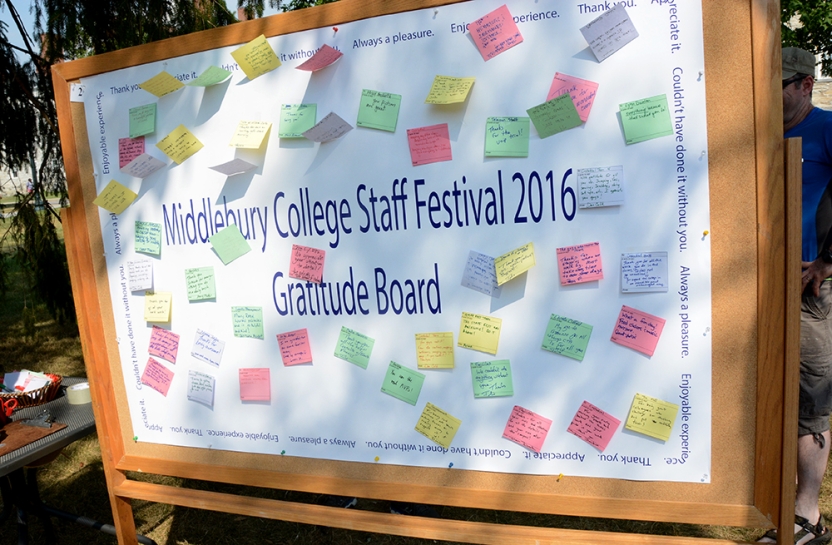 MIDDLEBURY, Vt. – Hundreds of staff members took time away from their jobs on August 11 to enjoy an afternoon of "food, fun, and festivities" courtesy of Staff Council and the Middlebury administration.
President Laurie L. Patton approved release time for the three-hour Staff Fest so Middlebury employees could kick back and relax on a midsummer afternoon as temperatures climbed into the mid-80s. Middlebury's 17th president was in attendance taking photos and greeting staff on the McCullough lawn.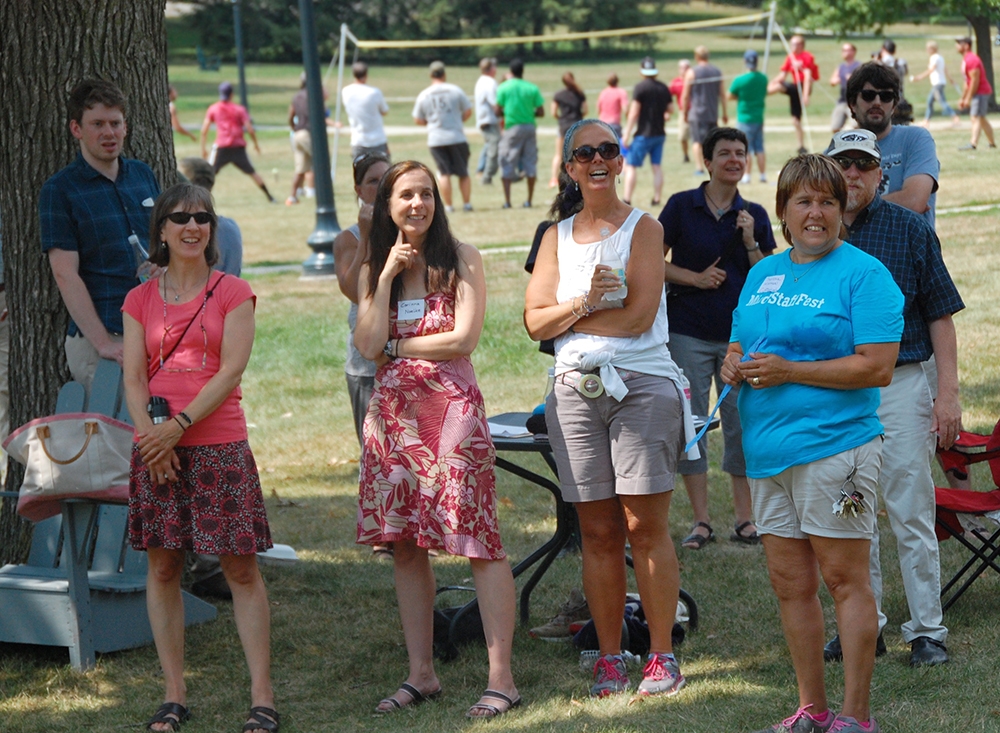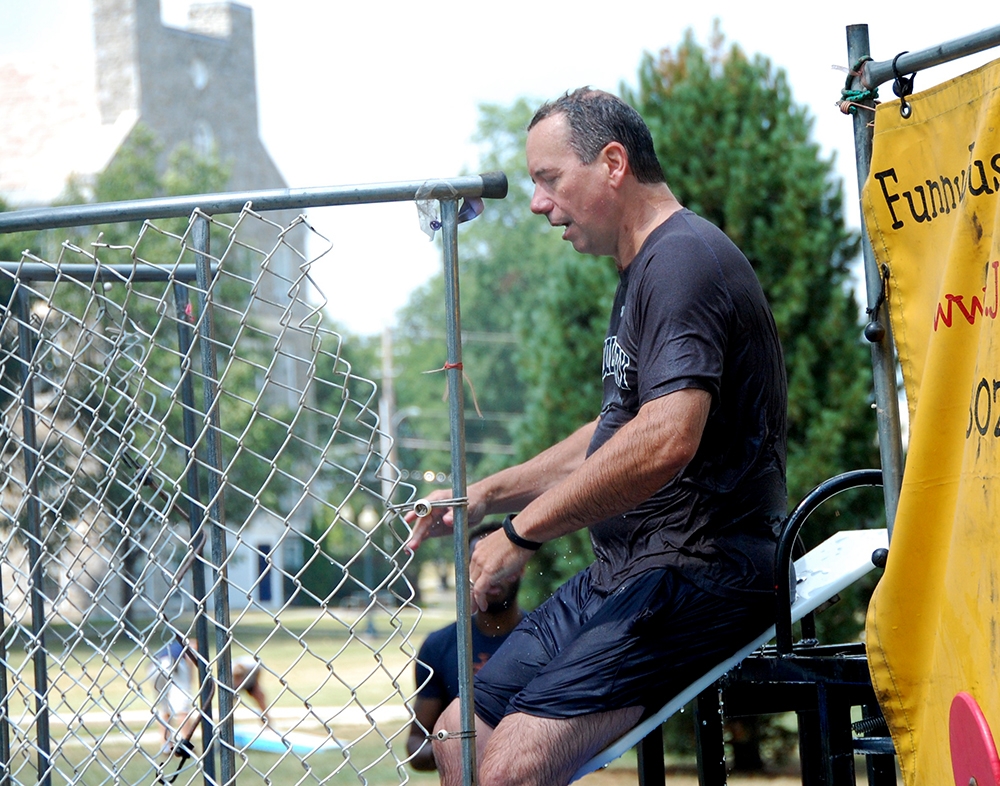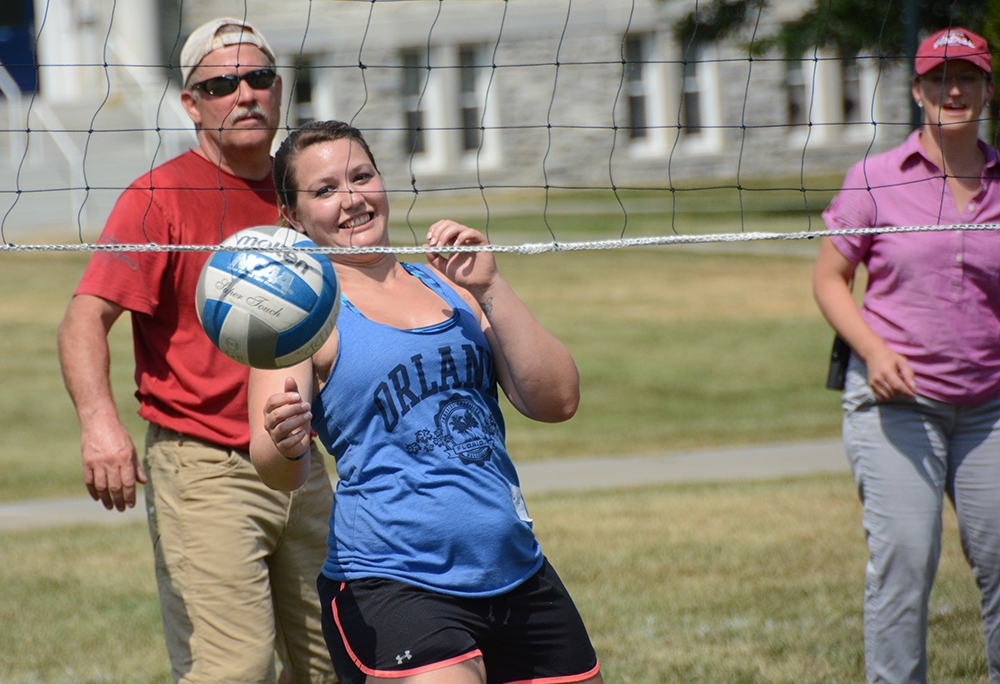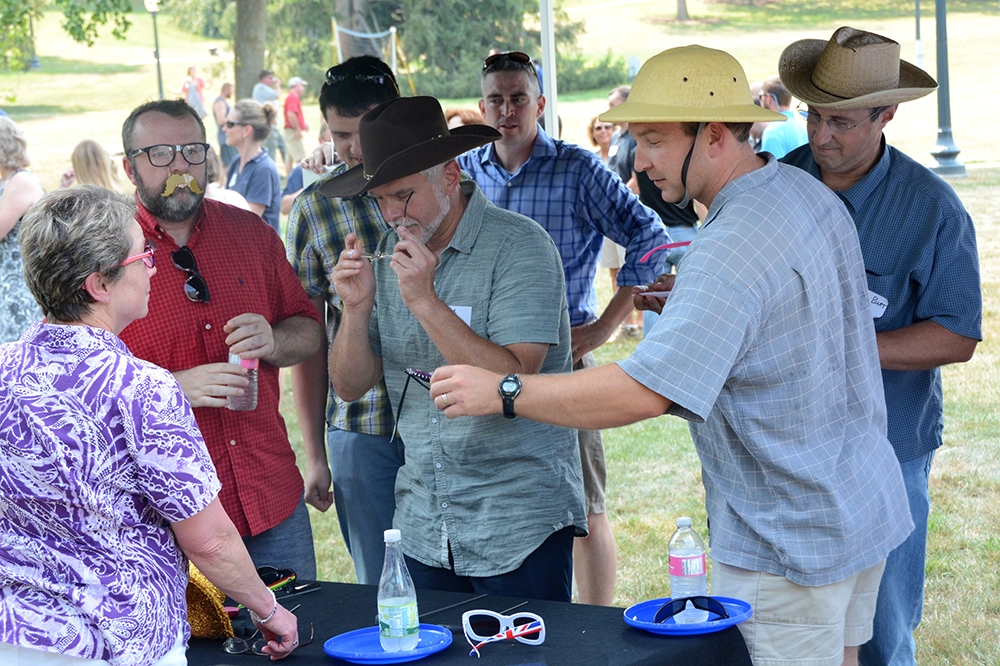 From top: all eyes were on the Dunk Tank, especially when VP Jeff Cason was the "victim"; dozens of staff members played volleyball; and members of ITS put on disguises for the photo booth. (Click on photos to enlarge.)

Small-batch ice cream and sorbet provided by LuLu's of Bristol was a big hit—no surprise there!—with flavors like Three Berry Sorbet, Seriously Chocolate, and Better Than Revenge. There also was pizza baked on site by Tucker Levy '09 and friends with their One Hearth Wandering Wood-Fired Oven. Their pizzas were topped with cheese, local sausage, and herbs and vegetables from One Hearth's own garden.
Staff Council provided popcorn, snow cones, and sparkling waters, and a wide assortment of desserts made by employees—including key lime cake, chocolate cream pie, tiramisu, and other delectibles—were devoured by all. (The desserts were also entered into a competition for prizes.)
Much of the day's attention was on the Dunk Tank, where some senior members of the administration took turns getting drenched while staff members laughed and cheered and raised money for a good cause.
Lawn games were popular too: there were two volleyball games going on much of the afternoon, along with water balloon toss, ladderball, Wiffleball, cornhole, and a version of the ancient Viking game "Kubb."
Staff members appreciated the free time to chat with friends and colleagues from Facilities Services, Dining, Mail Center, Language Schools, International Programs and Off Campus Study, ITS, Library, Old Chapel, Advancement, Printing and Mailing Services, Public Safety, and many other departments across campus.
Music for Staff Fest was provided by the Horse Traders, a local band that played hits from the '70s and '80s throughout the afternoon.
There also was a photo exhibition of images taken by talented staff members, and a digital photo booth capturing comical memories of the day.
Along more serious lines there was a Gratitude Board where employees posted thoughtful messages directed at colleagues like these:
"All the hard work you do in the dorms does not go unnoticed."
"Thanks for stopping your lawn mowers when we are walking by."
"We appreciate how you keep all the systems, networks, phones, Banner, blogs, sites, etc. etc. running and running!"
And, "Staff Fest was awesome. Let's do it again!"
– With photos and reporting by Robert Keren