Campus Community Gathers to Remember Murphy Roberts '17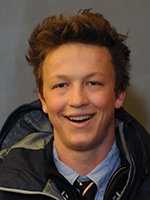 Murphy Roberts '17

MIDDLEBURY, Vt. – Family and friends of Murphy Roberts gathered on September 17 to remember the Middlebury student–an exuberant, larger-than-life personality who embraced friendship, adventure, and intellectual challenge. In a service at Mead Chapel, Roberts's father and sister, along with classmates, coaches, and faculty members, shared stories about the Steamboat Springs, Colorado, native. While hiking in Utah this summer, Roberts experienced a seizure related to his Type 1 diabetes, which caused a fall that resulted in a series of complications. He died on August 14 with his family by his side.
"He connected people wherever he went," said President Laurie Patton, "in his classes, skiing on the mountains, hiking, and on the quad." Patton said Roberts made a distinct impression on her husband Shalom Goldman, professor of religion. "I remember Murphy," Goldman told her. "He sat in on the classes I taught in Monterey. He was so energetic and curious, he was always raising his hand."
Patton asked Goldman if he ever called on Roberts in class. "No," he replied. "I never called on him because he always called on me first!"
Stuart Roberts, Murphy's father, expressed his appreciation for the outpouring of love and support his family received from the Middlebury community. Nearly 100 students and alumni traveled to the Roberts's hometown for an August memorial service, he said. In a poetic nod to his son's zest for adventure and his special love for bald eagles, Stuart Roberts said he has seen an increase in bald eagles around Steamboat recently, some of whose long wingspans evoked his lanky son.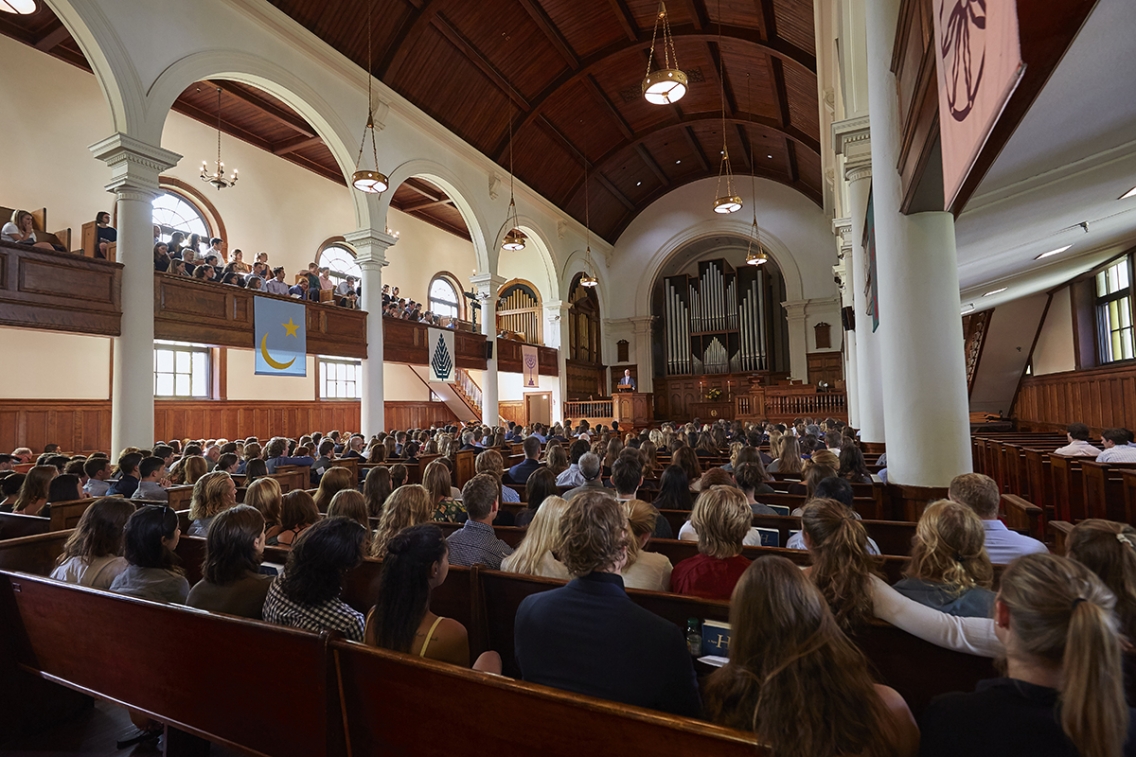 Head Alpine Ski Coach Stever Bartlett speaks to a gathering at Mead Chapel on September 17 to celebrate the life of Murphy Roberts '17.
A gifted downhill ski racer, Roberts was the second in his family to attend Middlebury; his older brother Hig graduated in 2014 and is a member of the U.S. Ski Team. Murphy Roberts raced for two seasons at Middlebury before retiring–a very difficult decision that his coaches and mentors said was a sign of his coming into his own as a person. Head Alpine Coach Stever Bartlett remarked that in a sport where success is measured by hundredths of a second, it is easy to become self-focused and myopic. "I was really proud of Murphy that day," said Bartlett. "In all of his years of competitive ski racing, Murphy found that it was his team and his teammates that he loved most."
Hector Vila, assistant professor of writing, said Roberts spent many hours in Vila's office, working out ideas and a life philosophy that gave him a better understanding of himself and his need to move beyond the world of ski racing. "That cold January, Murphy had come to a resolution," said Vila. "He made a leap of faith, a leap of mind, sort of like an Emersonian leap–that he was going to live every moment the way he wanted to live it and that he was going to engage the world."
Several students and a recent alumnus also shared stories about Roberts, noting his fearless approach to everything, but especially to friendship. "Only once in a lifetime do you meet someone who lives with as much passion as Murphy did," said his friend and former teammate Christoph Niederhauser, a member of the Class of 2016. "And, as we all know, you haven't met anyone as excited as Murphy to tell you all about his passions." He loved Middlebury and Colorado, the mountains and everything you can do in them, said Niederhauser. He loved the Denver Broncos and got great joy from harassing Patriots fans. He also loved to argue, which possibly explains his political science major, Niederhauser quipped.
Roberts's uncommon ability to touch people's lives was a frequent theme among the speakers. Patrick McElravey '17 described joining Roberts for a harrowing, yet thrilling, trip to a nearby quarry to dive from a 45-foot cliff. "He got you to do the things that made you feel alive," said McElravey. "Murphy embodied the kindness of humanity and made it his goal to help each and every one of us to embrace ourselves more fully."
The final speaker of the morning was Cassady Roberts, Murphy's older sister, who recounted her little brother's drive to work extra hard to be a part of his older siblings' circle. She noted that, on his Facebook page, Murphy had written that he was "majoring in friendship" at Middlebury, no doubt to get a chuckle from his friends, she said. But something about the statement rang true. "To his core, he had the desire to connect to others, to love others, and to put a smile on people's faces," she said.
When he was 11, Roberts was diagnosed with Type 1 diabetes, Cassady Roberts told the audience. She said it was heartbreaking to see him go through it, but the way he handled his illness was inspiring to their entire family. "He decided he would not let this disease control him," she said. "He had much bigger things to focus on–a life to live and a purpose to fulfill."
Additional reflections during the service were offered by Orion Lewis, visiting assistant professor of political science, and students Izzy Kannegieser '17, Meg Poterba '17, and Riley Plant '18. Chaplain of the College Laurel Macaulay Jordan '79 organized the service and gave the opening prayer and benediction.
People wishing to reach out to the Roberts family are asked to write to them at P.O. Box 881119, Steamboat Springs, CO 80488. In lieu of gifts, flowers, etc., the family asks people to consider making a donation in Murphy's name to Kiss the Sky to Conquer Diabetes.
With reporting by Stephen Diehl; Photos by Yeager Anderson '13.5