MacArthur Foundation Director Presents the Annual D.K. Smith Lecture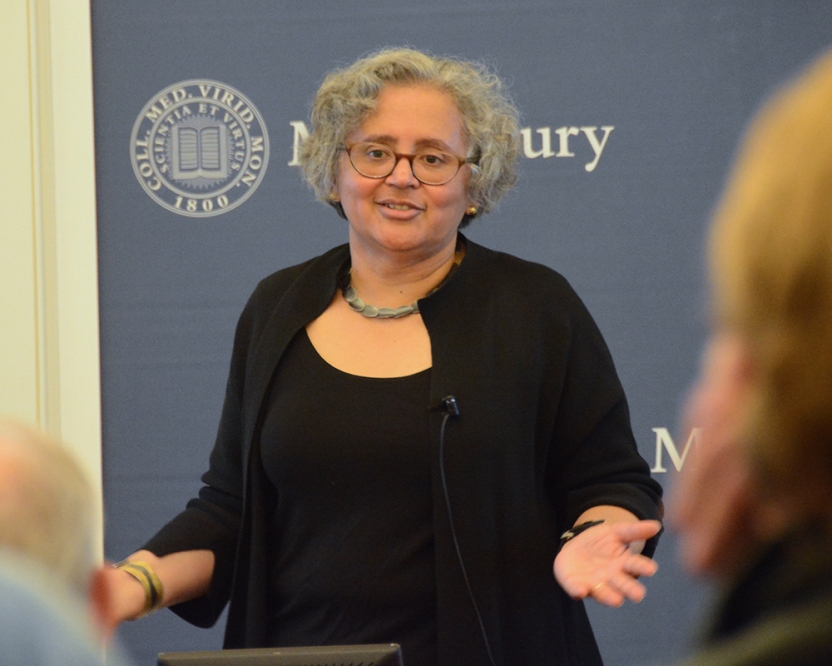 MIDDLEBURY, Vt. — Cecilia Conrad, a managing director of the John D. and Catherine T. MacArthur Foundation, differentiated between what she terms "old-school philanthropy" and "new-school philanthropy" for the annual D.K. Smith '42 Economics Lecture at Middlebury College.
The former professor of economics and vice president of academic affairs at Pomona College, who in 2013 joined the foundation with its assets in excess of six billion dollars, gave the audience in the Robert A. Jones '59 House a brief lesson in the economics of philanthropy. She also spoke about the foundation's new endeavor to give away $100 million dollars for "a single proposal designed to help solve a critical problem affecting people, places, or the planet."
Called "100&Change," the MacArthur Foundation's newest grant program is under Conrad's direction. (The foundation is best known for its MacArthur Fellows program, commonly known as its "genius grant" awards.) 100&Change is open to any organization or individual, is intended to bring about "meaningful and durable change," and will be awarded once every three years, she said.
Conrad said 100&Change is being run as an open competition and is an example of new-school philanthropy. Unlike the MacArthur Fellows program, for which nominations are not accepted and all deliberations take place behind closed doors, the semifinalists for the foundation's first $100 million grant will be made public and each semifinalist will receive technical and organizational assistance before the final round. The finalists will present their proposed solutions at a live event, and the board of directors of the foundation will make the final selection.
The operation of 100&Change stands in stark contrast to what Conrad termed as old-school philanthropy. The traditional way is for the board of directors to set policy, for program officers identify grantees to perform tasks in accordance with board policy, for the selection process to be confidential, and for program officers to wield the power to decide who gets funded and who doesn't.
The criticisms of old-school philanthropy are many, said Conrad. It is not democratic, it lacks accountability, it is insulated from market forces and the electorate, and it is lacking in terms of innovation and impact.
For a sharp criticism of traditional philanthropy she cited former Secretary of Labor Robert Reich who said, "We all pay in lost tax revenue for foundations, and by extension for giving public expression to the preferences of rich people." For fiscal year 2011 Reich determined that tax subsidies for charitable giving cost the U.S. Treasury an estimated $53.7 billion. For a second criticism she quoted philanthropist Peter Buffett (son of Warren) who told the New York Times in 2013, "As more lives and communities are destroyed by a system that creates vast amounts of wealth for the few, the more heroic it sounds to 'give back.' It's what I would call 'conscience laundering'—feeling better about extreme wealth by sprinkling a little around as an act of charity."
The D.K. Smith lecturer was less specific about what constitutes new-school philanthropy, except to address being less secretive during the selection process and the desire to be more responsive to the needs of society at large. Another measure of old school vs. new school is the question of perpetuity, she explained. Traditional foundations are determined to grow their endowments and endure without limitation, while other foundations—such as the Gates Foundation, the Buffett Foundation, and the Atlantic Philanthropies—are planning to culminate activity at a future date.
Conrad said the Julius Rosenwald Foundation was a perfect example of a philanthropic organization with a "sunset date." Established in 1917 by the owner of Sears, Roebuck and Company, the foundation put the vast majority of its resources toward education for African Americans in order to have an immediate, long-term benefit to society. It built schools for African-American children and made grants to African-American artists, writers, and researchers before depleting its resources in 1948.
Looking to the future of philanthropy Conrad said "it is healthy to have diverse approaches to philanthropic giving," which is analogous to a differentiated produce market, and she foresees that the debate about the excessive influence of philanthropists, particularly living donors and corporate donors, is likely to continue.
Professor Phani Wunnava, who holds the David K. Smith Professorship in Applied Economics at Middlebury, introduced Cecilia Conrad at this year's Smith lecture titled "Economics of Philanthropy: How to Give Away 100 Million Dollars?"
The D.K. Smith Economic Lecture Series honors one of the pillars of the economics department who passed away in 2006. After graduating from Middlebury in 1942 and serving in the U.S. Navy during the Second World War, Smith earned master's and doctoral degrees in economics at Harvard University. A native Vermonter, he returned to Middlebury in 1950 and served 37 years on the economics faculty, including 15 years as department chair.
Professor Smith's friends, family, and former students and colleagues created the lecture series to ensure that there would be a lecture or forum on applied economics every year at Middlebury.
— With reporting and photography by Robert Keren