Five Postdoctoral Fellows Are Part of Program to Diversify Faculty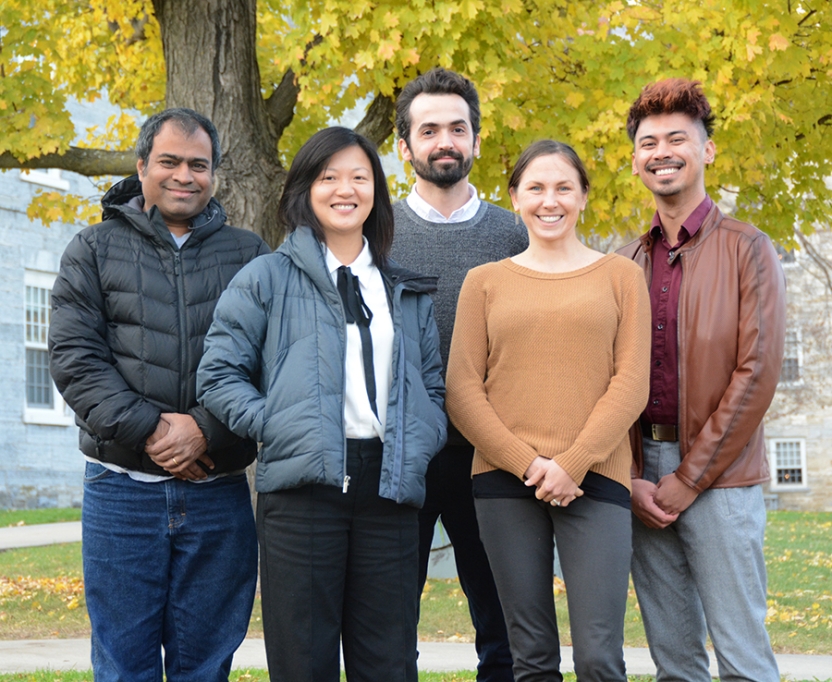 MIDDLEBURY, Vt. — Five postdoctoral fellows from underrepresented groups are teaching at Middlebury College this academic year under the aegis of the Creating Connections Consortium (C3) funded by the Andrew W. Mellon Foundation.
Now in its third year, C3's Postdoctoral Fellowship Program seeks to address the challenge of diversity among faculty in higher education by "building capacity, investing in cohorts of talented students from underrepresented groups, and creating and nurturing connections between partners interested in institutional change."
All of the fellows selected for the program are doctoral degree holders from Columbia, Berkeley, Michigan, or University of Chicago, and they are afforded the opportunity to teach for two years as visiting faculty members at one of four participating liberal arts institutions: Middlebury, Bates, Williams, or Connecticut College.
The current C3 fellows at Middlebury:
Sony Coráñez Bolton holds a PhD in American culture (with certificates in Southeast Asian studies and Latina/o studies) from University of Michigan. Bolton, who earned both his bachelor's and master's degrees from Marquette University, is in his first year at Middlebury and is teaching the course Comparative Borderlands: Feminist Cultural Politics of Latin@ and Filipin@ Diasporas this semester.
Erica Morrell has a PhD in sociology and public policy from University of Michigan and a bachelor of arts degree in sociology from Boston University. Currently on leave, she plans to teach her first two courses at Middlebury during the spring 2017 semester: Sociology of Food and Environmental Injustice in America.
Abhijeet Paul earned a PhD in South and Southeast Asian studies and critical theory from University of California, Berkeley. Now in his second year at Middlebury, he is teaching the course Literature, Nature, and the Manmade for the Department of Comparative Literature this semester. In 2015–16 he taught the courses Cinema in a Globalizing World and Municipal Fictions. Paul also holds BA, MA, and PhD degrees in English from University of Calcutta.
Daniel Rodríguez-Navas has a PhD from the Department of Philosophy at University of Chicago in addition to undergraduate and graduate degrees from the University of Paris I and IV-Sorbonne. He is teaching the course Between Freedom and Despair: An Introduction to Existentialism this semester at Middlebury.
Trinh Tran holds a PhD and MA in sociology from University of California, Berkeley, and a BA in sociology from University of Chicago. She is currently teaching the course The City and Its People. During the 2015–16 academic year at Middlebury she taught the courses Gender, Adolescents, and Violence, and Education and Social Policy.
The primary goal of the Postdoctoral Fellowship Program "is to increase the number of faculty members from underrepresented groups" at participating liberal arts colleges, explained Rachel Hynson, the C3 research and program associate. The postdoc program "helps to demystify the early years of being a junior faculty member" in several ways. In addition to giving the fellows the opportunity to teach undergraduates as a member of an academic department, it also exposes them to the tenure-review process and the world of scholarly publishing, said Hynson.
C3 also has an Undergraduate Fellowship Program for rising juniors and seniors attending any of 25 colleges and universities that are members of the Liberal Arts Diversity Officers (LADO) consortium. It also organizes panels and workshops at its four research universities for graduate students from historically underrepresented groups, many of whom are unfamiliar with liberal arts colleges.
"C3 is building a name for itself among its C3 partners and with the schools in the LADO consortium," Hynson added. "It is developing an identity as a project that brings together diverse stakeholders interested in advancing full participation. C3 programs are effective in cultivating individual and institutional knowledge, capacity, and leadership related to issues of diversity and inclusion. C3 remains committed to cohorts, mentorship, and collaboration as guiding strategies, and is now in a position to share its lessons learned more broadly within C3 and the national policy arena."
Four out of nine postdoctoral fellows in the 2014–2016 cohort have accepted tenure-track appointments, and three out of nine in the 2015–2017 group have received tenure-track appointments and left the program.
Among those who have accepted job offers are three of the C3 fellows who taught at Middlebury: J Finley, who is now an assistant professor at Middlebury; Alvin Henry, who is now an assistant professor at St. Lawrence University; and Alexsia Chan, who is now an assistant professor at Hamilton College.