At Middlebury, First-Year Students "Experience Learning as a Civic Act"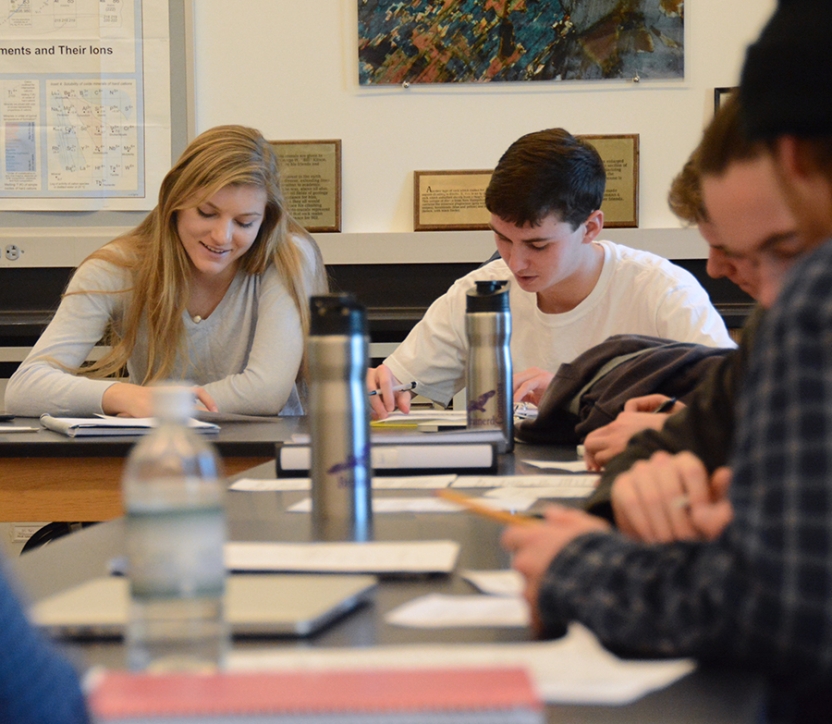 MIDDLEBURY, Vt. – All across the Middlebury campus first-year students are completing the one class that, by itself, epitomizes the ideals of a liberal arts education.
All 600 or so members of the Class of 2020 are enrolled in interdisciplinary, writing-intensive, seminar-style courses intended to ease the transition from high school to college. With topics that range from World Musical Instruments to Espionage in Film and Fiction to Money, Morals, and Global Politics, each first-year seminar contains 16 or fewer students and is taught by a faculty member who also serves as the students' advisor through sophomore year.
"How is everyone doing today?" asks Will Amidon, assistant professor of geology, on a brisk November morning at the start of his Geologic Origins of Energy first-year seminar class. "Does everyone know what they're doing for J-term? What else is going on with you guys?
"I have your papers graded and will hand them out at the end of today's class. I was happy with all of them!" With his 16 students seated in conference style around the room, Amidon explains what he's looking for in their next writing assignment – "formulate a thesis statement or a question, and then use your most persuasive writing to defend your position or answer that question" – before moving on to the day's lesson about the Earth's energy budget.
"The planet's temperature is now about one-and-a-half degrees Celsius higher than it was in the year 1850. Our discussion today is intended to give you some of the underpinnings of what this actually means," says Amidon by way of introduction to the lesson on the greenhouse effect, energy transfer, short- and long-wave radiation, and the concept of an equilibrium system.
Elsewhere on campus about 40 faculty members are also "providing an intimate forum for fruitful dialogue and critical inquiry," as one professor termed it, while preparing new students "to entertain, if not necessarily accept, the ideas and opinions of others."
The first-year seminar (FYS) program offers "venues for people to find each other and develop a sense of social and intellectual belonging and identity at Middlebury," another professor explained. Said a third: the program conveys to new students the College's expectations for writing, research, and public speaking.
The 10 men and six women in Will Amidon's first-year seminar – all members of Brainerd Commons – started meeting together during orientation back during the first week of September.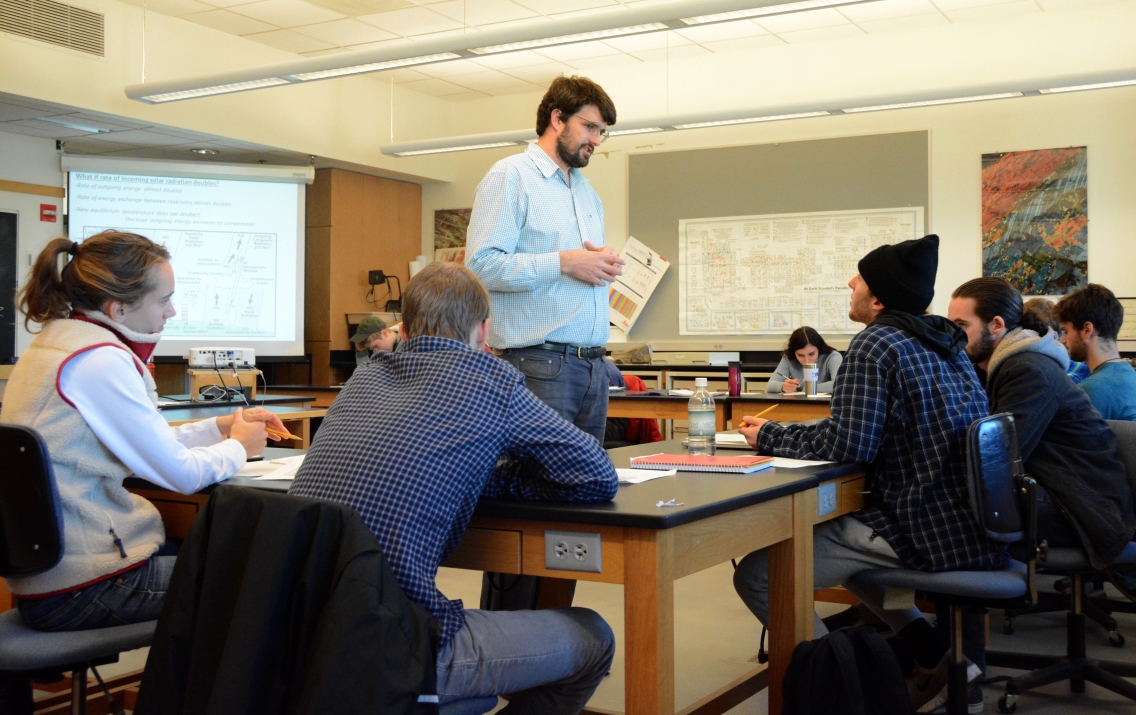 Will Amidon explains radioactive energy transer for Liam Fowler (in hat) and other students in his first-year seminar. (Click to enlarge photo.)
One member of Amidon's class, Liam Fowler '20, from Portland, Me., said, the FYS "has greatly helped me adapt to both the academic and social life at Middlebury. Although rigorous at times, this course really focuses on developing you into a college student and writer, and not on criticizing your work to scare you with 'college expectations.'
"This atmosphere allows students to become comfortable with the college workload and with the stresses [of college life]."
Amidon earned a PhD in geology from California Institute of Technology in 2010 and joined the Middlebury faculty the same year. He says teaching a FYS this fall "has helped me see my students in a different way. I recognize that they all have unique social needs and are all coming at Middlebury from different places.
"The seminar has also helped heighten my sensitivity to all students, and not just to freshmen. It is helping me see their individual needs and perspectives more clearly, and it makes me value my teaching more."
Amidon has designed his seminar to be one-third community building, one-third geology and environmental science, and one-third development of writing, research, and oral presentation skills.
James E. Berg, the director of the first-year seminar program, believes it is "one of the greatest things about Middlebury."
"In asking the instructors who teach this course to take on the roles of rhetoric trainer, professor, and pre-major advisor, we don't just tell first-year students what a liberal arts education will do for them; we allow them to live this lesson immediately, to experience learning as a civic act.
"The word 'liberal' in the term 'liberal arts' evokes the classical idea of the citizen who is free (from which we get 'liberty') and therefore the citizen who embraces civic responsibility, who is truthful and magnanimous. Rhetoric and ethics – as well as other scientific arts – are basic to the liberal arts precisely because, at their best, they are vehicles of honesty and generosity."
Berg, a Shakespearean scholar and visiting assistant professor, added, "Learning to speak and write what you learn, learning to use what you know in a way that is true to what you know and fulfilling for you and for others: that, says the first-year seminar program, is what a liberal arts education is about."
– Reporting and photography by Robert Keren
For More Information